Ubisoft's Microtransaction Revenue Just Beat Digital Sales for the First Time
This article from Extreme Tech may be of interest to subscribers. Here is a section:
Microtransactions have been hotly debated since they began debuting in mobile games almost ten years ago. While they'd been used sporadically in various games for years, the rise of mobile games and their extremely low-to-free pricing made them a functional necessity for developers working in Android or iOS. The AAA PC gaming industry quickly took notice of this, and began offering games with microtransaction options. There's been a great deal of pushback from the community at various points (Dead Space 3 got hosed for it, as did Bethesda and its horse armor), but microtransactions are clearly here to say. Ubisoft just reported that it took in more money in microtransaction sales than it did in game sales for the first time ever.

Over the past few years, Ubisoft has seen a notable shift in its earnings for various titles, SeekingAlpha reports. Game sales were buoyed this year by South Park: The Fractured But Whole and Assassin's Creed: Origins, but microtransactions shot up even further, growing 1.83x in 12 months compared to 1.57x for game sales. Ubisoft also got a boost from the Switch, but even with Nintendo's new platform, microtransactions brought home the bacon.
Once upon a time you bought a computer game and it included everything you would ever need to play that game. I started playing Diablo 2 as a teenager and the game is still available online with access to the Battlenet server, so players can join and play with or against others. It's still free after more than 20 years. The updated version of the game, Diablo 3, has downloadable content (DLC as my daughters refer to it), and additional characters you can pay for. Overwatch, Activision Blizzard's newest hit game releases animated shorts to build interest in characters, has built in loot boxes for extra gear and additional outfits for your favourite characters all of which represent additional revenue streams.

I'm from the generation where paying for a leg up feels like cheating but realise I am a dinosaur when I watch how easily younger generations are conditioned to pay for more content and assistance. The evolution of apps and the pay to play model revolutionized gaming and more importantly streamlined revenue streams.

Producing games used to represent lumpy cashflows for companies like Ubisoft, Electronic Arts and Activision Blizzard in just the same way it did for Microsoft. They would release a game, then have to deliver bug fixes and patches for years while also attempting to come up with the next big thing. Today a game represents an initial bump but with a long tail of revenues as player interaction is managed and commoditized.

In just the same way subscription models have delivered consistent trends for companies like Adobe and Autodesk, microtransactions and downloadable content are helping to do something similar for games companies.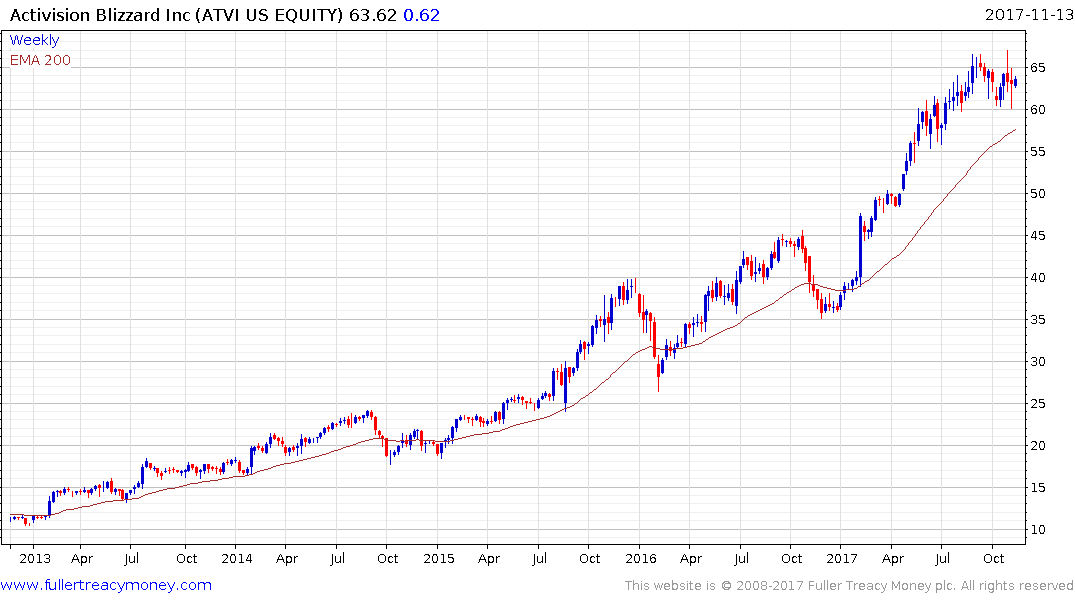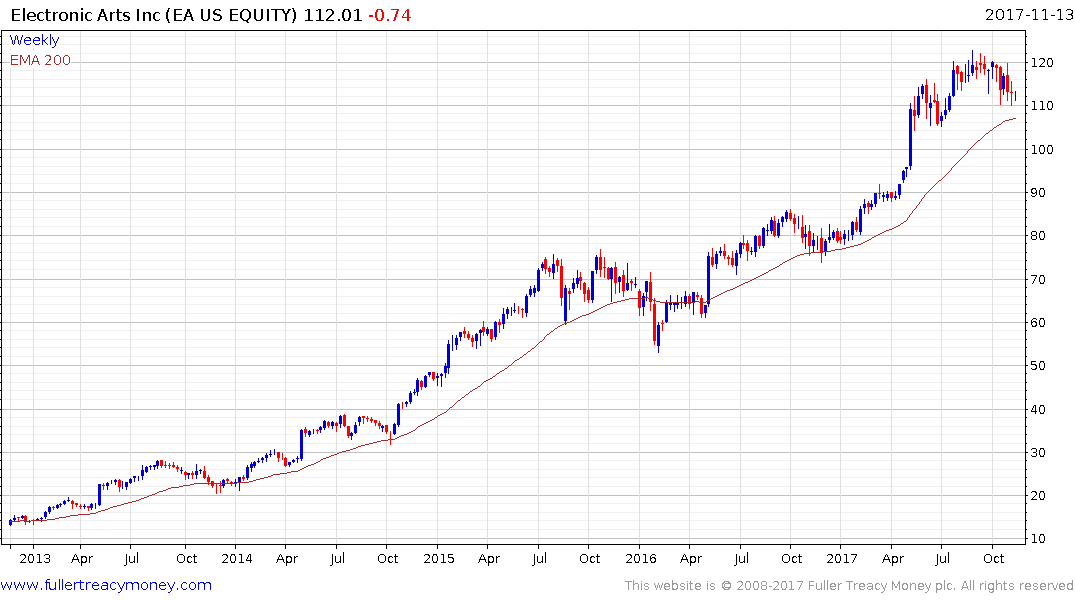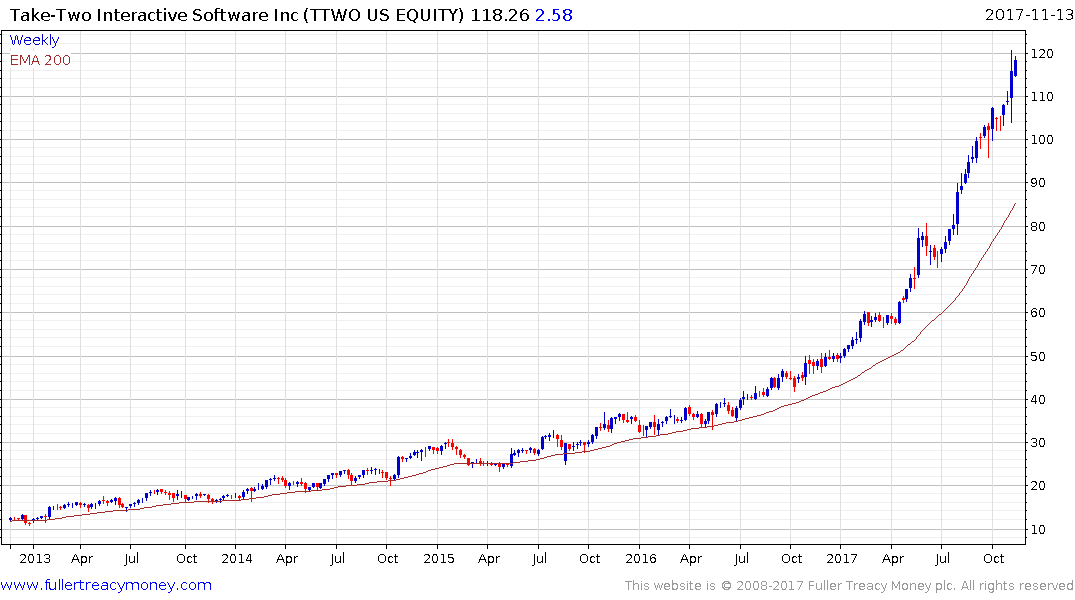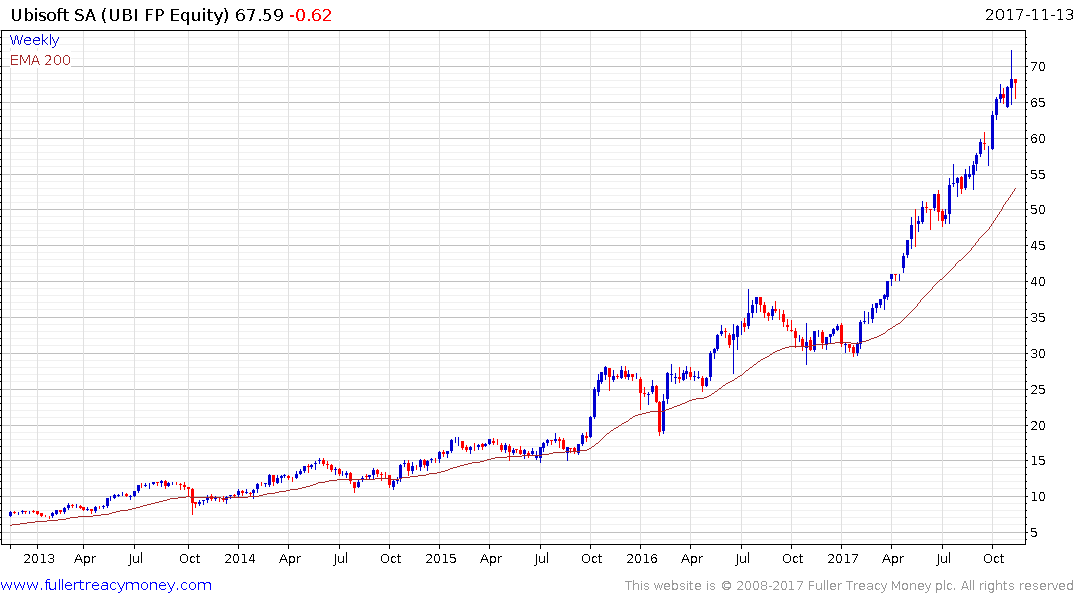 All four major game developers Ubisoft, Electronic Arts and Activision Blizzard and TakeTwo Software are susceptible to mean reversion following particularly impressive advances over the last few months.
Back to top