Uber shares jump after finally set to halt quarterly losses
This article from Bloomberg may be of interest to subscribers. Here is a section:
Uber did, too, but its sprawling business operates in many more countries and offers many other services besides rides.

Those aspects were not nearly as profitable and its report of second-quarter losses dismayed investors. Uber faces increased competition for its food delivery service and uncertain demand for its rides as the pandemic lingers in many parts of the world.

The boom in food delivery during the pandemic skewed Uber's business towards a lower-margin segment that might have weighed on efforts to become profitable, Bloomberg Intelligence analyst Mandeep Singh wrote in September.

However, customers hung on to their habits of getting hot meals sent directly to their homes, even as lockdown restrictions eased in many countries. UK rival Deliveroo plc reported a surge in revenue and orders in the first half of the year.

Uber still faces pressure from politicians and regulators on the status of its drivers. It recently lost a Dutch suit, where a court ruled that those who ferry passengers using the Uber app in the Netherlands are covered by a local collective labour law. In August a California state judge struck down a voter-approved ballot measure bankrolled by Uber and other gig-economy companies that declared drivers for the companies were independent contractors.
Companies like Uber and Lyft achieving profitability is no small achievement and suggests the companies are successfully transitioning from growth to income. The companies' continued success is based on the assumption that their will continue to benefit from the disintermediation of the taxi and restaurant sectors.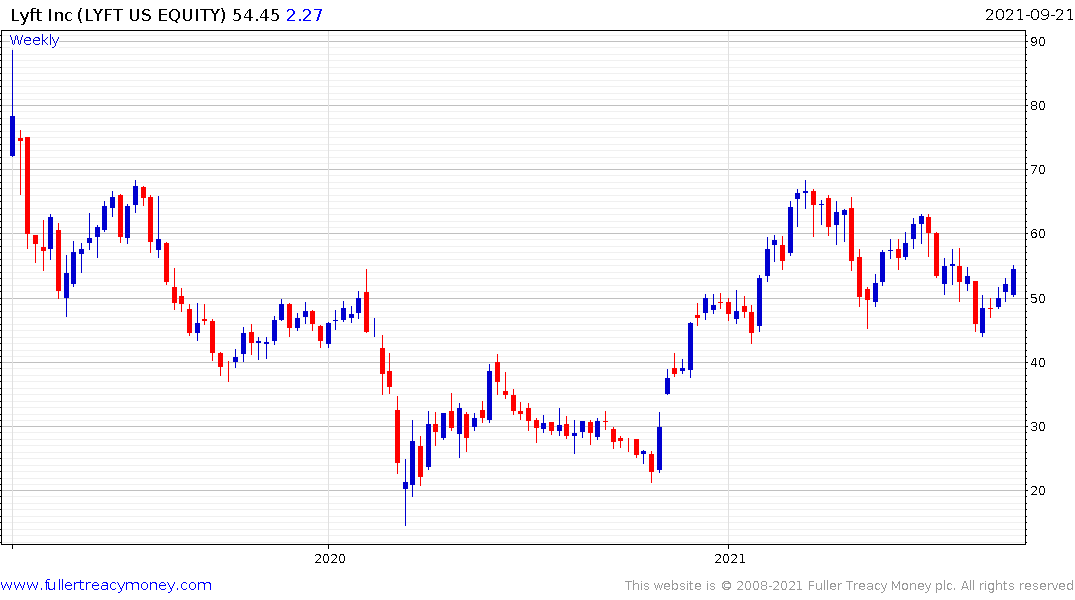 Lyft is more of a pureplay on ride hailing. The share continues to firm from the lower side of this year's range.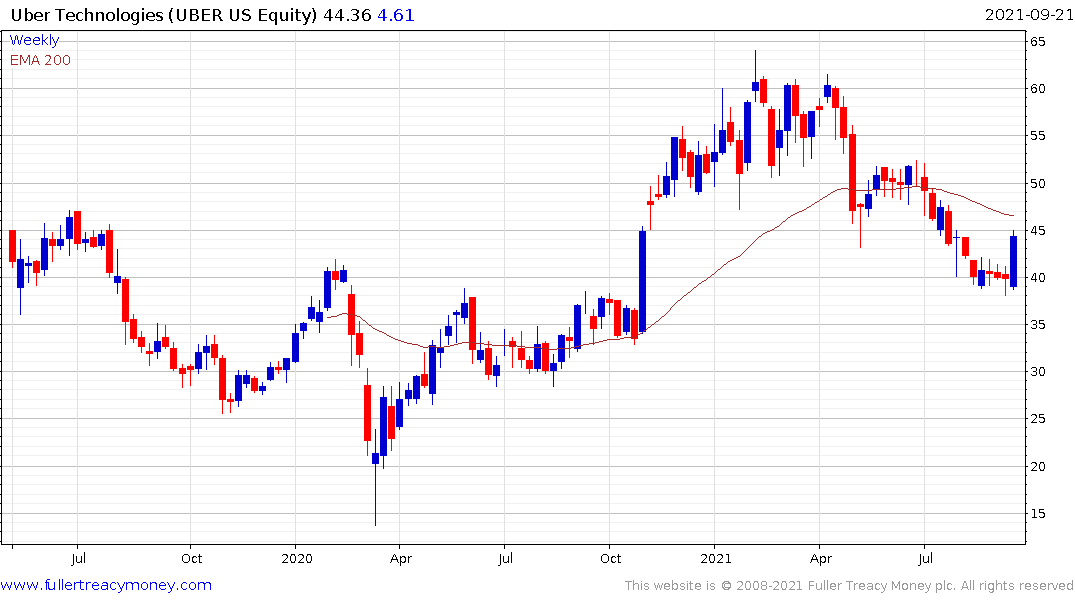 Uber is firming from the upper side of the range that prevailed in most of 2020. Today's upward dynamic suggests a low of at least near-term significance.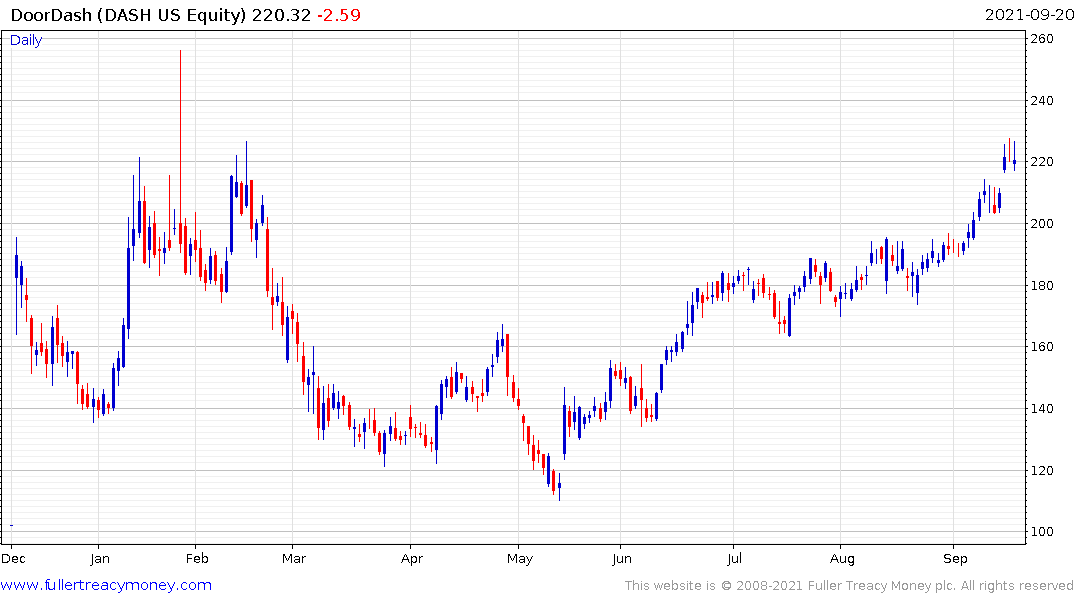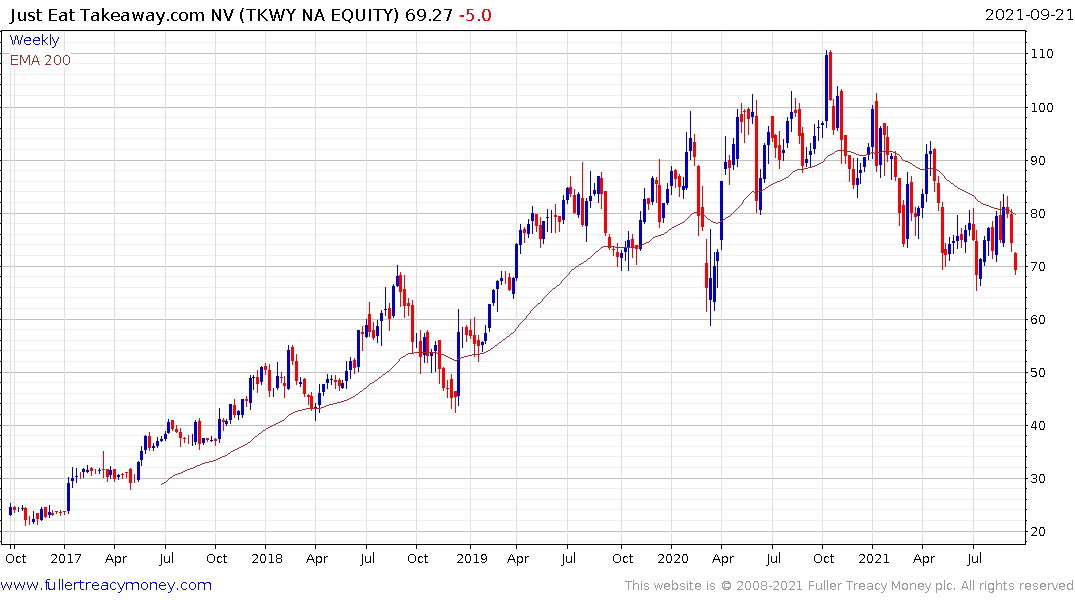 DoorDash closed at a new high today. That's a clear outperformance relative to some of the other big players like Just Eat Takeaway. Perhaps the home delivery story is more of a US than a European story at present.
Back to top