U.S. Stocks Reach Two-Week High on Stimulus Hopes
This article by Claire Ballentine for Bloomberg may be of interest to subscribers. Here is a section:
U.S. stocks climbed as lawmakers and the White House appeared closer to reaching a fiscal stimulus deal even as a volatile presidential debate raised concerns about a chaotic election.

The S&P 500 Index rose to a two-week high after Treasury Secretary Steven Mnuchin suggested he'll offer Democrats a proposal for $1.5 trillion in pandemic aid. Sentiment was helped by a private report that showed U.S. companies added a better-than-forecast 749,000 jobs in September, overshadowing concern about a contested election outcome.

In Europe, stocks edged higher, led by banks. Portfolio rebalancing tied to the end of the month had the potential to fuel choppy trading.

Global investors are also keeping an eye on news about coronavirus vaccines and the latest efforts to push through new stimulus measures in Washington. A reminder of the pandemic's economic pain came from Walt Disney Co.'s announcement that 28,000 workers will be let go from its U.S. resort business.

"The market will react to headlines like last night's debate, but at the end of the day Covid and economic statistics are more important for the longer term future of equity prices," said Christopher Grisanti, chief equity strategist at MAI Capital Management. "The prospect of a contested election is unsettling, but it doesn't really affect earnings."
The tone of the debate last night was combative and deteriorated into name calling on a couple of occasions. It was anything but pretty and reflected the low base political discussion has fallen to. The good news is there were no surprises. President Trump appealed directly to his base and Joe Biden attempted to appeal more to the centre.
The big challenge is how the election votes are going to be counted. I've very little confidence in the ability of the US postal service to handle the volume of mail required to facilitate voting in a timely manner. It is suffering from massive absenteeism and the number of lost packages has risen substantially. The potential for fraud is extremely high regardless of what anyone says. That suggests there is likely to be high risk of increased social unrest in November.
In the meantime, with the first debate out of the way the US political establishment can get back to negotiating an additional stimulus package. The Paycheck Protection Program expires today and a number of large employers, like Disney, have announced large numbers of layoffs. That's not a coincidence.
The economic rebound from the nadir has been impressive but no one is under any illusion that full and sustained recovery is going to be possible without additional stimulus. The big question is whether it will occur before or after the election but the stock market is pricing in the potential that it is a question of when not if.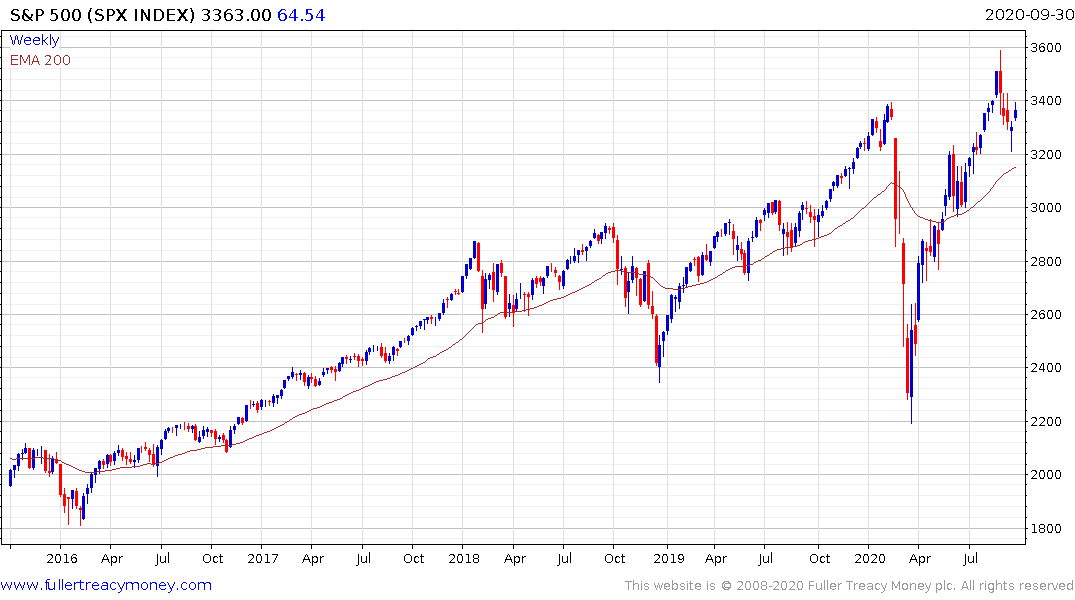 The S&P500 gave up its intraday gain today because some cold water was poured on the idea that a deal on new fiscal stimulus is imminent. A sustained move below the trend mean would be required to question medium-term scope for continued upside.
Back to top