U.S. Launches Missile Strike on Syria in Response to Gas Attack
This article by Tony Capaccio and Nick Wadhams for Bloomberg may be of interest to subscribers. Here is a section:
At the United Nations, diplomats privately debated a resolution that would condemn the poison-gas attack and demand access to Syrian air bases by UN investigators. Russia, which has backed Assad militarily since late 2015, would probably veto that measure after putting forward a separate measure which wouldn't compel Syria to provide such access.

At the UN Security Council on Wednesday, U.S. Ambassador Nikki Haley stood up at her desk to show diplomats photos of dying children gasping for air. She accused Russia of pushing a "false narrative" that blames rebel forces for the attack, and issued a new warning.

Safronkov, the Russian diplomat, said he'd been "very frank" in consultations with U.S. officials.
"We have to think of negative consequences, and all responsibility of military action will be on the shoulders of those who initiated such doubtful and tragic enterprise," he told reporters at the UN

?Syria's government said pilots bombed what turned out to be a rebel-controlled chemical weapons stockpile, while Russian officials on Wednesday said it's too soon to assign blame for the attack. Nonetheless, it appeared before Thursday night's missile strike that Russia's support for Assad hadn't diminished.

Tillerson's talk of creating a coalition "gives the impression that in the West there is a rush to use the situation to take from Assad the success in turning around the situation in the country and attain their previous goal: removing him from power at any cost," Konstantin Kosachyov, chairman of international affairs committee in the Russian parliament's upper house, said by email.

The State Department official said Thursday afternoon that Tillerson would go to Moscow as planned for meetings with senior officials on April 12. That visit was expected to include a meeting with President Vladimir Putin.
Russia's only Mediterranean port is in Syria. They cannot afford to lose it. With so many warring parties and a number of competing agendas the conflict is messy to say the least because it is far from clear what group would rule the country if the current regime were toppled. Nevertheless,

Russia has one of the clearest objectives and the fact it is unwilling to rein in Assad's most brutal tendencies is a testament to just how tenuous their combined control of the country is.
The above quotes from Russian diplomats represent a window into just how far the country is willing to go to protect its interests and we can expect them to be completely intransigent at the UN Security Council.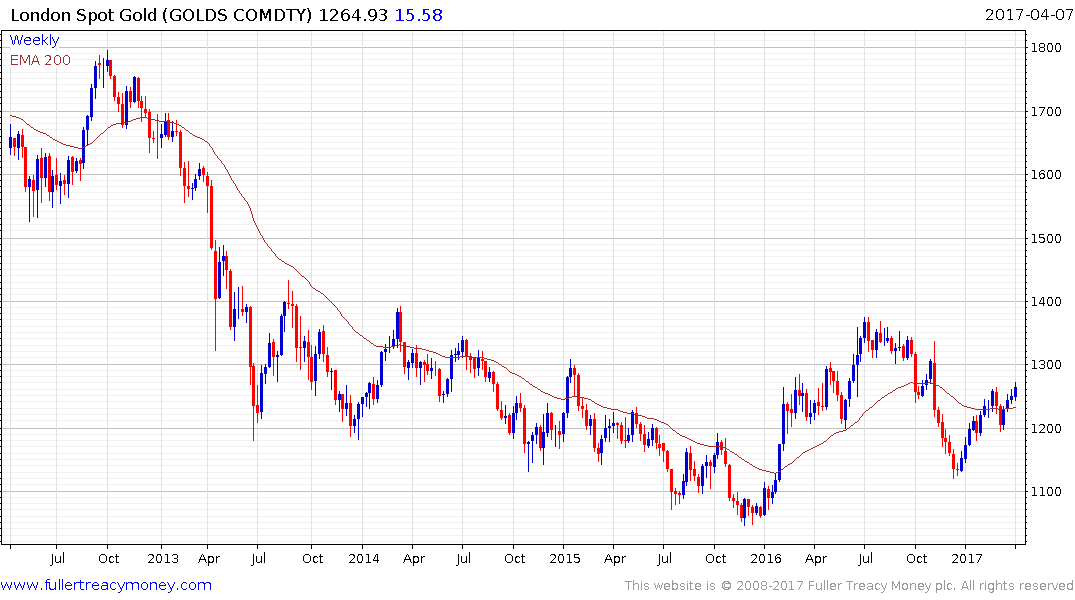 Gold popped to new recovery highs on the news and will need to hold the move to confirm a return to demand dominance.
Back to top