U.K. Says Russians Seek to Steal Virus Vaccine Research
This article by Kitty Donaldson, Ryan Gallagher and Chris Strohm for Bloomberg may be of interest to subscribers. Here is a section:
In a dramatic statement on Thursday, Britain's National Cyber Security Centre (NCSC) said vaccine and therapeutic sectors in multiple countries have been targeted by a group known as APT29, which it said is "almost certainly" part of Russian state intelligence. Security agencies in the U.S. and Canada later issued their own statements backing up the findings.

"It is completely unacceptable that the Russian intelligence services are targeting those working to combat the coronavirus pandemic," British Foreign Secretary Dominic Raab said. "While others pursue their selfish interests with reckless behavior, the U.K. and its allies are getting on with the hard work of finding a vaccine and protecting global health."

The intelligence bombshell came at a delicate time in geopolitics with a combative U.S. election looming in November and the pandemic plunging the world economy into recession. Coronavirus has launched a global race for a vaccine, in which researchers in the U.K. have made progress recently.
The geopolitical dividend of being the country that develops a viable solution for the coronavirus first is obvious. That is regardless of the fact that most countries and companies have clearly stated they are willing to do everything possible to made a vaccine widely available.
The additional news today of the successful hack of Twitter highlights just how much of a risk cyber crime represents for both intellectual property protection but also personal account protection. Historically, the fact that cyber breaches cost more to prevent than respond to has acted as a headwind to cyber security shares. However, that is changing.
One of the reasons is many insurance companies consider cyber-related losses as a war loss and therefore do not cover them. The other is that the range of companies now threatened, where ring fencing client data is a core part of the business has growth considerably with the cloud.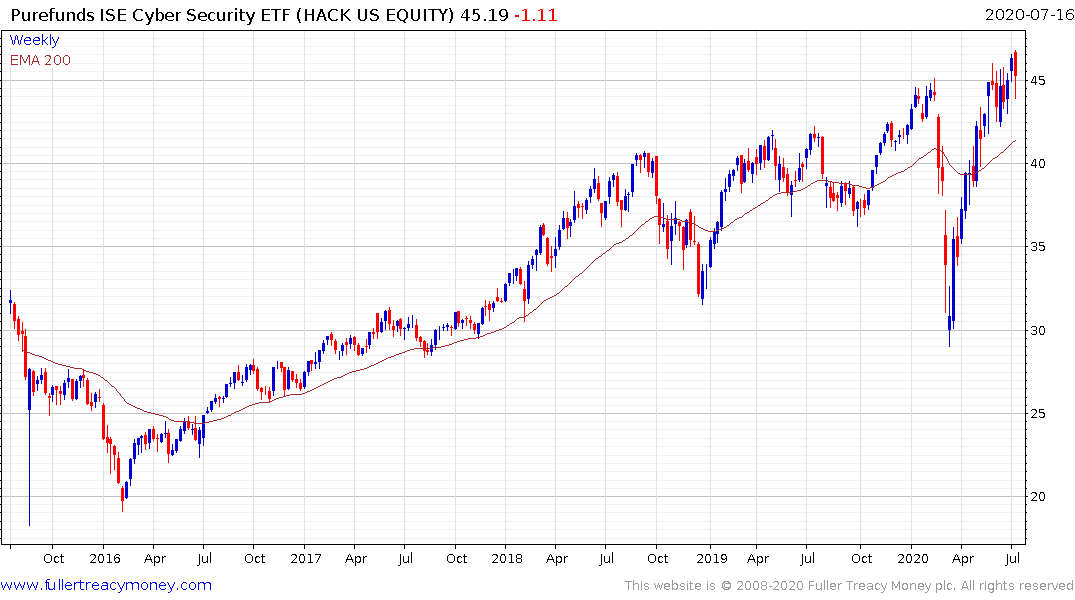 The Cybersecurity ETF (HACK) is currently pausing in the region of its peaks.
Back to top