U.K. Accuses China of Torturing Ex-Hong Kong Consulate Worker
This article by Iain Marlow and Lucille Liu for Bloomberg may be of interest to subscribers. Here is a section:
The intervention comes after Simon Cheng -- a Hong Kong resident who worked for the consulate's business-development team before he went missing in mainland China for 15 days in August -- said on Wednesday he was beaten and forced to confess while detained by Chinese agents, who pressed him for information on participants in the city's protests.

"Simon Cheng was a valued member of our team," U.K. Foreign Secretary Dominic Raab said in a statement. "We were shocked and appalled by the mistreatment he suffered while in Chinese detention, which amounts to torture." Raab said he summoned the Chinese ambassador in London to demand an investigation into the "brutal and disgraceful treatment of Simon in violation of China's international obligations."
China claims anyone with Chinese heritage as its own, regardless of where they were born or what passport they hold. It's what forms the basis for the greater China argument and is used to back up their territorial claims well beyond their land border. It also ensures that people who look Chinese tend to be treated as if they are Chinese when in custody. It's questionable whether Simon Cheng would have been treated the same were he Caucasian.
Meanwhile, the unanimous passing of a bill in support of Hong Kong protest in both houses of Congress highlights the increasing ardour with which politicians are calling out China's abuse of power, its cheating on agreements and its theft of intellectual property and that is before anyone even begins to delve into its human rights record.
The stalemate in the trade negotiations, since a draft deal was agreed six weeks ago, is hardly going to be broken with geopolitical tensions rising and threats to what China sees as its internal security being threatened.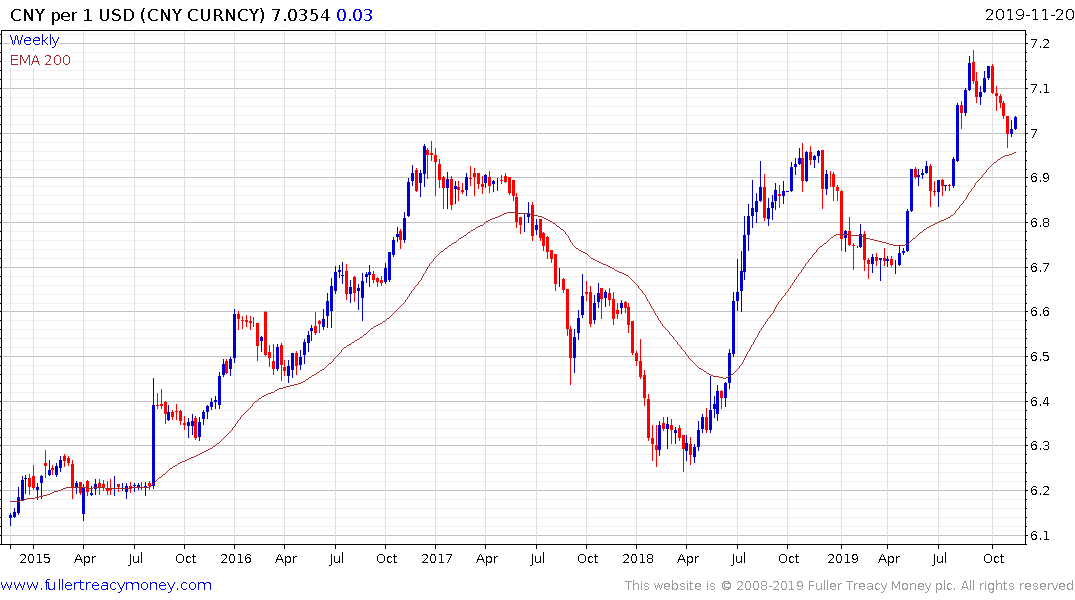 The renminbi is pulled back from the CNY7 level which is helping to confirm an area of previous support is now resistance.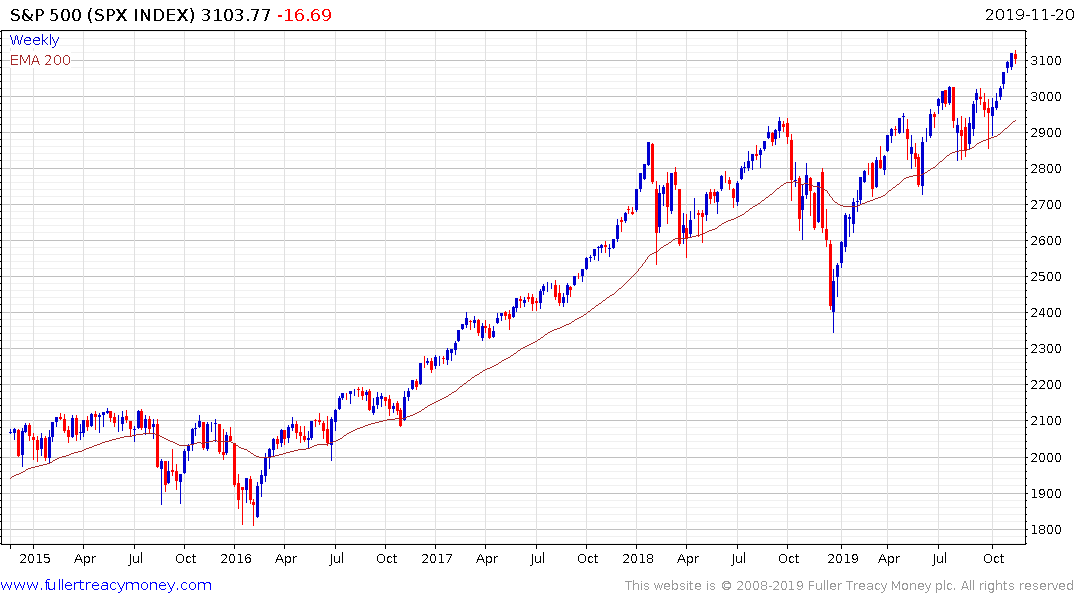 The S&P500 has a short-term overbought condition so there is some short-term scope for consolidation. A sustained move below the trend mean would be required to question medium-term potential for additional upside.
There is an interesting contrast of accounts in how news is being reported in Hong Kong. Guo media reported Zhu Rongji's (one of China's former premiers) granddaughter is among the protestors and was escorted from the Polytechnic University Campus by Hong Kong officials yesterday. Meanwhile, the Standard newspaper is counter claiming the girl escorted from the compound shares the same surname but is unrelated to the former Premier.
It's largely irrelevant now, whether the Zhu removed from the university siege is in fact related to China's ruling class. The protestors believe she is and the government insists she isn't. That is another example of how the Tacitus Trap is evolving; where a loss of faith in government and political institutions undermines truth telling because each side believes the other to be liars. Total state control of media boosts that belief but it is an threat beyond Hong Kong's borders.
Back to top