Two Frances Collide in Battle to Shape Europe's Future
This article by John Follain for Bloomberg may be of interest to subscribers. Here is a section:
Tergnier may be Macron's toughest sell.

The town, with a population of 13,000, used to vote Communist and then Socialist. It turned to the National Front as its sprawling rail freight station — once one of France's biggest — shed hundreds of jobs. Steelworks, a sugar-manufacturing plant and other firms closed down or moved elsewhere leaving the jobless rate at 15 percent. The national average is 10 percent. Thirty-six percent of voters backed Le Pen last month, among her highest votes in the country.

"Globalization is bad for Tergnier," said mayor Christian Crohem, 67, who heads a mainly leftist coalition. "We've brought more countries into the EU and we've allowed businesses to move around, so we're up against workers from abroad who don't play by the same rules, it's unfair competition."

He tells the story of a 70-year-old woman who came to see him recently because she didn't have enough money to feed herself. Sitting in his office, she cried with shame as she asked him for a handout to buy food.

"That kind of thing really gets to you," he says. "People here feel abandoned, and so do we, the officials they elect."
In a country like France, which prides itself on its social infrastructure, this kind of story is all the more troubling. Fiscal austerity over much of the last decade has laid bare the hollowing out of rural and legacy manufacturing centres right across the developed world. We are talking about France right now because the election is on Sunday but this is a broad issue which has contributed to populism in a number of countries and there is little evidence of sincere efforts to curb it.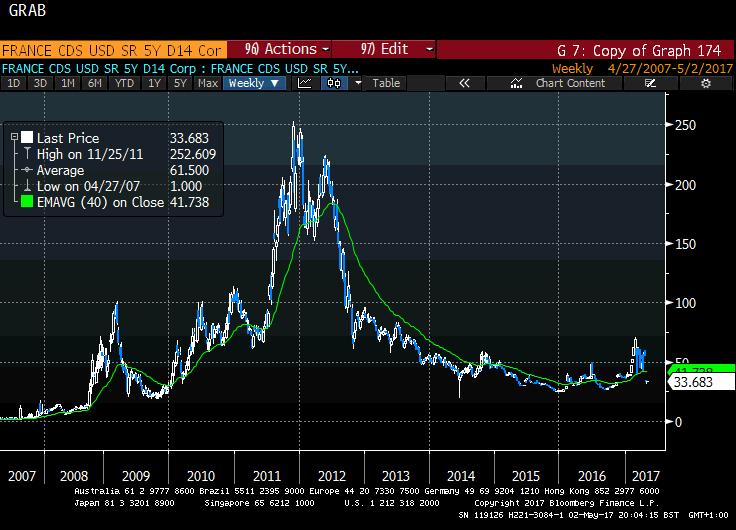 I continue to believe the French election result will hinge on which candidate is more successful in getting the vote out since a large number of people who traditionally support the main parties could abstain. French CDS spreads collapsed following the first round result confirm the fact the majority of investors now take for granted Macron will win. Since his victory is already in the price there is nothing to be gained in buying ahead of the result and I suspect it will be closer than most expect.
Back to top