Turkey Central Bank Raises Interest Rates to Halt Lira's Slump
This article by Onur Ant and Benjamin Harvey for Bloomberg may be of interest to subscribers. Here is a section:
Turkey's central bank raised interest rates to halt a slide in the lira that's seen the currency post a series of record lows.

The central bank raised its late liquidity window rate by 300 basis points to 16.5 percent, after an extraordinary meeting of its monetary policy committee on Wednesday to "discuss recent developments." It kept other rates unchanged, describing the move as a "powerful monetary tightening" and saying it's ready to continue using all instruments.

The lira reversed Wednesday's losses after the bank's move. It was trading 0.7 percent stronger at 4.6367 per dollar as of 7:32 p.m. in Istanbul. The currency earlier fell as much as 5.5 percent.

The central bank acted after three weeks of turmoil on Turkey's currency markets. Turkish President Recep Tayyip Erdogan, who's seeking re-election next month, has publicly opposed any moves to raise interest rates, while investors and economists argued that was the only way to halt the rout.

Erdogan told Bloomberg in an interview this month that he'll seek more control over monetary policy if he wins the vote.

The central bank's rate-setting committee hadn't been scheduled to meet until June 7. After news broke of its emergency session on Wednesday, Finance Minister Mehmet Simsek said on Twitter that it's time to restore the credibility of Turkey's monetary policy.
The Lira has been accelerating lower and dropped to test TRY5 to the US Dollar this morning, before the central bank finally intervened by raising the interest rate. 16.5% represents a substantial premium over anything available in Europe and is aimed squarely at stemming foreign capital flight.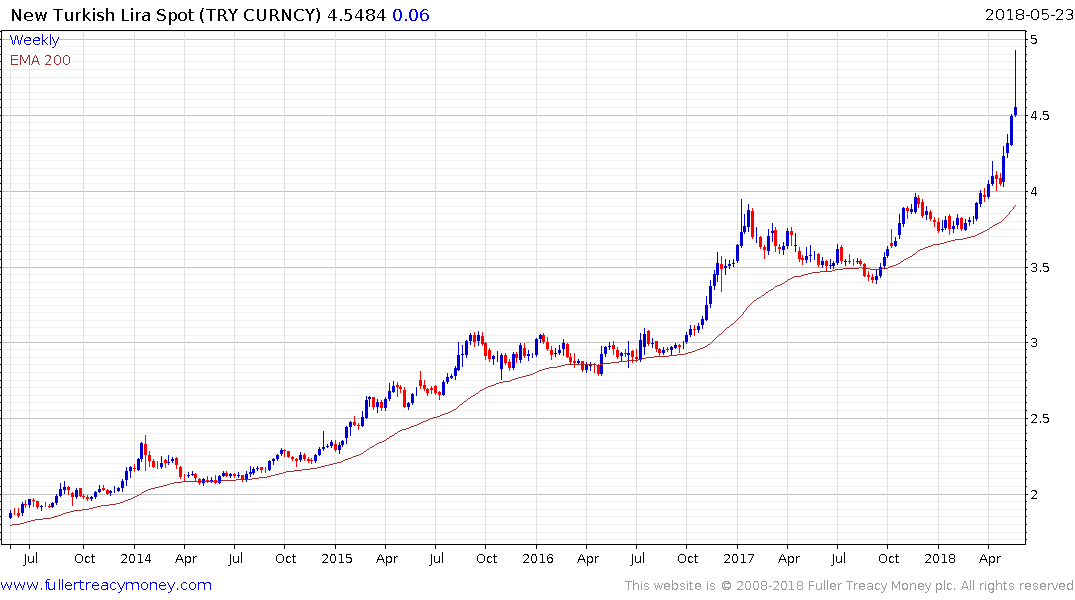 So far, the government's exhortations to the domestic population to remain loyal have been reasonably successful and perhaps more importantly the international interbank market remains stable. Here is a section from another article from Bloomberg covering that topic:
Earlier this week the major Turkish banks rolled over one-year dollar loan funding from foreign banks at a spread of around 130 basis points over Libor. This premium is unchanged from a week, a month, a year ago.
Though the country is mired in a currency crisis and political turmoil, the banking system appears stable.
These interbank lending rates represent a subsidy by foreign institutions in exchange for access to domestic Turkish business. This practice has been around for a while, and that it's persisting through the current market gyrations suggests lenders are betting that this crisis will pass. Underlying this stance is the idea that President Recep Tayyip Erdogan's tactics haven't done any real damage to the economy, and there's a prospect for relative stability to resume after his (all but certain) reelection on June 24.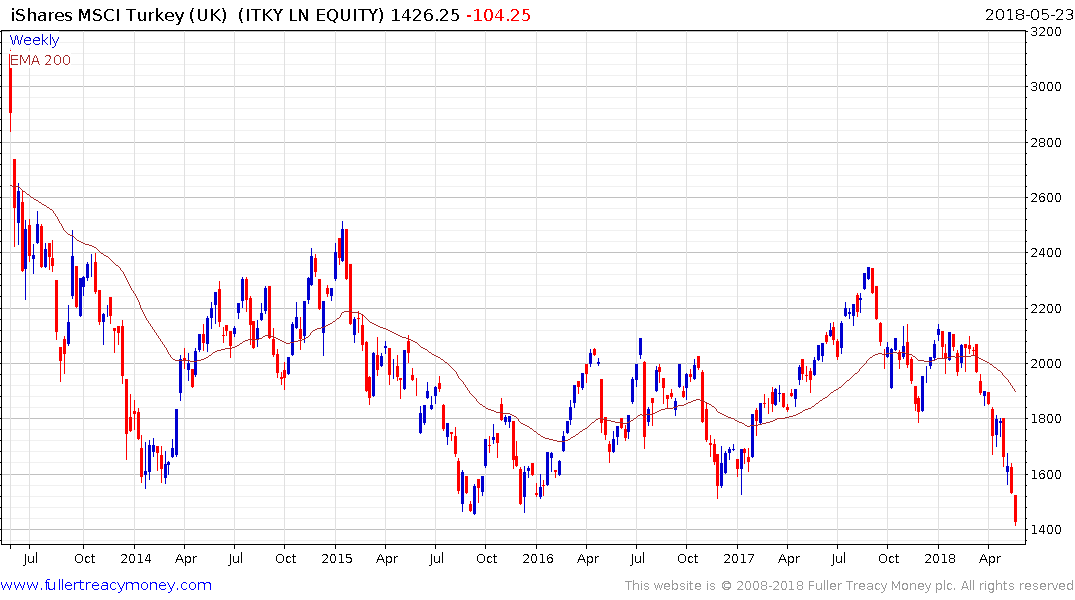 Against that piece of positive news is the fact that Erdogan is intent on running an election campaign based on fiscal stimulus. At a minimum, the decline of the Lira signals investors are far from comfortable with the inflationary implications of that decision. Therefore, his speech tomorrow will likely mark an important arbiter for how investors are likely to react to the interest rate hike and whether them deem it to be high enough to compensate for the risk.
The UK listed iShares MSCI Turkey ETF broke downwards today from its more than four-year range and a clear upward dynamic will be required to question potential for additional downside.
Back to top