Tumbling Car and House Sales Pose Fresh Challenge to Chinese Markets
This article by Joanne Chiu for the Wall Street Journal may be of interest to subscribers. Here is a section:
China Galaxy International analyst Tony Li said the U.S.-China trade dispute and a stock-market selloff were weighing on consumer sentiment. "Consumers have turned more cautious and are less willing to spend much on luxury items," he said.

The holiday slowdown was bigger than expected, and investors should closely watch for any further weakening this year, he added.

Meanwhile, Goldman Sachs said escalating trade tensions, slowing growth and policy uncertainty have weighed on Chinese stocks. In a pessimistic case, if annual growth slows to 6% and the yuan falls a further 5% against the dollar, shares could decline 10% more, the bank said.
I was chatting with Mrs. Treacy yesterday about the slowdown in China and she passed along this link to a story from epochtimes.com detailing how recent homebuyers are disgruntled with the steep discounts' developers are now offering on properties. Here is a section:
​
On Oct. 2, more than 40 new homeowners in the city of Jingdezhen in Jiangxi Province gathered in protest outside the sales office of a property developer, and angrily shouted complaints such as "refund our money" and "we bought in the evening, and the price dropped in the morning."
The next day, in Shanghai's high-end Pudong District, dozens of new homeowners congregated in front of a housing development, carrying signs emblazoned with the slogan "Refund my hard-earned money." The developer, Country Garden, had lowered prices from 35,000 yuan per square meter ($470 per square foot) to 26,000 yuan overnight.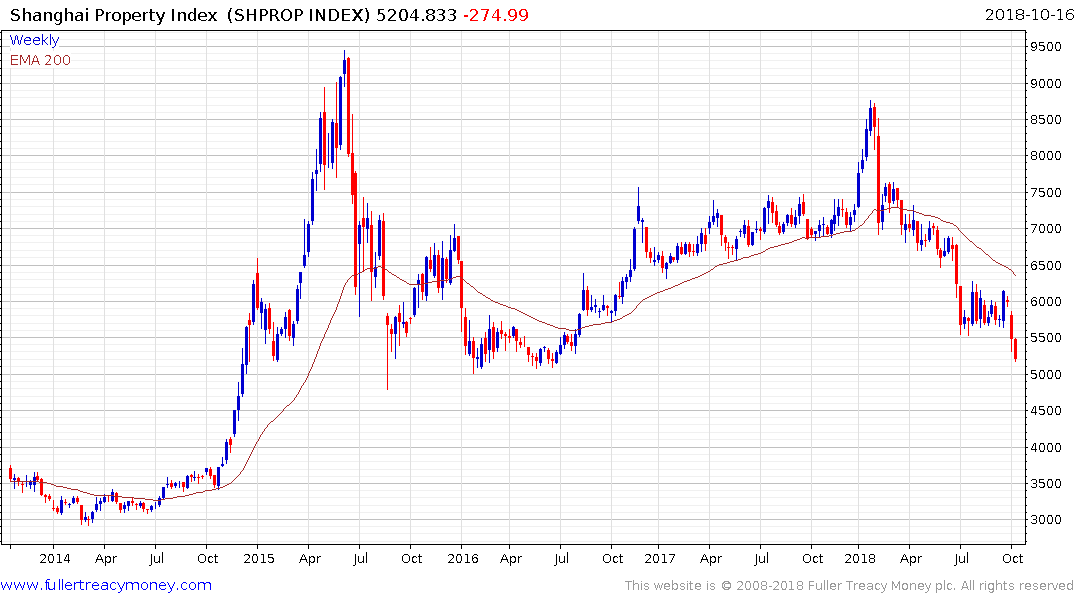 The Shanghai Property Index broke downwards immediately after the Mid-Autumn Festival holiday and extended the move this week. It is swiftly approaching the psychological 5000 level, which offered support in 2015 and 2016, but a clear upward dynamic will be required to check momentum.


The Shanghai A-Share Index has already broken below its 2016 lows.
What I find interesting about the Goldman forecast above is they are still predicting 6% growth. If the pressure in the property market continues to mount, after-all a 34% drop in price is significant, then we could be looking at a recession in China and that would have far reaching consequences for just about all related markets. Clear and sustained state sponsorship for the stock market is going to be required to check increasingly negative sentiment.
Back to top