TSMC's Dominance Highlighted in One Single Number
This article by Tim Culpan for Bloomberg may be of interest to subscribers. Here is a section:
But things started changing last year, coinciding with some important shifts in both the industry and the global political economy. Once neck-and-neck with Samsung Electronics Co., TSMC has now pulled ahead at the leading edge, while Intel Corp., formerly the world's most-advanced chipmaker, has fallen further behind. The Hsinchu-based company now commands around 54% of the chip foundry market, according to researcher TrendForce.

At the same time, the rollout of 5G mobile technology and artificial intelligence ran smack into the tech Cold War (which includes the U.S. effectively banning TSMC from selling to China's champion, Huawei Technologies Co.). This meant that the queue of companies wanting the best chip manufacturing in the world — such as Apple Inc., Qualcomm Inc. and Huawei — kept growing, while the supply of foundries able to meet their needs faces continued congestion.

This seems to have emboldened management to keep raising prices. Clients appear undeterred. Chips are generally the most important item in a device — be it a flashy new iPhone or high-end server — and the higher cost is far outweighed by the greater power and efficiency that superior components provide.

I've warned before that TSMC ought to be careful. Regulators, clients and governments may worry that the company is becoming too powerful. Signs that it's leveraging its power to raise prices could add those to concerns.

Right now, though, everybody still needs TSMC. That's a nice position to be in, while it lasts.
With the release of Apple's 5g phone today, demand for enabled devices will likely ramp higher. In a digitally connected work place where remote working plays an important role, the removal of lag is a significant development that does not get enough attention. It transforms the real-time ability of remote control of all manner of devices. Whether that is remote surgery, esports or industrial diagnostics, all are now further enhanced with the evolution of 5G.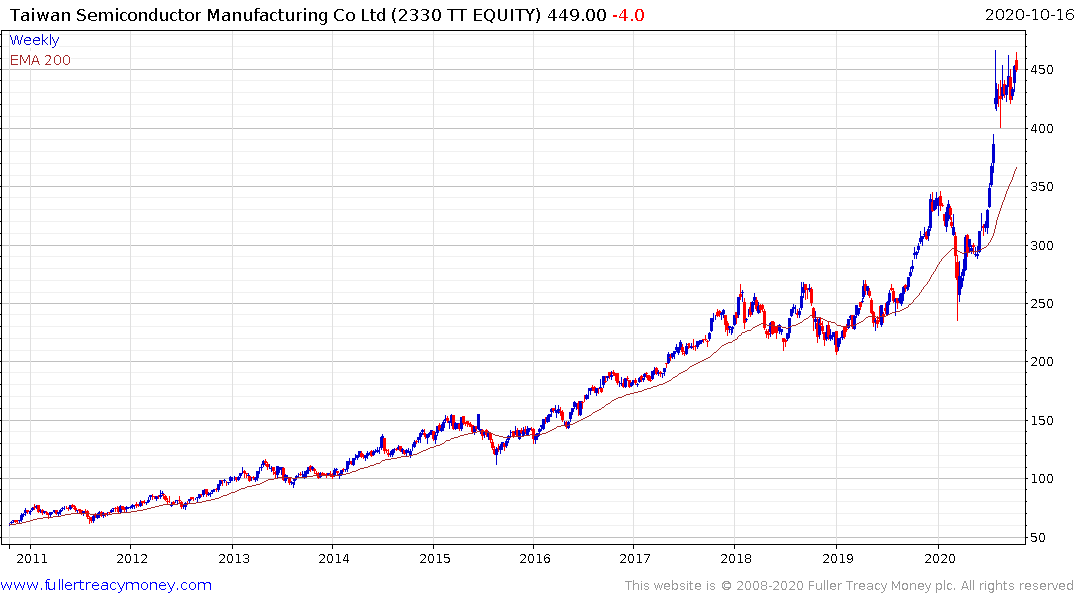 TSMC leapt higher in July and has been ranging for the last few months. It is currently firming from the region of the upper side of that congestion area and a sustained move below TWD400 would be required to question medium-term scope for continued upside.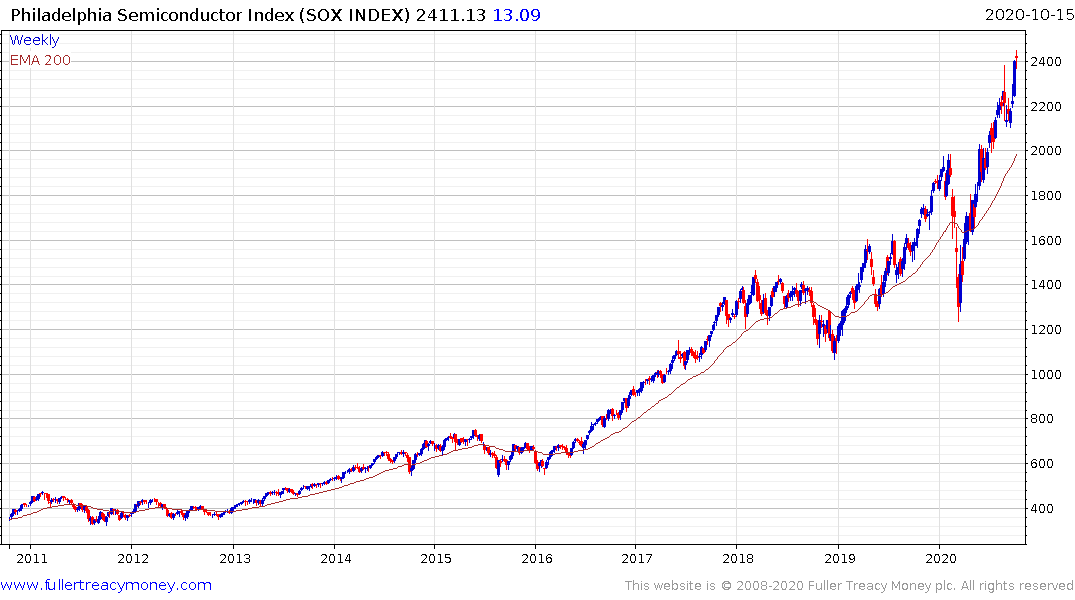 The Philadelphia Semiconductors Index broke out this week. While somewhat overbought in the short-term, a sustained move below 2100 would be required to begin to question the consistency of the uptrend.
The other major catalyst for semiconductors is the automotive sector. Whatever way we look at it cars are going to have increasingly more electronic components. Overnight, General Motors announced it will have 5 driverless cars on the roads of San Francisco. It's been a hot week for autonomous driving news. Hype around the sector has not been this high in at least two years.
Back to top