Trump Trade Tweets Send Grain Markets Diving to 42-Year Low
This article by Michael Hirtzer and Shruti Date Singh for Bloomberg may be of interest to subscribers. Here is a section:
"The U.S.-China deal sentiment is being unwound," Joe Davis, director of commodities at Futures International LLC, said in a message. "There's a zero percent chance of a deal by tomorrow -- it was almost a 100 percent chance last week."

Soybeans have become something of a poster child of the trade dispute. China, the world's biggest consumer, has mostly shunned imports from farms in rural American communities that voted for Donald Trump in 2016. Meanwhile, supplies from the 2018 harvest piled up in silos, bins and bags across the U.S. Midwest.

On Thursday, July soy futures in Chicago fell as much as 2.5 percent to $8.065 a bushel, the lowest since the contract debuted in late 2015.
China has been slow rolling or banning purchases of US grains has had a material effect on the price of these commodities and on the welfare of farmers dependent on selling them. With trade tensions still high these commodities came under renewed pressure today.
That also suggests they may be among the greatest beneficiaries if a trade deal is announced.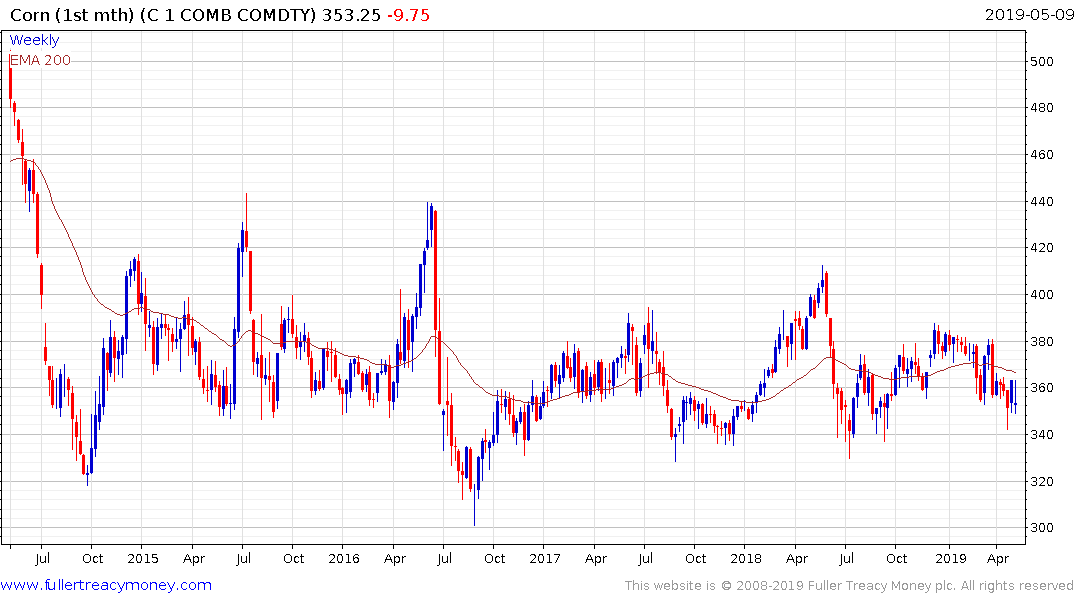 Corn remains in a base formation, ranging between $3 and $4 since 2015. A mild upward bias has been evident over the last couple of years with the most recent higher reaction low in the region of 342₵. That represents a potential area of support for this current bout of weakness.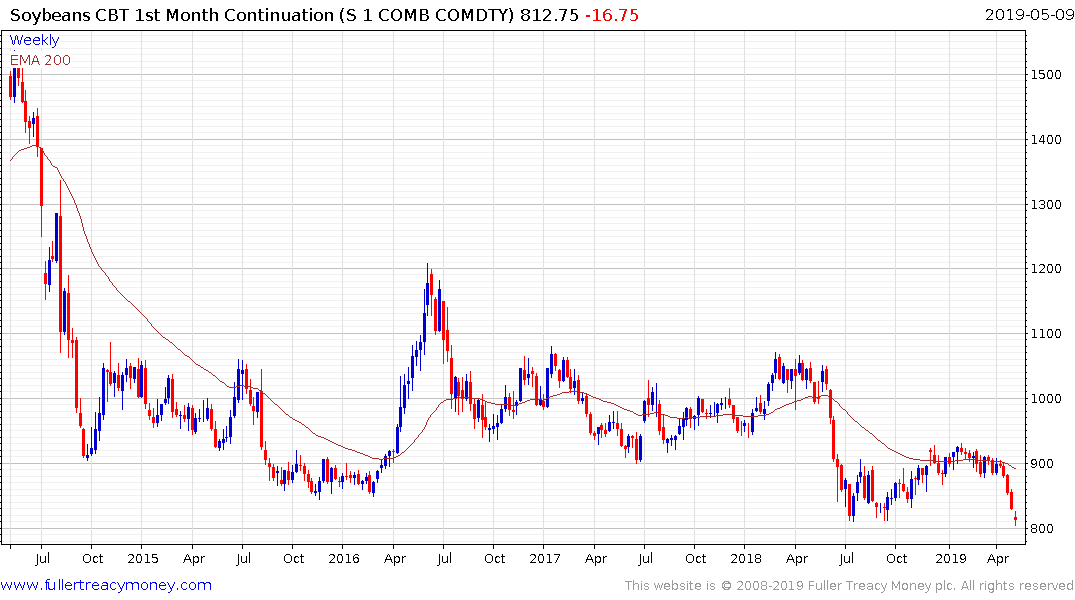 Soybeans is deeply oversold in the short-term as it tests the region of the 2018 lows. It is more difficult to argue there is clear evidence of base formation development but the 800₵ represents at least a near-term area of support.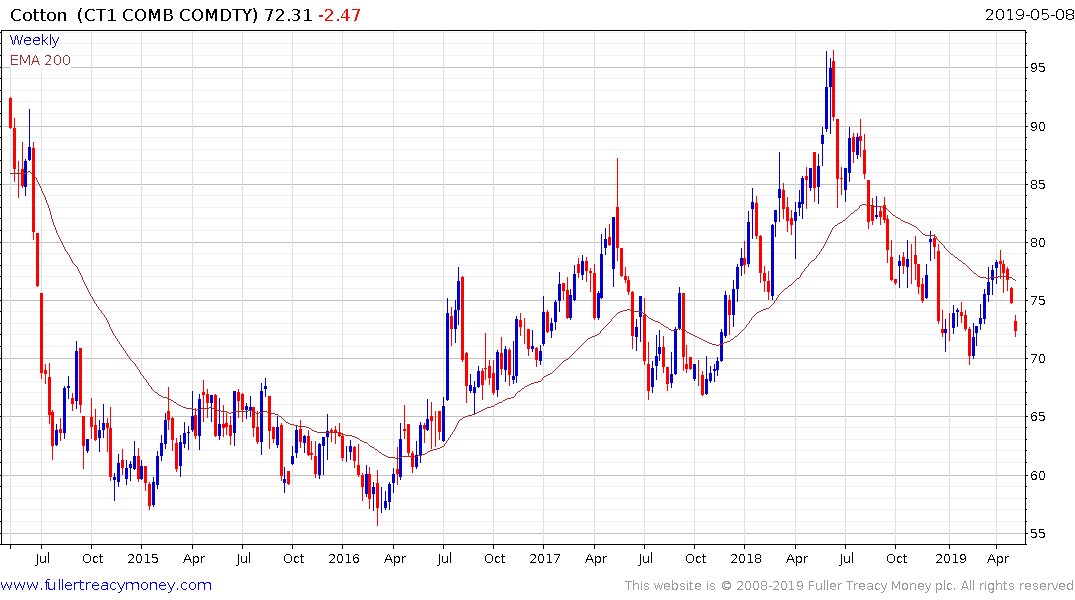 Cotton has also sustained a medium-term upward bias but is back testing its sequence of higher reaction lows.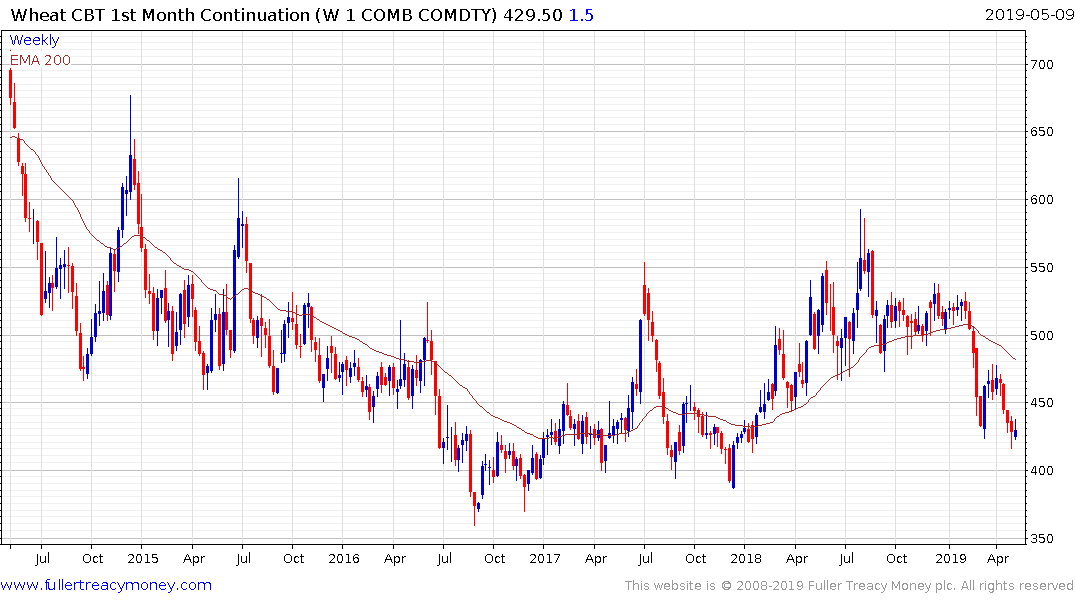 Wheat is also back testing a previous area of support near $4.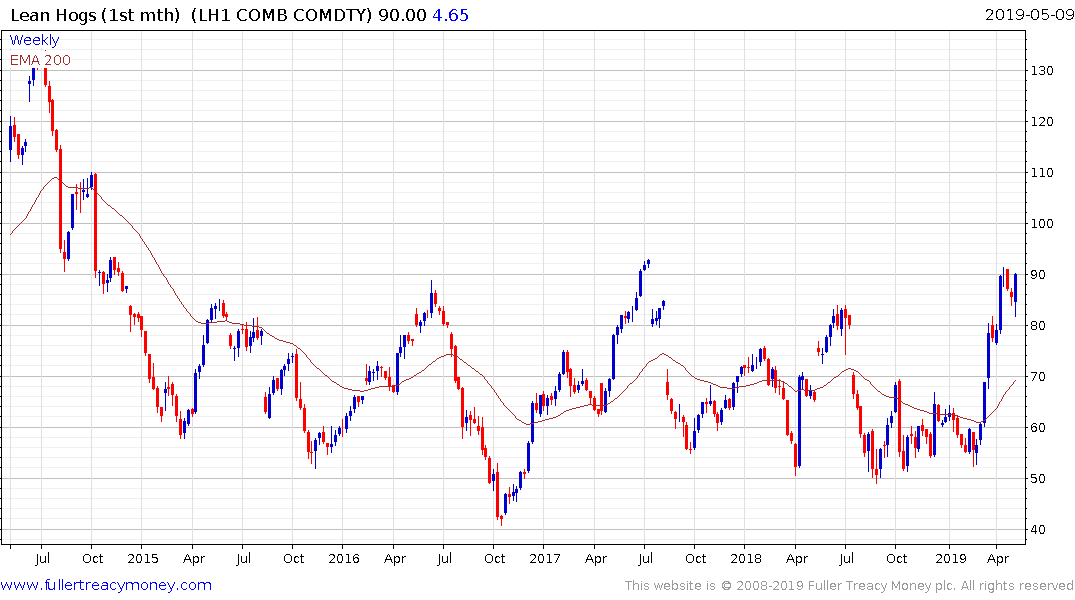 Lean Hogs remains in its bullish period seasonally ahead of the June contract roll and summer slaughter schedule. The price has been consolidating in the region of the upper side of the four-year base for the last six weeks and is currently firming.
Back to top