Trump's Tax Cuts Seen Producing Short Job Growth 'Sugar High'
This article by Lynnley Browning for Bloomberg may be of interest to subscribers. Here is a section:
There is good news for Trump and the Republican Congress: A short-term economic jolt might help make congressional elections next year smoother for them.

In effect, making the deduction temporary would "pull forward" companies' future purchases and "juice economic activity in the front, during this term leading into re-election," said Michael Drury, the chief economist of McVean Trading & Investments in Memphis.

Grover Norquist, the president and founder of the conservative group Americans for Tax Reform, says he thinks the tax plan would produce sustained growth. But he acknowledged the issue's political importance.

"This tax bill, and its growth, is going to be the central piece of legislation that voters will vote on in October and November of 2018," Norquist said earlier this week.
The Trump administration is going to need to deliver on at least one major success if it is to succeed in sustaining the Republican Party's electoral success. That will be a central motivation for politicians as they assess the merits of this plan which is still notably skimpy on details. That also suggests a willingness to negotiate on the details so long as the central thesis of lower corporate tax rates and higher tax-free bands remain.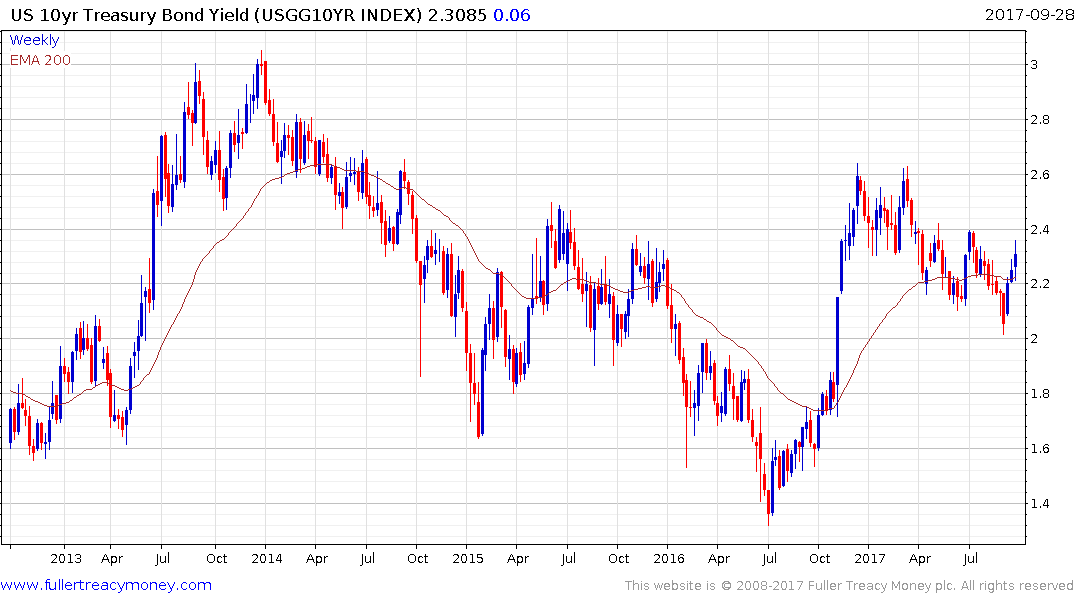 The bond market steadied today following yesterday's decline and as a result still holds the downward bias to yields evident since early this year. A sustained move above 2.4% is going to be required to signal a return to supply dominance.
Back to top