Trump Ban on Top Messaging App Risks Snarling Global Business
This article by Zheping Huang and Vlad Savov for Bloomberg may be of interest to subscribers. Here is a section:
Trump's order on WeChat came after a similar injunction against ByteDance Ltd.'s TikTok, the viral video service the White House accuses of jeopardizing national security. But while ByteDance's business outside of TikTok is largely confined to home, Tencent is central to the global distribution of games and a major conduit for American companies that sell products in the world's No. 2 economy.

Apple, for instance, makes the majority of its iPhones in China, where WeChat is the oil that lubricates communications both on the factory floor and in the boardroom. In a worst-case scenario, American consumer brands like Walmart and Starbucks Corp. may be prevented from selling goods and services to Chinese buyers via WeChat's "mini-programs" in China -- now one of the fastest-growing avenues for e-commerce. China accounts for about 9% of Walmart's international sales and is its fastest-growing market.

"If you can't pay for Starbucks coffee on WeChat, people will stop drinking it," said BOCOM International analyst Connie Gu, commenting on the extreme cases where American brands are banned from using WeChat as a payment method.

Less quantifiable is the spillover effect on the gaming industry.
Tencent ranked as the world's biggest games publisher by revenue in 2019, according to Newzoo data, and it collaborates with U.S. industry leaders like Activision and Electronics Arts Inc. It also holds a large stake in Fortnite maker Epic Games Inc. and owns League of Legends developer Riot Games Inc. That sprawling but somewhat stealthy gaming empire, deeply rooted in the U.S., was deemed under threat when the WeChat sanction was first announced, though a U.S. official later clarified that the action only involved the messaging service and not its parent.
Chinese language blogs were afire this morning with discussion of the WeChat ban. It is the primary vehicle many people use to communicate, shop, play and remit money across the Chinese diaspora. If India's ban of Chinese apps is any guide, they will disappear from app-stores but will remain on consumers' phones. That means existing users will still have access but will not have access to future updates.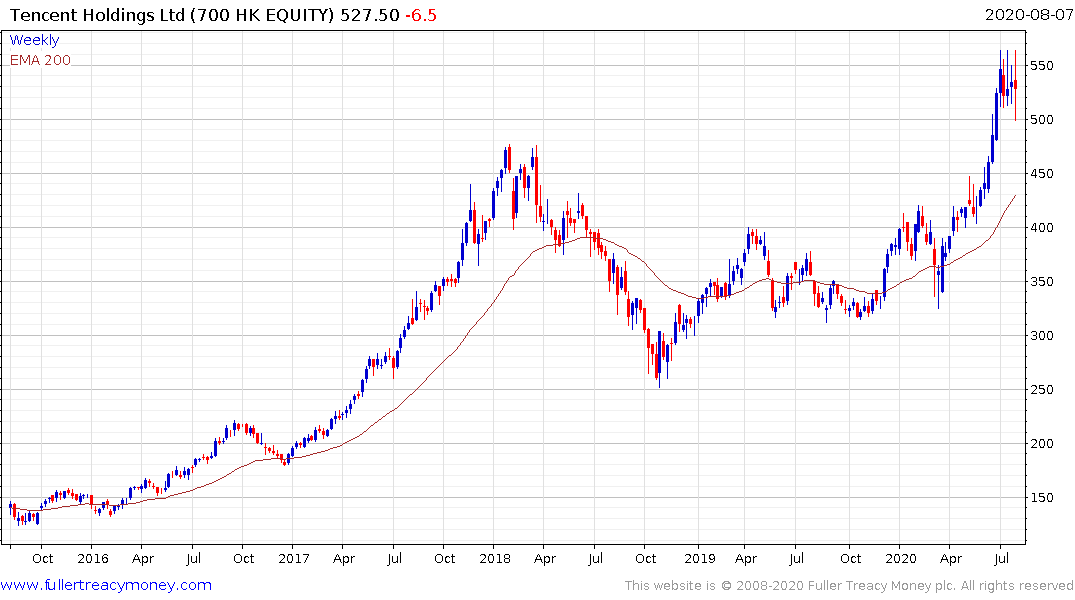 This is obviously problematic for Tencent (WeChat's parent) since it will crimp potential to grow in future. However, since it is now a chess piece in the emerging Great Game there is the potential it will receive additional assistance from the Chinese government to ensure it continues to grow. The rebound of the intraday lows for both the share and the wide mainland stock market suggest investors are willing to give the benefit of the doubt to stock market resilience. The wager is stocks are part of government efforts to exude a sense of strength in the face of rising trade frictions.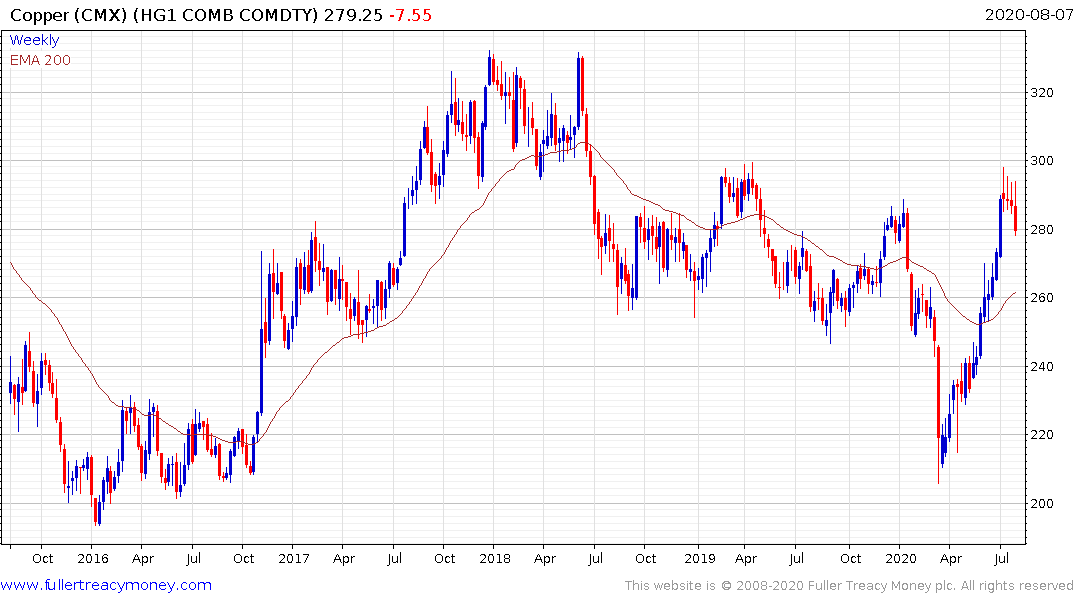 The copper price pulled back in a dynamic fashion today to signal a swifter process of mean reversion. Commodity prices are less easily influenced than the stock market and signal some angst at the prospect of further deterioration in the US/China relationship.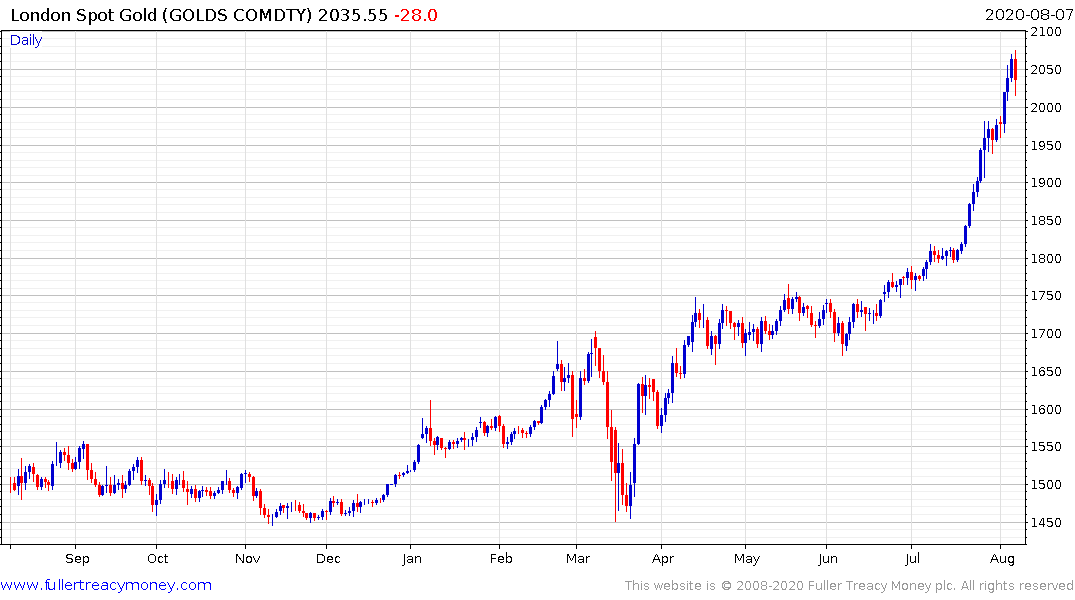 Gold also paused today.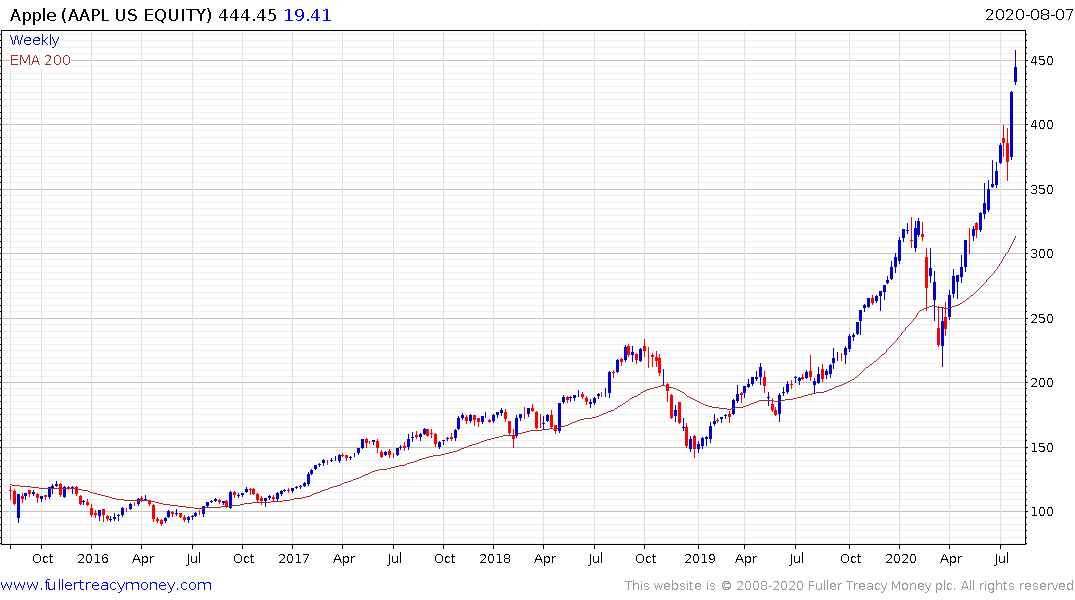 There is a clear rationale for arguing we are now at a decision point for some of the companies that rely heavily on China as both a manufacturing hub and destination for sales. Apple came within close proximity of a $2 trillion market cap yesterday. That's a big hurdle since the entire advance from a $1 trillion valuation has been based on valuation expansion. At a P/E ratio of 34 it is no squarely in expensive territory since outsized growth is virtually impossible at this size. The entire promise of 5G rollout is already priced in.
No company has been as adept at playing both sides as Apple but it only takes one negative comment or denial of market access measure and Apple's high valuation will become a significant liability.
Back to top