Trump Backs Away From Conflict With Iran After Harmless Attack
This article by Josh Wingrove and Jennifer Jacobs may be of interest to subscribers. Here is a section:
Iran fired more than a dozen guided missiles at two U.S. bases in Iraq in retaliation for the killing of Qassem Soleimani. But a Pentagon analysis of the attack suggested the missiles were aimed at unpopulated parts of the bases, according to people familiar with the matter.

Satellite imagery of the bases provided by Planet Labs showed damaged aircraft hangers and other structures at the Al Asad airbase in western Iraq following the strike.

"Iran appears to be standing down," Trump said. "Which is a good thing for all parties concerned and a very good thing for the world."

Iran's restraint and Trump's measured remarks in response suggest a path toward easing tensions with Tehran, which surged after Soleimani's killing in a U.S. drone strike near the Baghdad airport last week.

Iranian Foreign Minister Javad Zarif said on Twitter earlier Wednesday that the missile attack "concluded" Iran's retaliation for Soleimani's killing. Even if Tehran refrains from further direct attacks, it might still seek reprisals through more covert means, such as attacks by proxy militias or in cyberspace.
The de-escalation of the tensions with Iran resulted in a reversal of a number of short-term overbought conditions overnight. Attention will now likely turn to the conclusion of the first phase of the trade deal next week and the continued actions of the Federal Reserve in addressing the liquidity constraints of the repo market.
The clearest conclusion we can reach and it is a message that is resonating throughout the global halls of power is the previous mantra of "walk quietly but carry a big stick" has been replaced with "carry a big stick and be prepared to use it". Arguably, this is exactly the same strategy Russia has been pursuing for much of the last decade.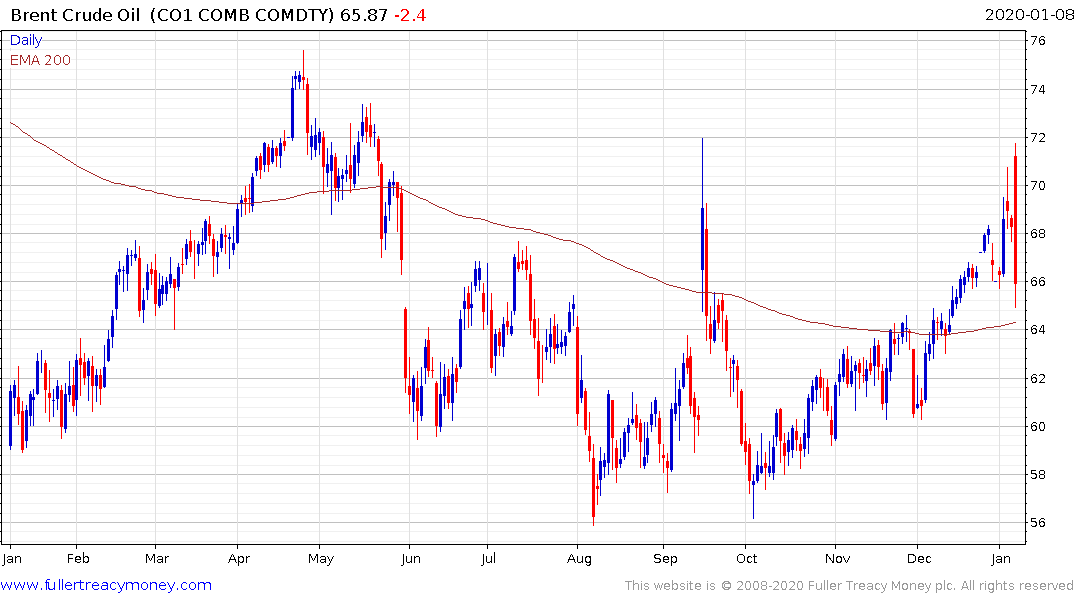 Brent crude oil posted a large downside key day reversal following the de-escalation. The size of the dynamic suggests a peak of a least near-term and potentially medium-term significance.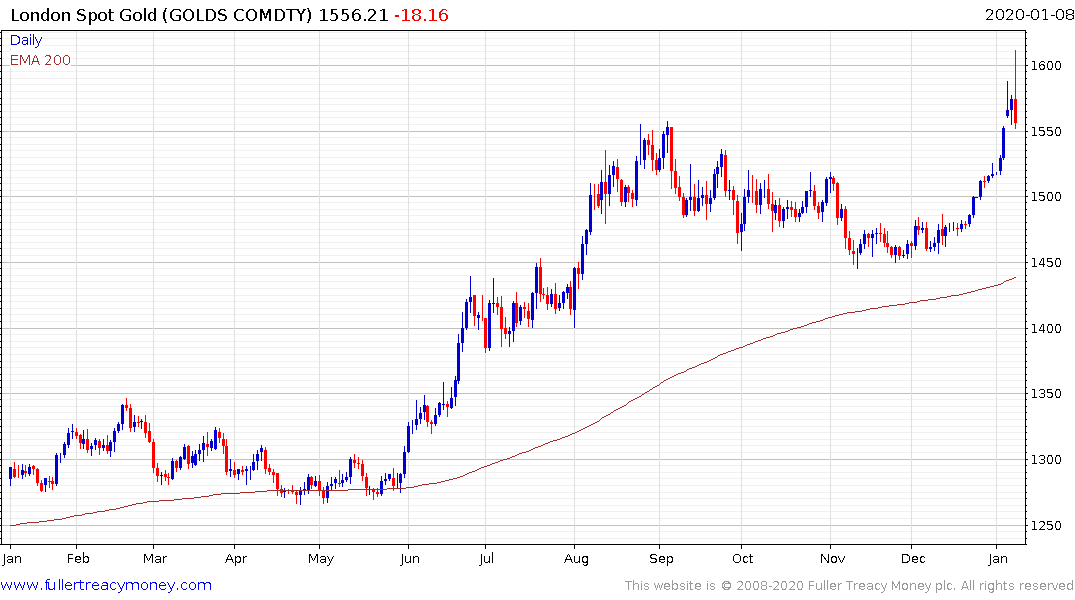 Gold gave up its earlier advance to also post a downside key day reversal suggesting a peak of near-term significance and at least some consolidation of recent gains.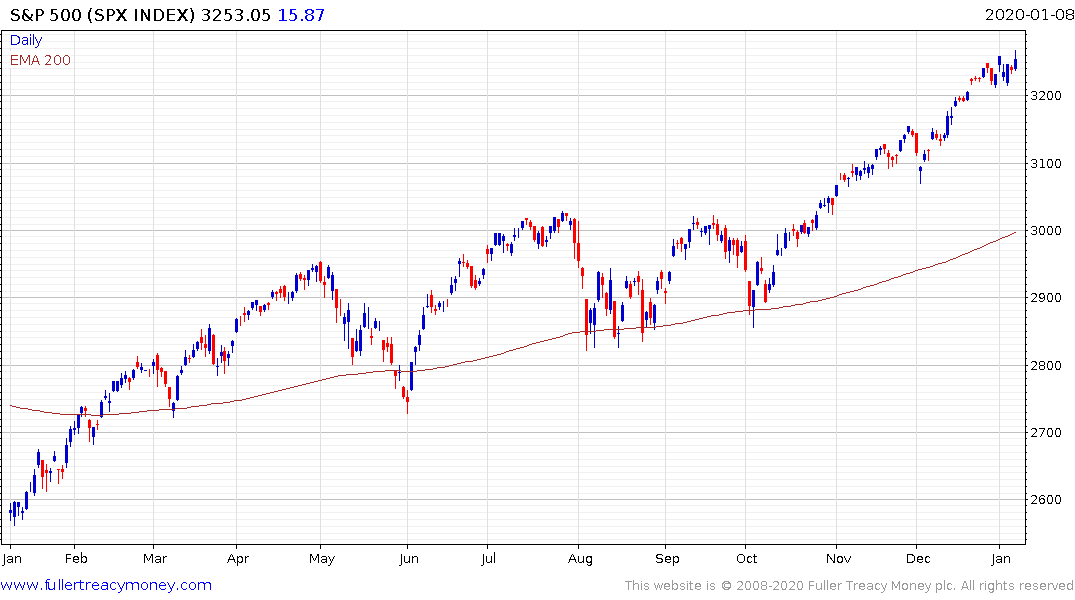 Wall Street extended its three-month advance to hit a new all-time high. The simple fact is monetary policy beats most other factors most of the time.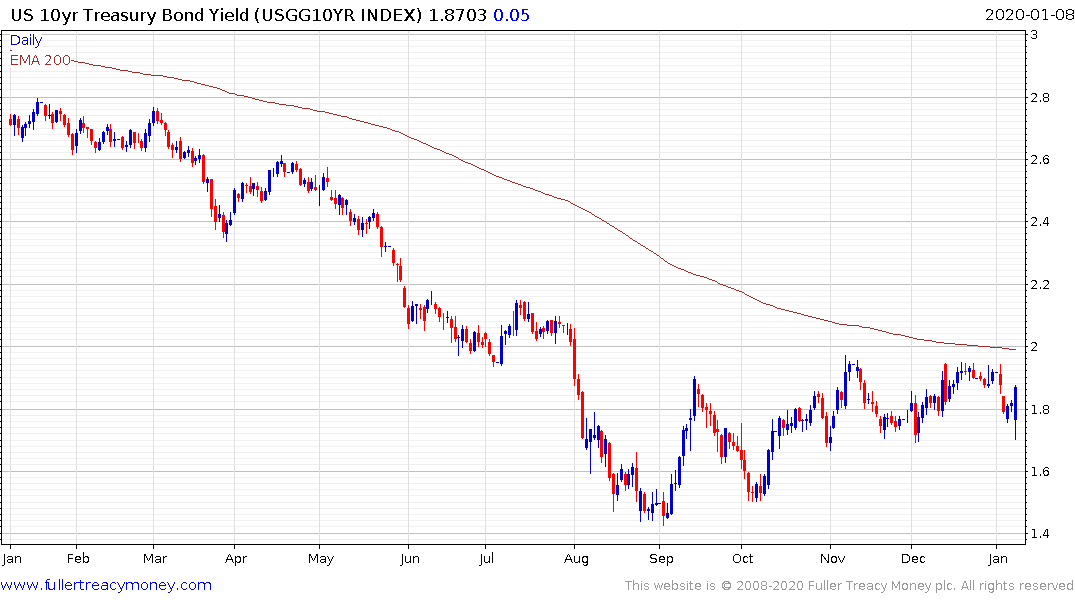 10-year Treasury yields are taking the other side of that trade and posted a large upside key day reversal to confirm the downtrend and signal renewed supply dominance.
Back to top