Truckers Are in No Hurry to Have Their Hours Tracked
This article by Bob Tita for the Wall Street Journal may be of interest to subscribers. Here is a section:
Some smaller companies that operate just a few trucks and independent drivers are resisting the switch. "I don't plan on it until the last minute," said Monte Wiederhold, president of B.L. Reever Transport Inc., a six-truck fleet in Ohio.

He and other smaller fleet operators say allegations of cheating on paper logs are exaggerated and the safety benefits overstated. With drivers paid an average of 40 cents a mile, small operators say the $1,000 cost for an electronic log and the monthly service fees of around $40 per truck to process the data is a financial burden. Small fleets and owner operators account for about half of 1 million heavy-duty trucks for-hire in the U.S.

Acknowledging those concerns, the consortium of state and federal law enforcement agencies overseeing the change said last month that they will fine truckers found without electronic logs starting in December, but won't force their trucks off the road until April. Fines for log violations are based on state statutes and vary from state to state.
On the flight home from Dubai earlier this year I chatted with the owner of a haulage company who stated the introduction of electronic log books was a much more pressing issue for his business than any speculation about impact of autonomous vehicles.

His experience was that a number of truckers had quit in anticipation of the transition and he concluded they were probably the most likely to have been cheating on their books. The dearth of drivers was hurting his business while competition remained intense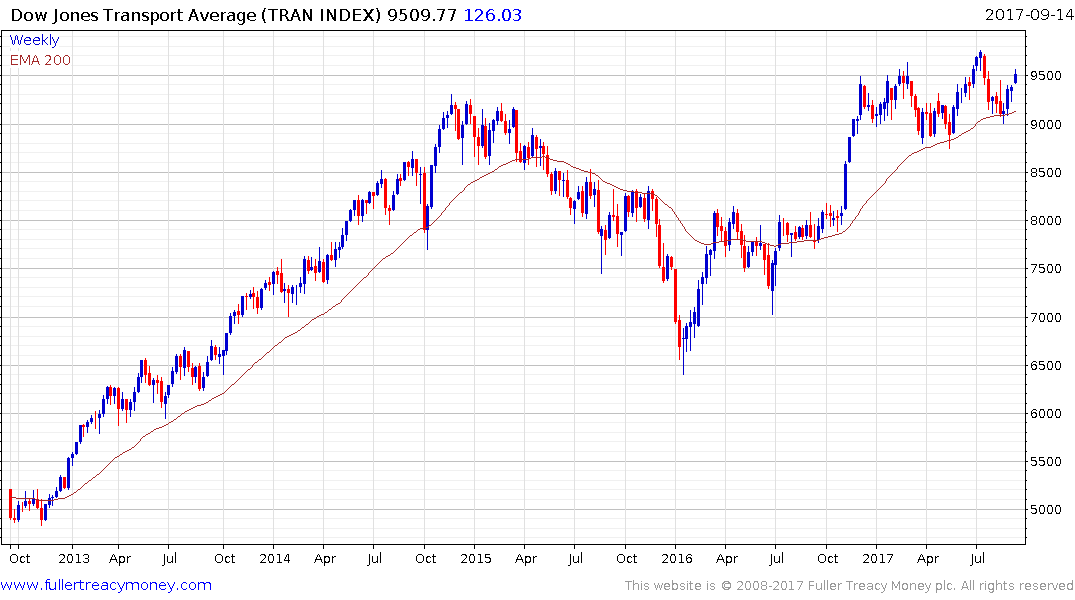 The Dow Jones Transportation Index is heavily weighted by delivery companies and railroads with trucking and logistics companies also representing important components.

The Index is bouncing from the region of the trend mean and the lower side of a six-month range.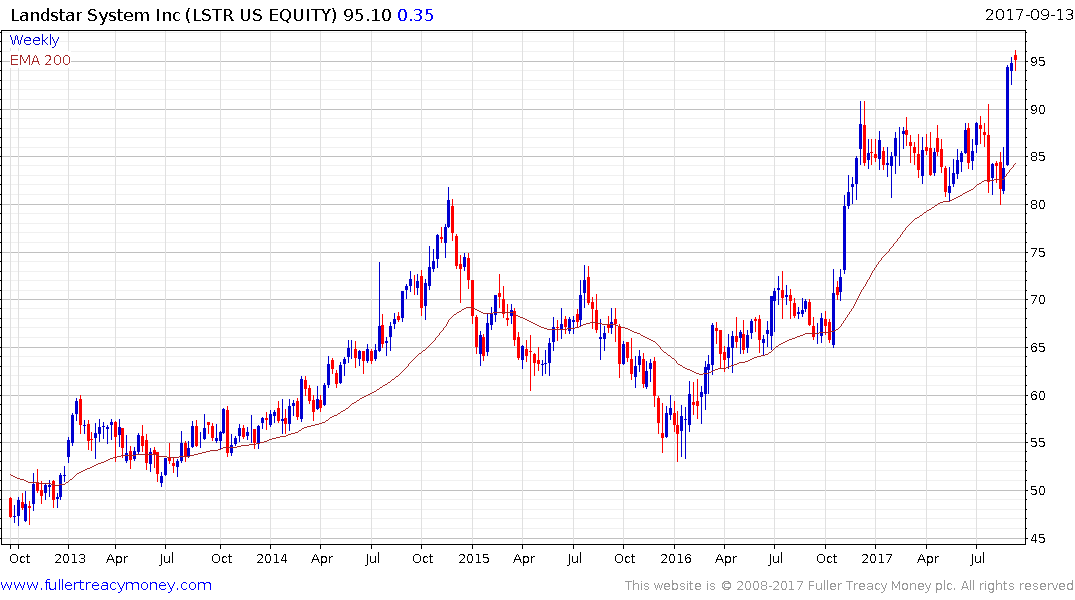 Landstar broke successfully out of a six-month range last week on improving perceptions of economic growth and rebuilding efforts following twin hurricanes.
Back to top