Treasury Prepares Another Debt Deluge as Fed Wades Into Market
This article by Emily Barrett for Bloomberg may be of interest to subscribers. Here is a section:


The wild card is how Treasury may address the elephant in the room. Dealers expect comment on last month's turmoil in funding markets. And to some extent, the Treasury's borrowing plans this fiscal year will be viewed, and traded, in light of the Fed's T-bill purchases to replenish bank reserves. The central bank embarked on the program this month, saying it will run "at least into the second quarter" of 2020 at an initial monthly pace of about $60 billion.

"They're taking about half of net issuance next year," said Gennadiy Goldberg, senior U.S. rates strategist at TD Securities.

Some say the Treasury's relentless debt sales have contributed to a shortage of reserves in the financial system, which last month forced the Fed to resort to a money-market operation it hadn't deployed since the financial crisis.

Treasury Secretary Steven Mnuchin has rejected that notion, saying this month that the September upheaval had "nothing to do with our issuance." But the department is clearly curious about how dealers are coping with growing supply. It sought comment in this month's survey on "the interaction between primary dealer positions, auction participation, and recent repo market variability."
The lack of liquidity in the repo market is an anomaly. Whether it is because banks no longer have the liquidity to take advantage of arbitrage opportunities, or because the Treasury's voracious appetite for funds is soaking up available liquidity, the fact remains there are not enough funds to meet the requirements of the market. That pretty much forces the Fed to step in and provide as much liquidity as required to ensure orderly markets.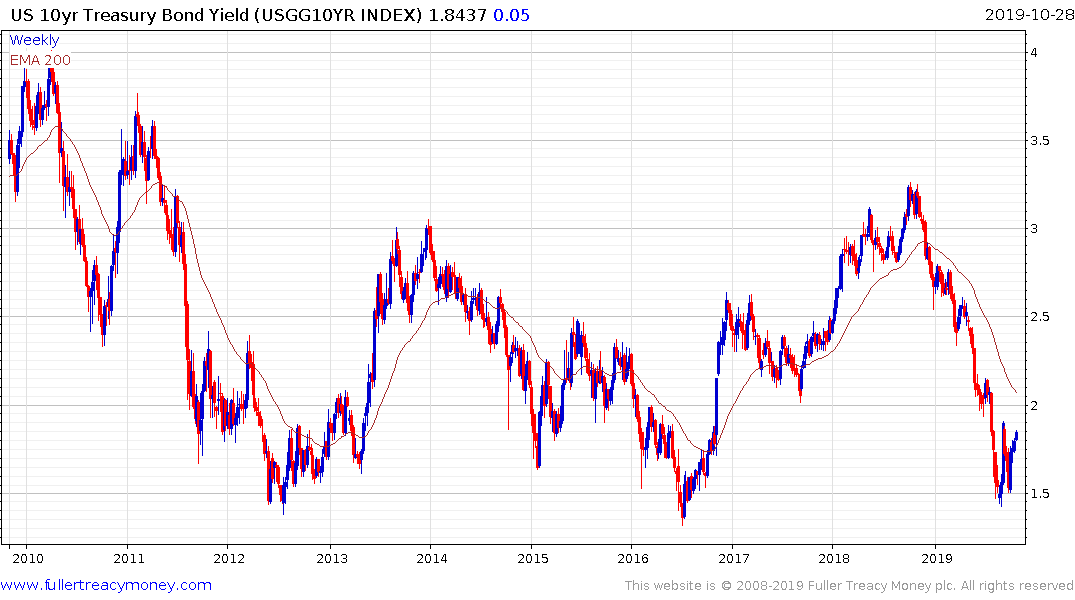 The clear upward dynamics evident on the 10-year yield are some of the most compelling evidence of change of trend and support at the lower side of the eight-year range as one might hope. The balance of probability is now skewed towards yield expansion and potentially a run back upwards the upper side of the range near 3%.
Back to top