Trafigura Sees Green Copper Supercycle Driving Prices to $15,000
This article from Bloomberg may be of interest to subscribers. Here is a section:
Trafigura expects the metal to breach $10,000 a ton this year, before entering a range of $12,000 to $15,000 a ton over the coming decade. Other ardent copper bulls including Goldman Sachs Group Inc., Bank of America Corp. and Citigroup Inc. have similarly strong near-term forecasts, but Trafigura has set itself apart with its lofty long-term target.

Goldman expects copper to hit $10,500 a ton within 12 months, while Citi sees it reaching $12,000 next year in its bull-case forecast. In the years to come, that's likely to become the floor for prices as the industry revalues the metal, according to Trafigura.

"You can't move to a green economic environment and not have the copper price moving significantly higher," Bintas said. "How can you have one without the other?"
Every country wants its economy to recover from the ravages of the pandemic. They are all looking at the same playbook. They need to increase growth without raising taxes and need a quick way to get as many people back to work as possible which will hopefully kick start the velocity of money. Infrastructure development has been the preferred strategy to achieve those goals after every other recession and this one is now different. The only question was what kind of infrastructure would be approved.
Europe, Japan and North America have a lot of energy and transportation infrastructure that is reaching the end of its useful life. Dams, roads, nuclear reactors and other power plants are old and in need of repair, upgrading or repair. That has created a market for alternatives. The net-zero carbon ambitions of that the green movement create a tax revenue stream for governments to help pay for infrastructure while also working towards energy independence. Green energy is therefore the first port of call for infrastructure plans just about everywhere.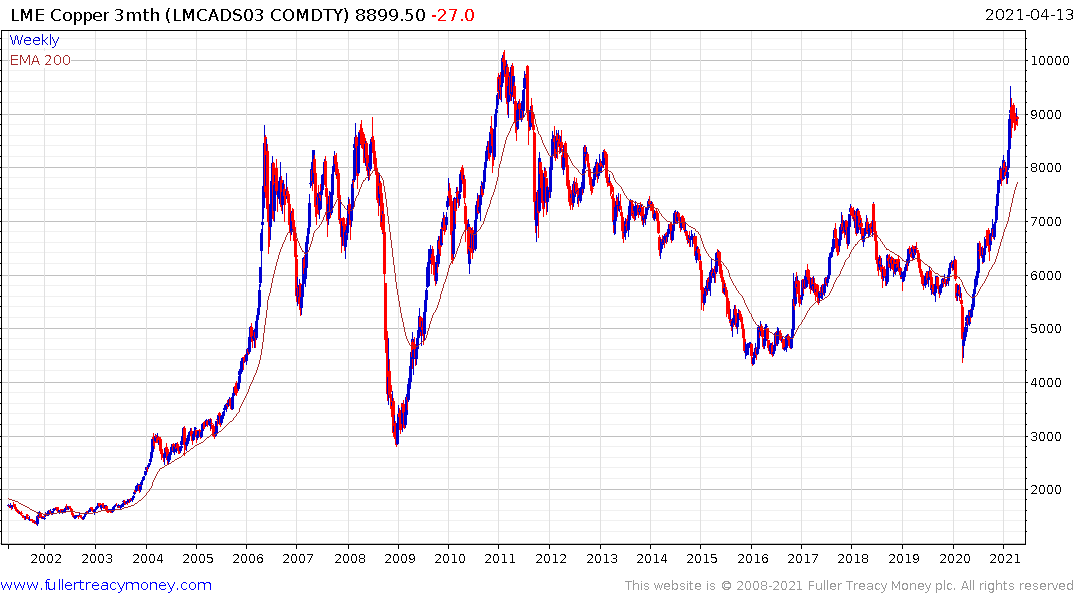 Major long life copper properties take decades to develop but demand is increasing now. That is setting up a classic supply inelasticity meets rising demand bull market. It is reasonable to estimate that copper will complete its base formation and multiply relative to the old highs before the bull market ends. That's what a supercycle means.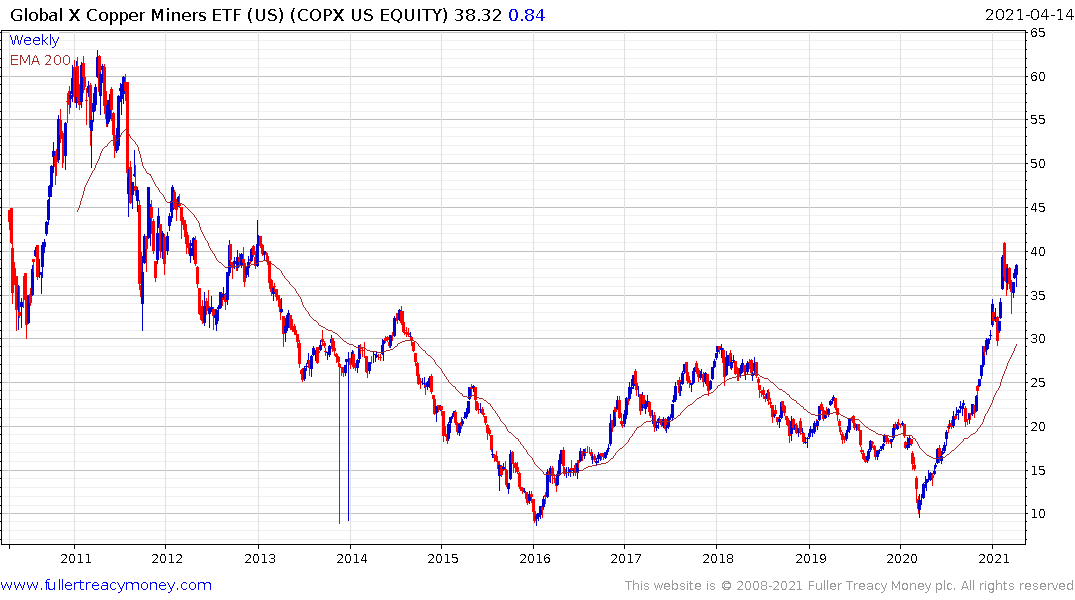 Copper miners completed a six-year base formation in January.
Back to top