Trafigura Seeks PE Funding as Commodity Surge Triggers Margin Calls
This article from Bloomberg may be of interest to subscribers. Here is a section:
Trafigura Group, one of the world's top oil and metals traders, has been holding talks with private equity groups to secure additional financing as soaring prices trigger giant margin calls across the commodities industry.

Trafigura has in recent weeks stepped up efforts to seek new funding from beyond its traditional group of bank lenders, according to people familiar with the matter.

The trader held talks with Blackstone Inc. for an investment of around $2 billion to $3 billion in preference shares or a similar hybrid instrument, but those talks ended without a deal, said the people, who asked not to be identified as the discussions were private. Trafigura has also approached Apollo Global Management Inc., BlackRock Inc. and KKR & Co., the people said.

The discussions with private equity firms have been broad-based, ranging from financing for specific projects to raising funding at a company level, the people said. There's no certainty any of the discussions will progress to a deal, they said.
Trafigura emerged from the last commodity bull market as the leader in commodity trading. As investment banks closed desks, sold warehouses and ships, the trading house stepped in and took market share. Today, most of the big trading houses for commodities are privately owned. They also do not have the balance sheets of banks. When volatility steps out to multiple standard deviations, models go awry.
The chaos in the nickel market is having negative effects for commodity traders. So is the extraordinary volatility in the wider commodity sector. If one portion of a trading book is experiencing volatility, it might be manageable. If everything is moving in an historically unusual manner, it creates problems. When this occurs at the same time liquidity is tightening, it can be contagious.
The private equity sector has massive liquidity on tap to take advantage of these kinds of scenarios. Trafigura's 5.875% perpetual bond currently yields 10%. There is clear scope for another private group to take a position in a commodity trader to gain positioning in the unfolding bull market.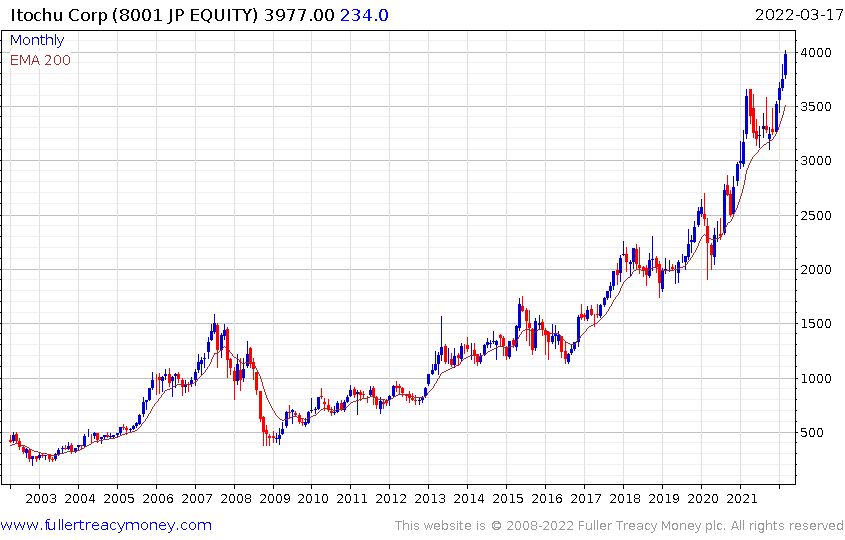 The investments Warren Buffett made in Japanese commodity traders continues to look inspired. Itochu in particularly continues to trend higher in a consistent manner.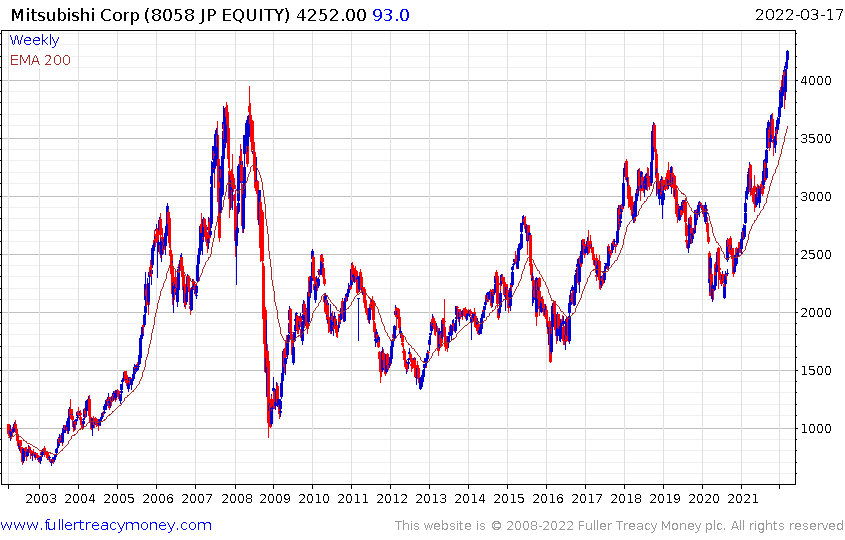 Mitsubishi Corp is breaking out of an exceptionally lengthy range.
Back to top