Trafigura Co-Founder Moves From Oil to Lumber for Skyscrapers
This article from Bloomberg may be of interest to subscribers. Here is a section:
While the idea of mass timber has been kicking around for years, increasing pressure on developers to reduce their carbon footprint may finally help propel the market. The Economist Intelligence Unit estimates that demand for cross-laminated timber, one of the most widely used mass timber products, will grow more than 13% a year through the mid-2020s. By 2025, mass timber is expected to account for about $1.4 billion of the $14 trillion global construction industry.

Norway boasts the world's tallest wood building at 18 stories, soon to be displaced by a 25-story mass-timber tower in Milwaukee next year. Vienna has built an entire district out of the stuff. In the U.S., the number of mass-timber buildings completed or under construction soared more than seven-fold in just three years to 576 at the end of September. Another 665 are in the design phase, according to data compiled by the Softwood Lumber Board.

Not everyone is sold on mass timber. There are concerns about its resistance to moisture and fire. And critics say its environmental benefits are overstated due to the carbon that's released from the decay of branches and tree tops left in the forest after the wood is cut, and also through the burning of waste products like sawdust. That carbon footprint swells even more when considering wood's shorter lifespan and greater vulnerability to natural disasters than concrete buildings, said Beverly Law, a carbon-cycle scientist and emeritus professor at Oregon State University.

"The reason you might see it catching on more is because it's being marketed heavily by the timber industry in the U.S.," Law said.
It strikes me as a modern form of sophistry that the carbon wells represented by standing trees are now considered inefficient at best and a liability at worst. It is very convenient that improving their carbon usefulness results in logging and using them as building materials. This same argument is used for supporting wood fired power plants and pellet heating systems. Little concern is given to the potential that trees will be cut down quicker than new ones grow if this new industry takes off.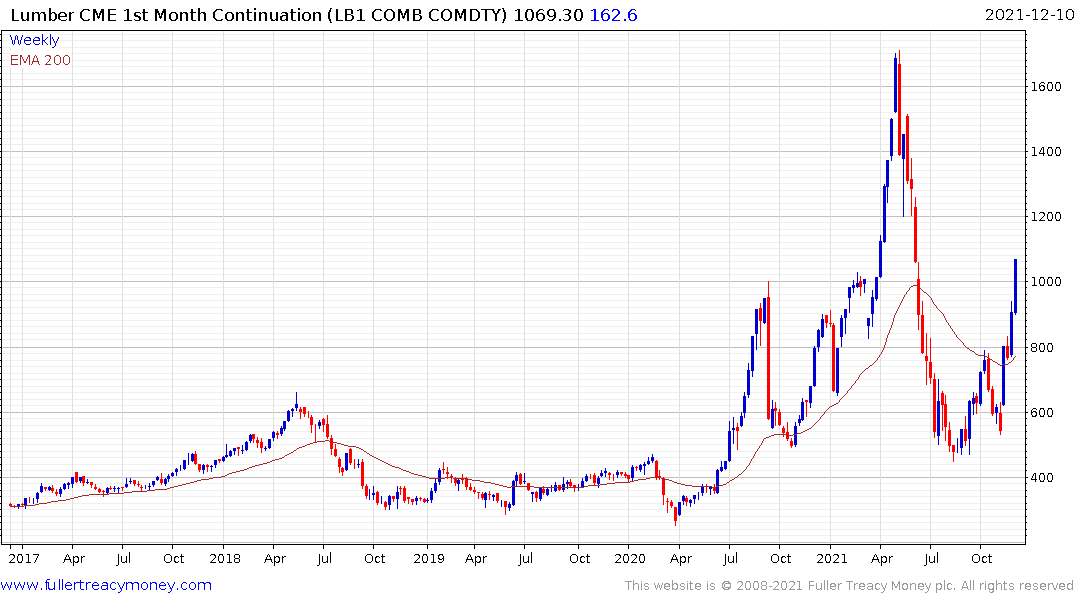 Supply Inelasticity Meets Rising Demand is the primary foundation for commodity bull markets. Historically lumber futures have depended on supply from North America forests and demand from the housing sector for 2x4s. If mass timber experiences a growth trajectory as a means of avoiding higher costs created by carbon taxes, it will mean less supply for the home construction industry.
At present lumber prices are rebounding because of a supply bottleneck in British Columbia because of last month's rain damage. The introduction of a significant new source of demand is a potentially more important development and suggests the price is unlikely to ever drop back below $300 again.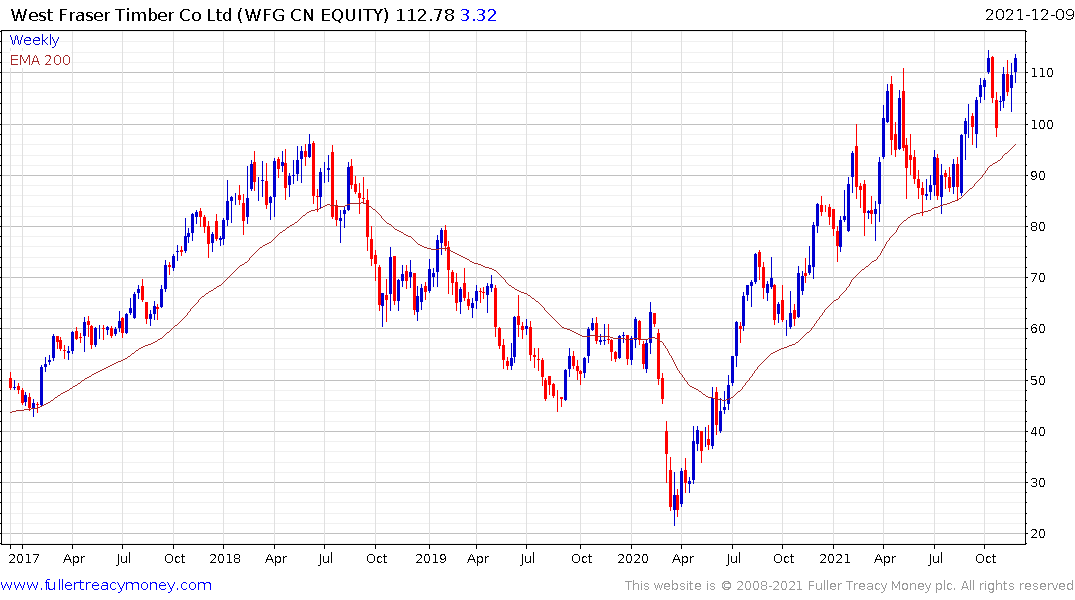 Weyerhaeuser, Rayonier, and West Fraser Timber remain in reasonably consistent uptrends. West Fraser is notable for its Estimate P/E of 3 and double-digit dividend growth rate. If lumber prices continue to hold historically levels, as appears likely, there is significant scope for re-rating.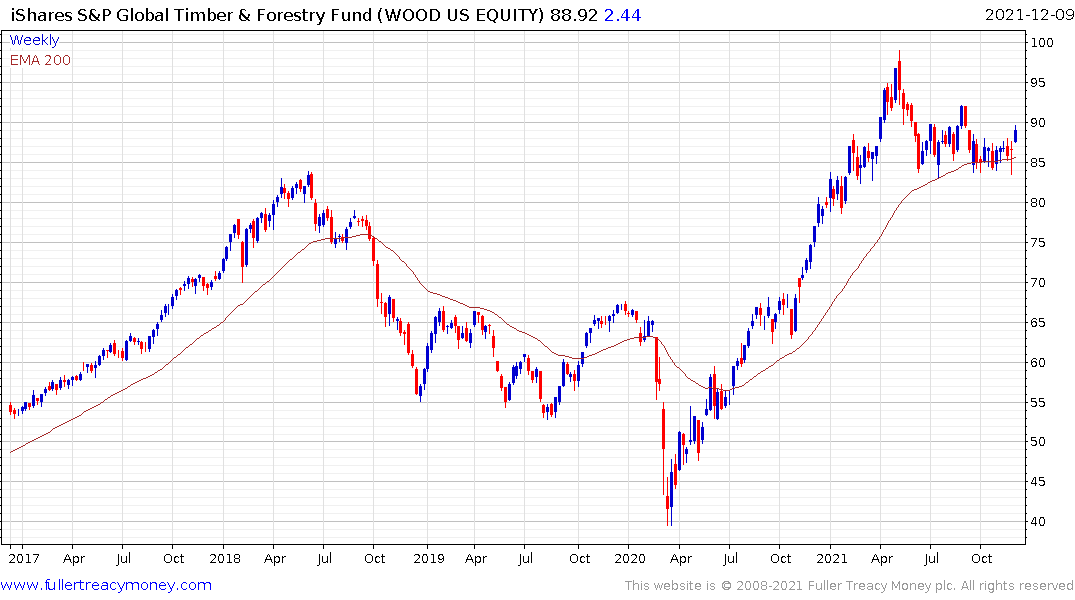 The iShares Global Timber & Forestry ETF is firming from the region of the trend mean.
Back to top