Trafigura Bets on Green-Nickel Squeeze in Defiance of China Cure
This article by Yvonne Yue Li and Andy Hoffman for Bloomberg may be of interest to subscribers. Here is a section:


Nickel is already one of the most carbon-intensive metals to produce. Now Tsingshan has come up with a way of using a type of low-grade ferronickel called nickel pig iron in its plants in Indonesia to produce metal suitable for batteries, offsetting the carbon intensity with renewable energy. Some analysts and investors, including Trafigura, have questioned whether the process will be accepted by increasingly eco-conscious automakers.

"The technology is definitely real, but does not meet ESG standards," said Jon Lamb, portfolio manager at metals and mining investment firm Orion Resource Partners. "As consumers are focused on the lifecycle carbon intensity of their supply chains it is difficult to see how this production would earn a spot in these supply chains."

But for Matt Fifield, managing partner at Pacific Road Capital, Tsingshan's announcement means more players in the game.

"The game itself is actually how do we put nickel units into a growing nickel market," he said. "There will be more Tsingshans, there'll be more people with breakthrough technology that will be able to create battery-grade nickel feed."

According to mining magnate Robert Friedland, there are a lot of "fantasies" about where battery-grade nickel is going to come from.

"The automobile industry is not going to nuke hundreds of thousands of acres of tropical jungle in Indonesia and dump the tailings in the ocean and try to convert ferronickel into batteries," he said during an industry event last week. "That's disinformation or whistling in the dark."
Carbon hurdles are only going to grow higher for European businesses. The nickel market is a prime example. European automakers will be held to account for the carbon intensity of the materials they use. That's particularly true as Germany's Green Party looks set to benefit from a pandemic electoral upset for the CDU. It is very questionable whether Chinese producers will be held to the same high standard. That creates a significant cost of production disparity and particularly since China is the world's largest car market.
Nickel, copper, cobalt, steel and aluminium all come with significant carbon footprints. Offsetting that is going to be a headache for all manner for industries. There is no arguing with the fact that the felling of millions of trees is distasteful in the short term. However, once Tsingahan's smelter is built the cost advantage will be hard to argue with. The carbon footprint of bitcoin doesn't seem to affect speculation in the asset in the slightest for example.

Indonesia has been lobbying for greater domestic processing of ore for years. They are unlikely to do anything to jeopardise that project now regardless of the environment sensitivities of the green lobby. Here is a section from the related article:
Indonesia had 13 operating nickel smelters with an input capacity of 24.52Mt by the start of 2020. And another 22 nickel mines are under development, government data shows, while Jakarta is trying to boost the sector. Indonesia holds about a quarter of all global nickel reserves.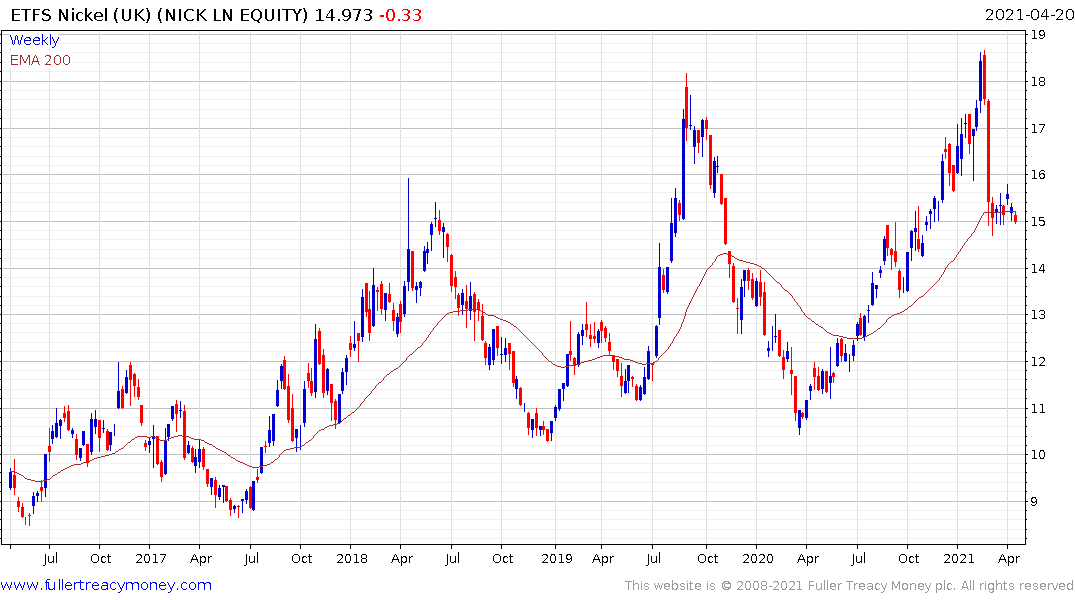 Nickel's supply inelasticity argument is under threat as a result. The price has not rebounded following the early March decline and is now testing the lower side of the six-week range. A clear upward dynamic will be required to check potential for additional weakness.
Back to top