Traders Rush Out of Treasuries on Optimism About U.S. Stimulus
This article from Bloomberg may be of interest to subscribers. Here is a section:
After efforts to prop up the virus-ravaged U.S. economy stalled for months, a group of Democratic and Republican lawmakers revealed a $908 billion stimulus proposal Tuesday. Getting it approved is far from assured. If it does pan out, that could prompt more money to move out of the safety of U.S. debt into stocks, accelerating a shift that began in November when the Dow Jones Industrial Average enjoyed its best month since 1987 amid promising Covid-19 vaccine news.

"Treasury yields are playing catch-up with the enthusiasm in the rest of the market, and it appears the impetus for additional fiscal spending is the catalyst for rising rates today," said Charles Ripley, an Allianz Investment Management strategist who is based near Minneapolis.
Investors appear to be rapidly reaching the conclusion that we are going to see simultaneous monetary and fiscal stimulus in 2021. That's at odds with what is normally a feature of the 1st year of the US Presidential cycle. Historically, new governments have attempted to clear out the proverbial Augean stables in the first year of the term before electioneering begins for the mid-terms. 2017 was also an anomaly because of the Trump tax cuts and 2021 is unlikely to see any meaningful attempt at fiscal rectitude.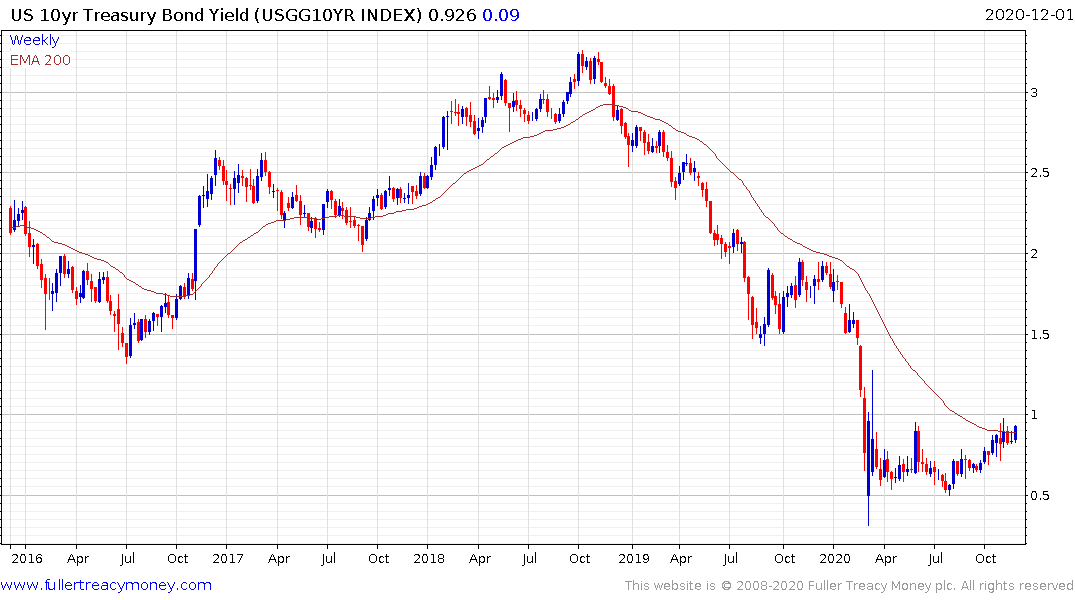 Quantitative easing has tended to coincide with higher long-term yields. Purchases have tended to be concentrated in shorter durations and that has encouraged investors to take on risk beyond the Treasury market. This time outright monetary financing of fiscal deficits is looking much more likely that it was in the past. The sheer size of the debt load and the sensitivity of government finances to rising servicing costs represent significant barriers to tolerating higher funding costs. The stock market is now pricing in the inevitability of additional monetary easing, but this time focused in depressing long-term yields. That's the definition of financial repression and the higher yields move the more urgent the decision to accelerate purchases will be.
Back to top