Trade Deal Delayed, Not Yet Denied
Thanks to a subscriber for this note from Gavekal which may be of interest. Here is a section:
Here is a link to the full report and here is a section from it:
In recent weeks, those pressures have eased, while anti-deal pressures have grown. First quarter economic growth in both the US and China beat expectations. Trump weathered the release of the Mueller report, and the Democratic Party clown car has not yet disgorged a credible 2020 challenger. China's revived economy has emboldened its negotiators to resist US demands to cut back industrial subsidies and forced technology transfers. Meanwhile, hardliners in the US—who include not just national security hawks but also labor bosses and Democratic party leaders like Charles Schumer—have amped up their criticism that Trump is not extracting enough concessions from Beijing.
The most likely outcome is that a deal will still be done, but it will take a bit longer. The main reason is that global markets have priced in a deal, so a failure of the talks will trigger a massive sell-off. China's leaders know this— indeed, they moved quickly on Monday morning to announce a cut in the reserve requirement ratio for small and medium-sized banks, in what looked like an effort to prop up investor sentiment after onshore stock markets tumbled -5.5%. Nevertheless, since they have already demonstrated their ability to stabilize China's economy through credit growth (see Stabilization Confirmed), it is likely they will figure Trump has more to lose in relative terms from a potential breakdown of talks, and so they will be inclined to call the US president's bluff.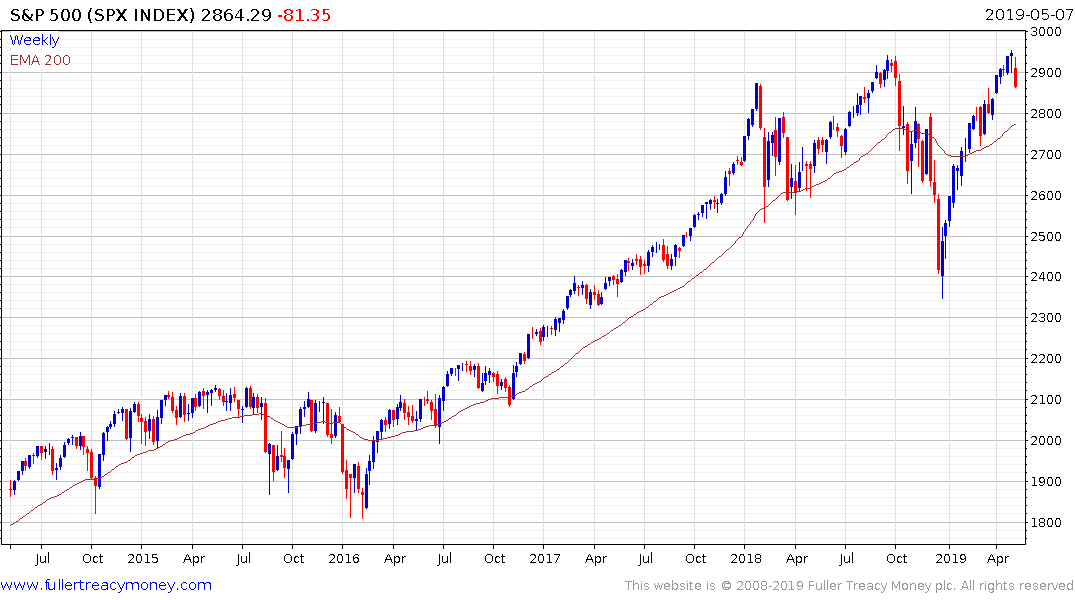 The market has priced in a deal so any doubt that a deal will be done means some of the advance needs to be unwound. The major Wall Street indices have room in which to consolidate and still be above their respective trend means.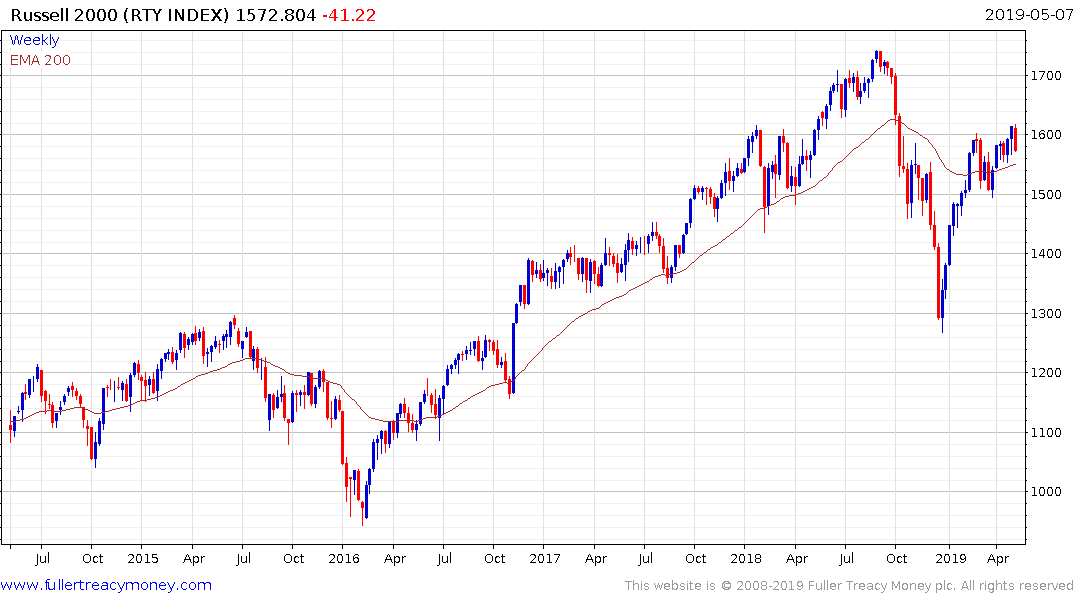 Meanwhile, the Russell 2000, which is more reflective of the domestic economy, failed to sustain the move to new rally highs yesterday and has pulled back into the underlying range. The Index has underperformed over the last few months and will need to continue to demonstrate support at the lower side of the range if recovery potential is to continue to be given the benefit of the doubt.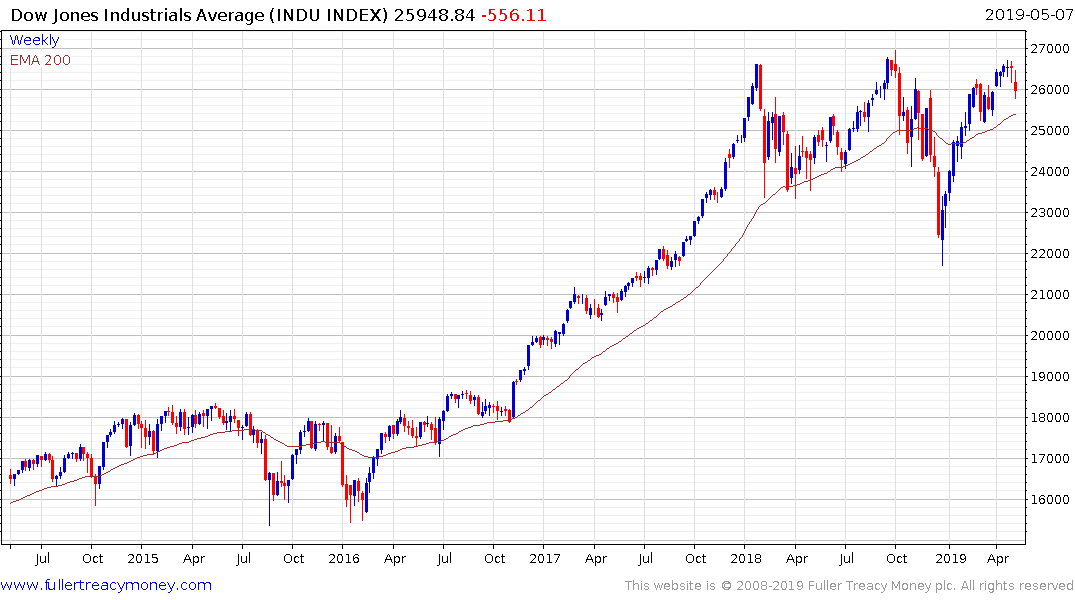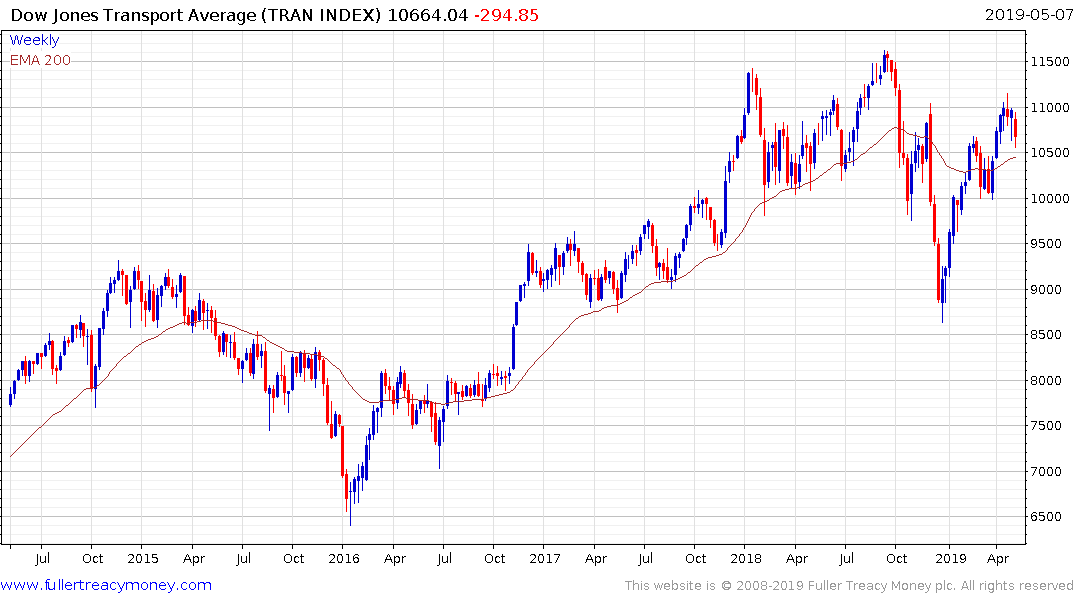 Neither the Dow Jones Industrials nor Transportations Averages managed to make new highs and both are now pulling back. This underperformance by major employers is not especially welcome news and these indices are worth monitoring for signs of whether they can continue to find support in the region of their respective trend means.
The one thing that has been at the back of my mind for the last few months is it is quite normal to see a meaningful buying opportunity appear in the first half of the 3rd year of the Presidential Cycle. Additionally, we are entering the least favourable time of year for markets. Both these factors suggest we may be in for a multi-month pause.
Back to top