Tracking China's reforms
Thanks to a subscriber for this report from Deutsche Bank by Audrey Shi which may be of interest to subscribers. Here is a section:
China's commitment to reforms continues to deepen, especially in regard to SOE reform. On 15 July, for example, SASAC named six SOEs to undergo pilot programs with respect to mixed-ownership (the greater involvement of private capital), the establishment of state-owned asset investment companies, reform of the board of directors system and disciplinary inspection reform. Various provincial governments (Jiangsu, Shandong, Gansu, Yunnan and Beijing) also recently issued SOE reform plans and over 15 local authorities have now announced reform guidance. At the company level, central SOEs including Chalco, China Everbright and Huarong, together with local SOEs such as Xinjiang Production and Construction Corp and Jiangxi Copper, published reform blueprints in July. In aggregate, all these developments represent a commitment to large-scale corporate restructuring, especially across SOEs.

Base on the principle of 'differentiated management. revealed in 3rd Plenum Decision, we see various reform paths for SOEs: 1) Central pan-national SOEs in monopolized sectors (e.g. oil & gas, telecom and transportation) may allow private capital investments in minority stakes or in certain business units; 2) local SOEs (e.g. provincial level and below) in competitive sectors including F&B, apparel, electrics and healthcare, may be taken over by private investors in their entirety; 3) proceeds from the sale of competitive SOEs may be managed by the state-owned assets operation companies, which will channel more capital into utilities and strategic sectors; and 4) more SOEs assets may be listed or injected into listcos.

We expect this aggressive focus on SOE reforms to have a material impact on China's longer-term economic outlook especially as the private sector is still significantly under-represented. Not only will these moves result in a substantial expansion in the private sector but the large-scale inclusion of private capital in current SOE sectors (both monopolies as well as competitive) will further promote the more efficient allocation of capital, result in further productivity gains and underpin longer-term growth.
Here is a link to the full report.

Considering the dominant position of state owned enterprises (SOEs) in the Shanghai A-Share Index, the effect of positive reforms cannot be underestimated.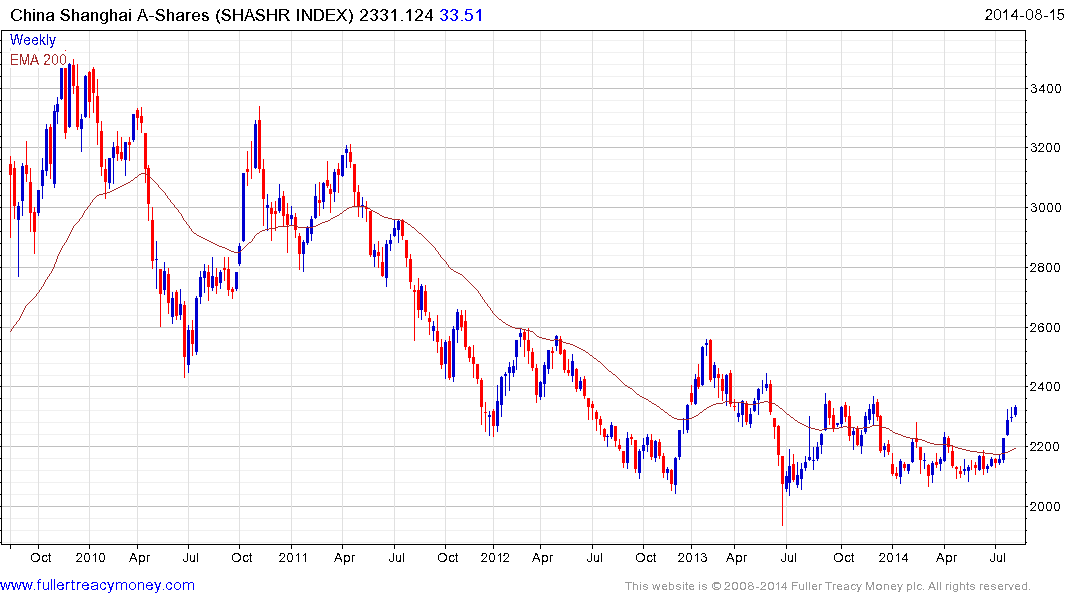 The Index continues to hold its rally above the 200-day MA and a sustained move below the 2200 level would be required to question current scope for additional upside.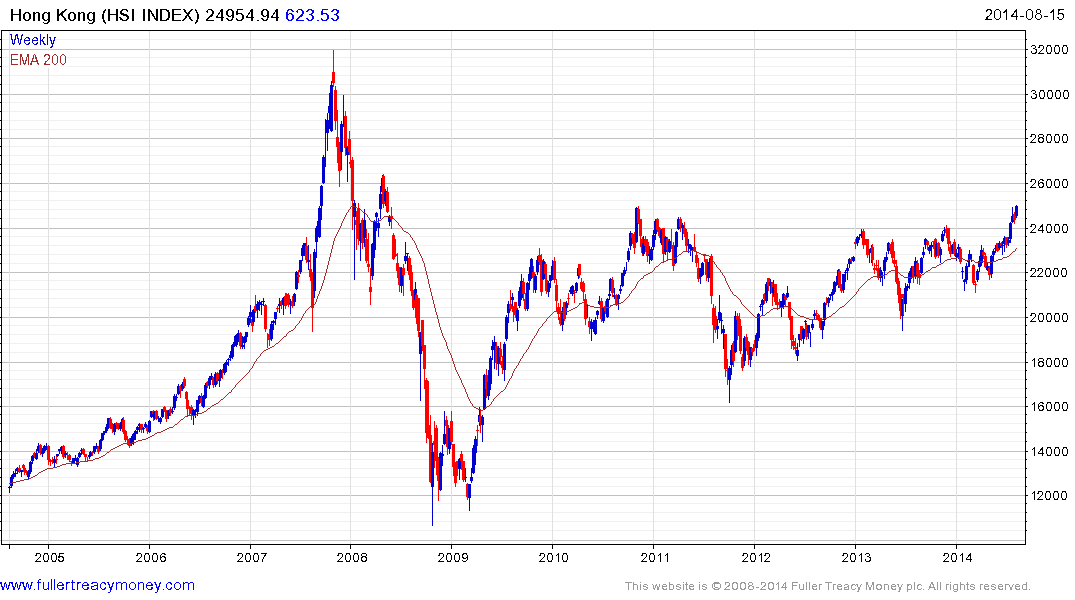 The Hong Kong Hang Seng Index hit a new six-year high today and a sustianed move below the 23000 level would be required to question medium-term potential for additional upside.
Back to top