Towards an Asian century of prosperity
This article from The Hindu newspaper by China's Premier Xi Jinping may be of interest to subscribers. Here is a section:
Both China and India are now in a crucial stage of reform and development. The Chinese people are committed to realising the Chinese dream of great national renewal. We are deepening reform in all sectors. The goal has been set to improve and develop the socialist system with Chinese characteristics and advance the modernisation of national governance system and capability. A total of over 330 major reform measures covering 15 areas have been announced and their implementation is well underway.

Under Prime Minister Narendra Modi's leadership, the new Indian government has identified ten priority areas including providing a clean and efficient administration and improving infrastructure. It is committed to building a united, strong and modern India — Shreshtha Bharat. The Indian people are endeavouring to achieve their development targets for the new era. China and India are both faced with historic opportunities, and our respective dreams of national renewal are very much aligned with each other. We need to connect our development strategies more closely and jointly pursue our common dream of national strength and prosperity.

As emerging markets, each with its own strengths, we need to become closer development partners who draw upon each other's strengths and work together for common development. With rich experience in infrastructure building and manufacturing, China is ready to contribute to India's development in these areas. India is advanced in IT and pharmaceutical industries, and Indian companies are welcome to seek business opportunities in the Chinese market. The combination of the "world's factory" and the "world's back office" will produce the most competitive production base and the most attractive consumer market.

As the two engines of the Asian economy, we need to become cooperation partners spearheading growth. I believe that the combination of China's energy plus India's wisdom will release massive potential. We need to jointly develop the BCIM Economic Corridor, discuss the initiatives of the Silk Road Economic Belt and the 21st Century Maritime Silk Road, and lead the sustainable growth of the Asian economy.
Ahead of Xi's visit Chinese troops built a rudimentary road on the contested part of the India/China border and Indian troops destroyed it a day later. India boosted support for Vietnam, agreeing to export arms, the day before his visit. The above text is part of a charm offensive where both countries could benefit from greater bilateral trade, but no one is under any illusion about how much room there still is for relations to improve.

Since Modi took office, $10 billion in infrastructure loans have been permitted and China understandably wants to gain a greater share of the opportunities for growth represented in India. As China's labour costs increase and population ages, the young, lower cost base of India's urban centres represent an attractive destination for manufacturing if infrastructure development can keep pace. If Chinese companies are prepared to invest in manufacturing in Africa they could just as easily be enticed into a resurgent India. By extension China's growth trajectory in services represents a major opportunity for the Indian healthcare, programming and outsourcing sectors.
Western governments, not least the USA and Japan, have been hoping that a resurgent India could act as a counterbalance to China's increasingly assertive geopolitical position in Asia. China on the other hand may seek to disarm this development by bringing India further into its economic fold, thereby increasing the cost of directly opposing China's ambitions.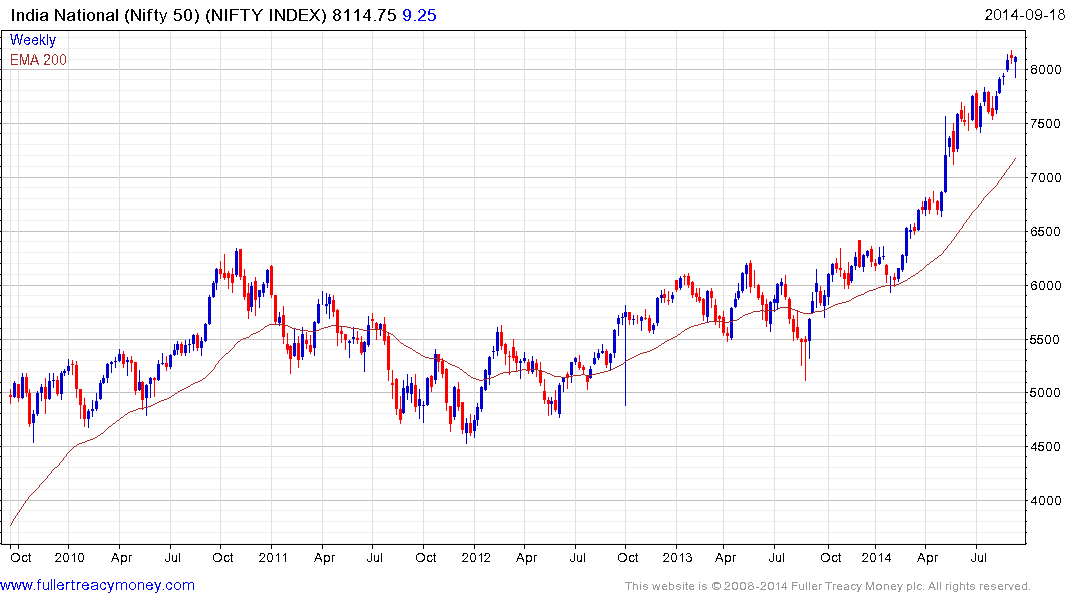 The Nifty Index continues to hold the progression of higher reaction lows evident since February and a sustained move below the 200-day MA, currently near 7200, would be required to question medium-term scope for additional upside.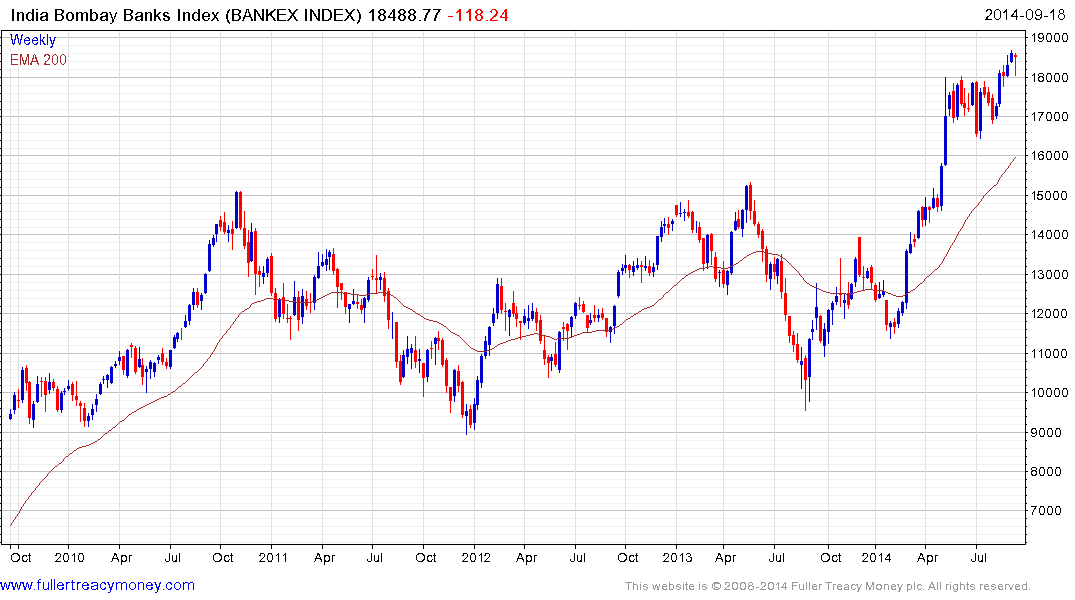 The Bombay Banks Index rallied today from the upper side of its underlying range and a sustained move below 17,000 would be required to begin to question medium-term scope for additional upside.
Back to top