Top Ten Market Themes for 2021: A Shot in the Arm
Thanks to a subscriber for this report from Goldman Sachs which may be of interest. Here is a section:
1.Vaccine-led Recovery to Lift Cyclical Assets
2. Navigating the Path
3. A Steeper Real Yield Curve
4. Europe: Two Steps forward, One Step Back
5. China: Forging Ahead, with Assets in Tow
6. A New Commodity Bull Cycle
7. EM Outperformance: More than Before, Less than Sometimes
8. Rotations: Cyclical, North Asia in Focus but Vaccine News Key to Near Term
9. In Search of New (and Old) Safe Havens, Hedges and Diversifiers
10. Risks from Corona and Beyond
If we had to distill the priorities of governments next year there is only one word captures their intentions. Reflation. With millions of unemployed people, defaults only kept at bay by massive intervention and rising public discontent economic revival is the only possible solution. That's true of every country. No one has been left unscathed by the pandemic. Whether the challenge has been domestic or from a loss of export markets, the solution is the same. Reflation.
Here is a link to the full report.

No two countries will have the same degree of emphasis and there will be different policies followed depending on what kind of government is in power. However, the defining characteristic is a willingness to spend to achieve the stated goal of economic revival.
I remain convinced that there is a great deal of pent up demand in the global markets and when social distancing is relaxed, we are looking at a significant bounce back. That's the rationale behind the rotation underway out of the stay at home champions and into recovery candidates. That's positive for both emerging markets and commodities generally. The willingness of the Chinese to allow the Renminbi to appreciate is an additional tailwind for those themes.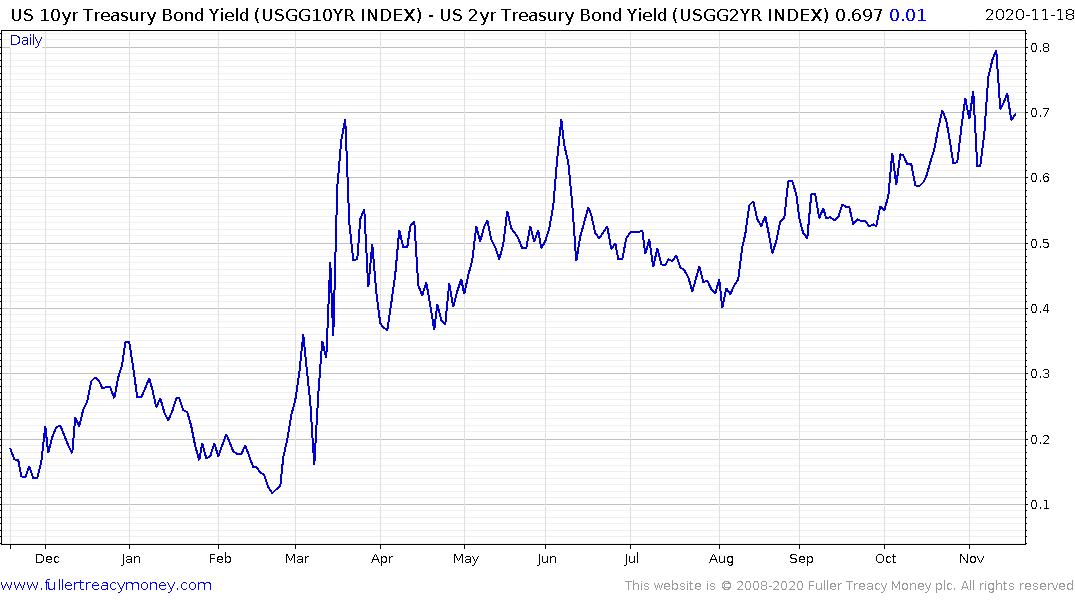 If a steeper yield curve can be engineered without causing widespread disruption it would be a significant victory for central banks. At present the 10-2-year spread is holding the region of the upper side of the range but it looks more likely than not to increase. Substantial intervention at the long end of the curve will be required to avoid that outcome.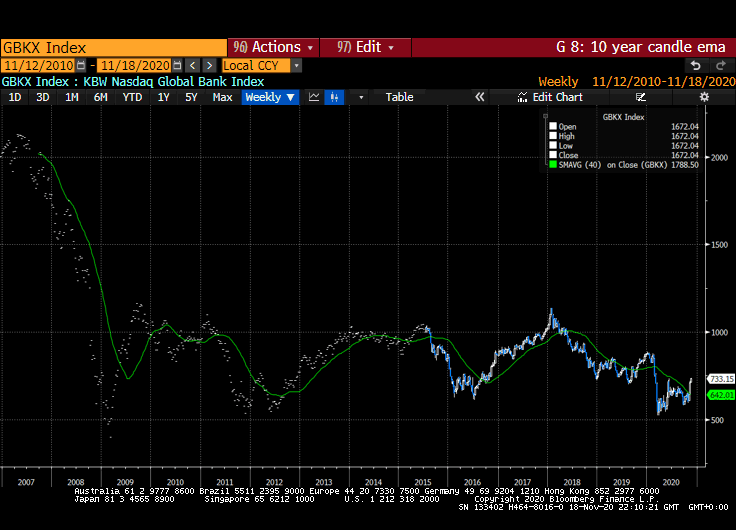 The KBW Nasdaq Global Bank Index is rebounding from the lower side of its decade-long base formation. Generally speaking, banks are among the prime beneficiaries of a steeper yield curve.
Back to top