Tinuiti Acquires Amazon Specialist Ortega Group, Adds Kevin Mayer to Board
This article from the Wall Street Journal may be of interest to subscribers. Here is a section:
Ortega will likely be the first in a string of purchases by Tinuiti, which in December became part of private-equity giant New Mountain Capital and is hungry to broaden its capabilities. Tinuiti is in talks to acquire two other companies, said Zach Morrison, its chief executive.

"We set out at the end of last year to find a partner that could take this from a hundred-and-some-million-dollar company to a billion-dollar company," he said.

Future deals will focus on resources related to working with the "triopoly," he said, referring to Google, Facebook and Amazon, as well as marketing services around video, digital advertising and first-party data, he said. New board members, like Mr. Mayer, will also bring expertise in those areas, Mr. Morrison said.

Mr. Mayer recently joined sports-streaming company DAZN Group as chairman. He served briefly as chief executive of TikTok and in senior roles at Walt Disney Co. Tinuiti also added Anneka Gupta, president and head of products and platforms at data company LiveRamp, to its board.

Tinuiti, with about 750 staffers, had its strongest growth last year, as businesses sped up their investments in e-commerce and digital marketing to reach consumers in the Covid-19 pandemic, said Mr. Atkinson.
Tinuiti is one of the most successful ad agencies for ecommerce companies. They offer an end-to-end marketing and advertising service with a solid track record of boosting sales right across the Amazon/Shopify/Wal-Mart universe.

They generally require a minimum advertising spend of $25,000 a month to even consider taking on a new client. That suggests a revenue base of at least $1 million in turnover and solid margins to absorb the cost.

The net effect of these kinds of businesses and the sales bump they offer pushes up the realised price of products across the ecommerce sphere. Items that were $8.99 a year ago are now $11.99 because marketing is now essential to the Amazon ecosystem.

This article from Benedict Evans asks the question of whether Amazon now makes more money from advertising than cloud services. It's a relevant consideration because it reflects the monetisation of the company's ecosystem. (walled gardens). Here is a section:

At the top end, if we assume that $20bn of Amazon's $21.5bn 'Ads and other' was actually ads, and it matched Google's operating margin, that would be $13.6bn of operating income, the same as AWS. It could also be, say, $5bn lower - which would be in line with all of Amazon North America. Either way, it's big, and growing,

To repeat - this is just an informed guess, and ads will of course change other things, such as directing purchasing to different products that might have higher or lower margins for Amazon. Meanwhile, operating income does not include capex, so it's not a great way to compare an ad business with a datacenter business. Most of that AWS operating income goes straight out of the door on building more AWS, so a free cash-flow comparison would make ads look better than AWS. But whatever the real number, this is a big business.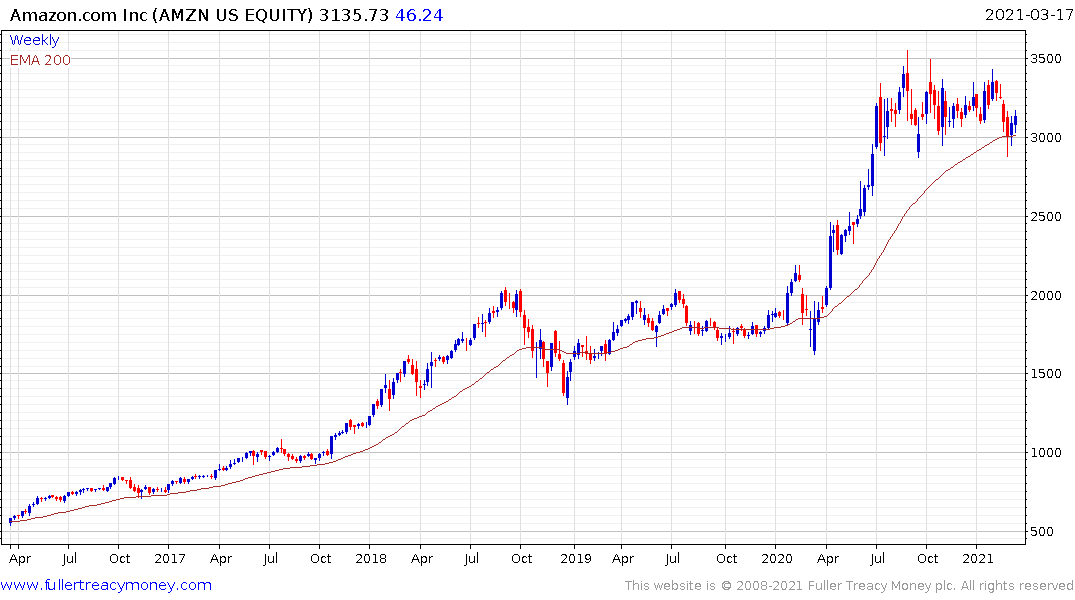 Amazon continues to steady from the region of the lower side of the evolving nine-month range. It will need to hold the low near $2880 if potential for higher to lateral ranging is to be given the benefit of the doubt.
Back to top