Time to catch up; Buy
Thanks to a subscriber for this interesting report from Deutsche Bank. Here is a section:
First, IPPs are the cheapest power stocks in the world and the cheapest in their 10-year trading history. Second, there will be a potential tariff hike for gas-fired plants. Third, IPPs have scope to raise dividend payout. Fourth, asset injection will return in 2014. After a mediocre share performance despite a strong earnings recovery in 2013, it is time to catch up. We have Buys on all five IPPs with Huadian/Huaneng as top picks given their 1) more attractive valuation, 2) stronger asset injection potential, and 3) more upside from gas plant tariff hike.

IPPs are significantly undervalued
Following a mediocre performance in 2013 despite 60-156% EPS growth, IPPs are trading at the lowest PE multiples and highest dividend yield over the past ten years. Across the global power utility stocks, China IPPs have the highest average dividend yield and the lowest average PE. Among the China utilities sector, the China IPPs are trading at 6.3x FY14E P/E and 0.9x FY14E P/B vs. Gas at 20.6x FY14E P/E and 2.8x FY14E P/B, Water at 26.9x FY14E P/E and 3.4x FY14E P/B and Wind at 16.2x FY14E P/E and 1.5x FY14E P/B.

Tariff hike for gas-fired plants; dividend payout to rise
We expect a tariff hike for gas-fired plants to address the gas price hike and supply shortage, which will be particularly positive to Huaneng, Datang and Huadian. With better cashflow and reduced capex, IPPs are likely to raise payouts, such as Huadian and CR Power with payout ratio of 32/33% in 2013. Moreover, IPPs are on the fast track to de-leveraging.

Asset injection is the key theme in 2014
As we have argued, China IPPs uniquely positioned with significant assets at the parentco level that are scheduled to be put into listco over the next few years. For example, at end-2013, Huaneng Group had 137GW vs. Huaneng Power¡¯s 67GW; Huadian Group had 100GW vs. Huadian Power?¡¥s 37GW. In 2013, asset injection was done on a small scale by CR Power and CPI. We expect more scalable injection in 2014 after profitability improves in 2013.
Here is a link to the report quoted above.

While the mainland?¡¥s stock market remains under pressure, the fact that China?¡¥s valuations are among the lowest of any major economy suggests that some judicious bargain hunting is likely to be rewarded. As with many of the large cap state owned enterprises, the utility sector has been going through a tough time as it deals with increased regulation and less government support. However if this process of deleveraging is close to ending, there is potential for a re-rating of the sector.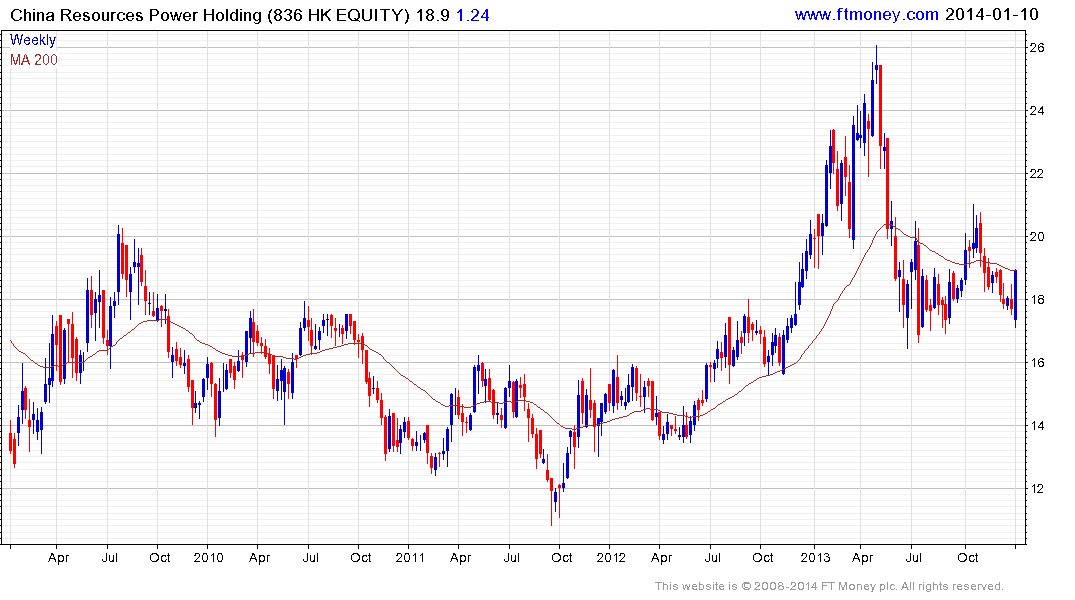 Power utilities share a high degree of commonality. China Resources Power is representative as it tests the lower side of a first step above its base. This week?¡¥s large upside key reversal suggests demand is returning to dominance in this area and a clear downward dynamic would be required to question potential for additional upside.
Back to top