Three Sinovac Doses Fail to Protect Against Omicron in Study
This article from Bloomberg may be of interest to subscribers. Here is a section:
While much is still unknown about how Sinovac's shot holds up to omicron -- including how T cells, the immune system's weapon against virus-infected cells, will respond -- the initial results are a blow to those who have received CoronaVac. There have been more than 2.3 billion doses of the shot produced and shipped out, mostly in China and the developing world.

With omicron seen to be about 70 times more transmissible than the delta variant, the prospect of having to roll out different boosters or even re-vaccinate with a more omicron-specific vaccine will set back the world's efforts to exit the pandemic.
Evidence has been emerging for months that the primary Chinese made vaccines are ineffective against variants like Delta or Omicron. This article from Reuters focuses on China's lockdown of Xi'an but highlights that none of the 200 cases found to date are from the Omicron variant. That suggests it is only a matter of time before the newer variant arrives despite the already strict measures to contain the threat already in place.

China's economic growth is already moderating. The intentional squeeze of the property market and refusal to boost fiscal spending have weighed heavily on consumer sentiment. It's quite possible that the Omicron variant may be the catalyst necessary to allow the administration to boost spending to support the economy.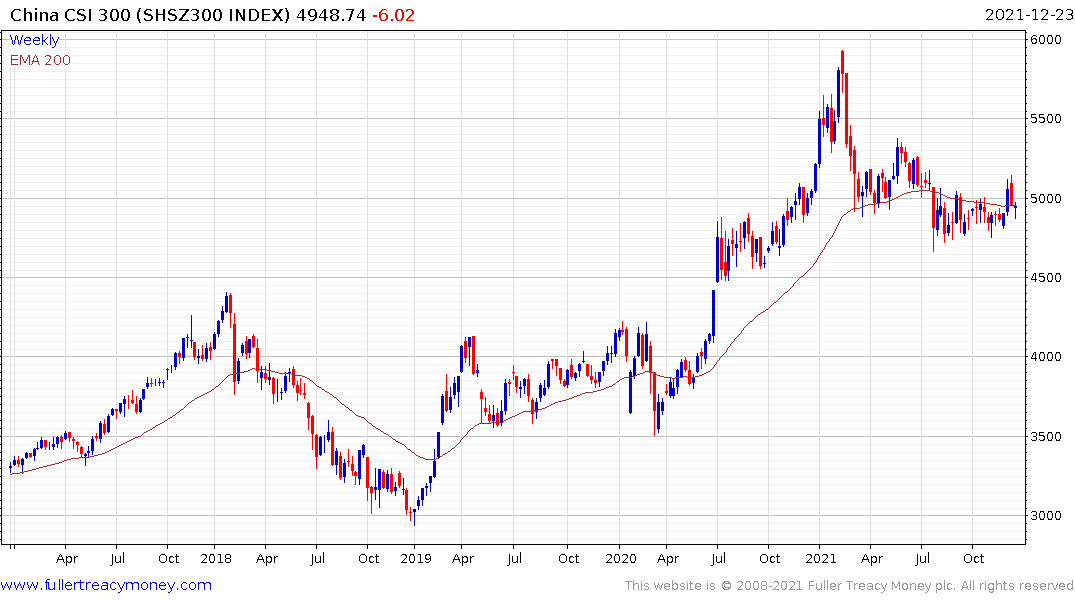 Kewichow Moutai (alcohol) is rebounding following a reversion towards the mean and CATL (batteries) remains in a consistent uptrend. These two shares represent almost 10% of the CSI 300 which is firming from the region of the trend mean.
Back to top