This Rare Bear Who Called the Crash Warns Housing Is Too Hot Again
This article by Prashant Gopal for Bloomberg may be of interest to subscribers. Here is a section:
If we see mortgage rates at more historical levels, house prices can't stay where they are," Stack said. Corp

A rate rise from 4 to 5 percent for a 30-year loan would drive up monthly mortgage costs by 12 percent. For buyers, that's on top of the annual median price gain -- 7 percent for existing homes in November, according to CoreLogic. By comparison, disposable income, or earnings adjusted for taxes and inflation, increased just 1.9 percent, according to data from the Bureau of Economic Analysis.

Bill McBride, who runs the Calculated Risk blog and also called the crash, doesn't think home prices are inflated this time around. Unlike in 2005, lenders are acting responsibly and the Wild West of real estate speculation hasn't returned, he said. There is less to speculate on, too. Compared with the overbuilding that preceded the bust, today's pace of construction isn't fast enough, he said.

"Lending standards are still pretty good," McBride said, and he doesn't expect mortgage rates to "take off" in the short term.
There is no doubt the US housing market is heating up. The number of fliers coming through my letter box has been trending higher, particularly since October. The latest one arrived on Saturday and detailed the asking price, final sale price and number of days on the market for a 5 square block area around my home. The majority sold in less than 7 days and for $100,000 over asking. One sold in 22 days and for a $100,000 less than asking, but the final sale figure was in line with what was paid for the other homes.
The impact of the limits on state and property tax deductions will probably not be felt until next year's tax season. However, it does represent an impending issue for a lot of people in high tax states, which generally have some of the highest priced homes.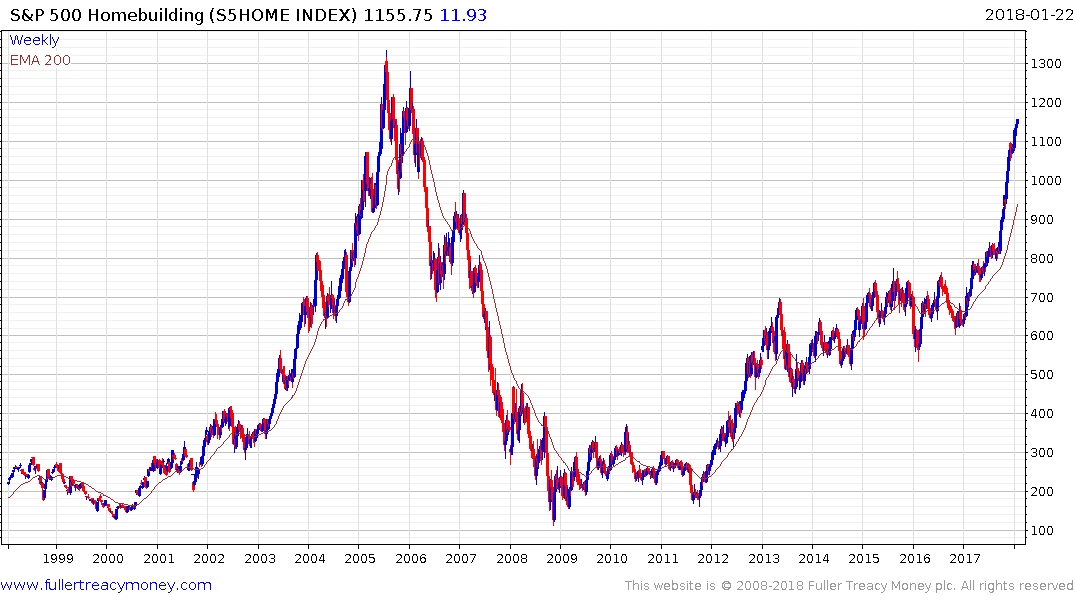 The S&P500 Home Builders Index accelerated to an impressive peak near 1500 in 2005 and gave up just about all of its gains during the subsequent crash. It broke out again in 2012 and spent almost four years ranging with a mild upward bias before breaking emphatically higher with the approval of the Trump tax cuts. As it rallies towards the 2005 high a clear overextension is evident but in general the Index looks better supported at this level that it did more than a decade ago.
There are certainly signs of a heightened enthusiasm in the property market but it may not be until unemployment picks up ahead of the next recession that it begins to come back down to earth.
Back to top