This Company is Reinventing the Wheel and Ditching the Rubber Tire
This press release may be of interest to subscribers. Here is a section:
While GACW is initially targeting the OTR sector, which includes mining, the global tire market is much bigger, and the company has plans to enter that too. That said, the initial focus on mining could raise in excess of $20 million in revenue per mine site given the significant numbers of vehicles involved in each mining project.

And while the company may have competitors in the mid-sized market, it does not have any competitors in the global OTR sector.

In addition to this market, the ASW technology can be applied to all vehicles currently using traditional rubber tires, a $322 billion estimated value in 2022.

So far, the company has raised $3 million and has 4 patents with 13 others pending. It is also currently testing its ASW products with mining partners with an evaluation period of between 6 and 12 months. From 2022, it intends to ramp up its production of the ASW product with full commercialization expected in 2023.

"At this point, our plan is to expand our distribution network and really start taking the tire industry by storm," the company said.
Mining costs are heavily dependent on energy and transportation prices and the cost of complying with increasingly stringent environmental regulations. As those costs rise, the incentive for companies to find alternatives where possible becomes progressively more urgent. Finding a cheaper alternative for a major cost centre, while also mitigating environmental liability represents an attractive sales pitch; if it works. Here is a link to Global Air Cylinder Wheels' website.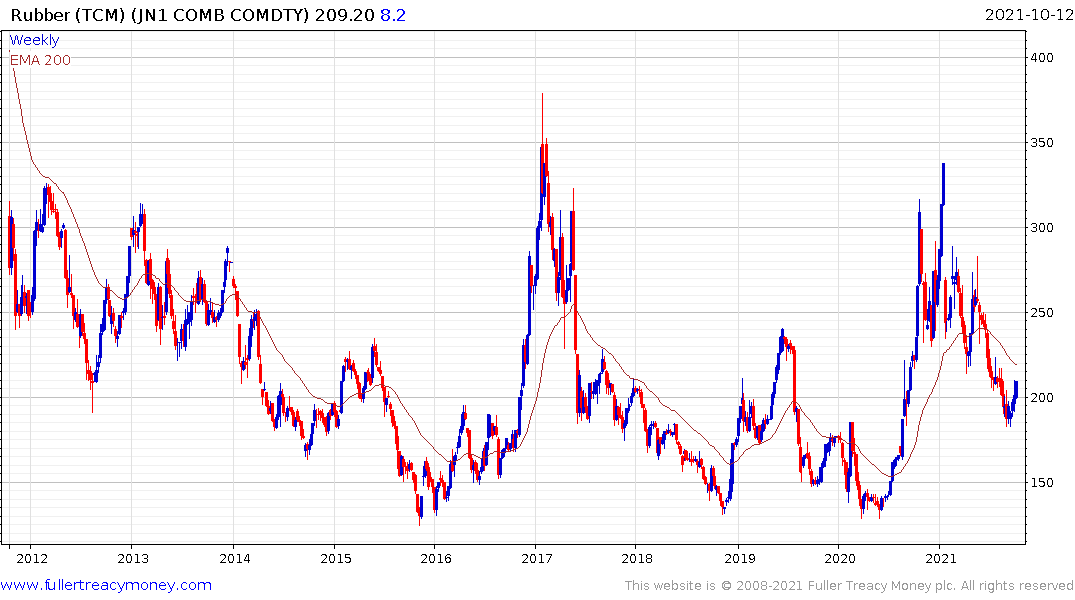 Rubber prices rallied meaningfully in 2016, which broke the five-year downtrend. The price subsequently dropped back to test lows and extend the base. It broke successfully back above ¥200 late last year and has been consolidating since. It popped back above the trend mean this week and may be in the process of breaking a 10-month downtrend as it bounces from the lower side of this first step above the base.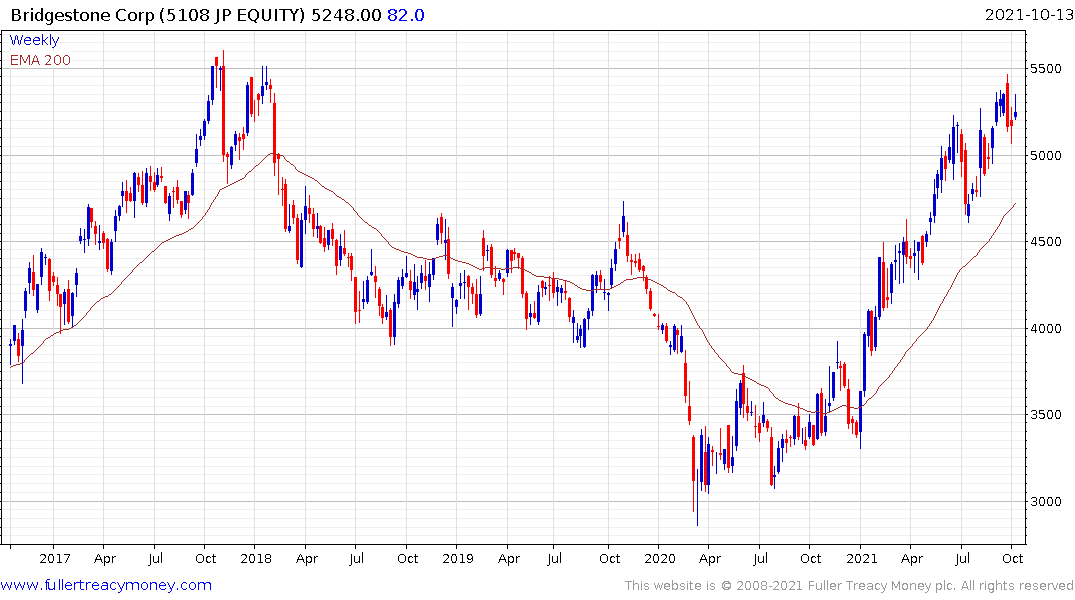 Bridgestone posted a downside weekly key reversal three weeks ago and a downside key day reversal today to confirm resistance in the region of the upper side of the six-year range. Some additional consolidation appears likely.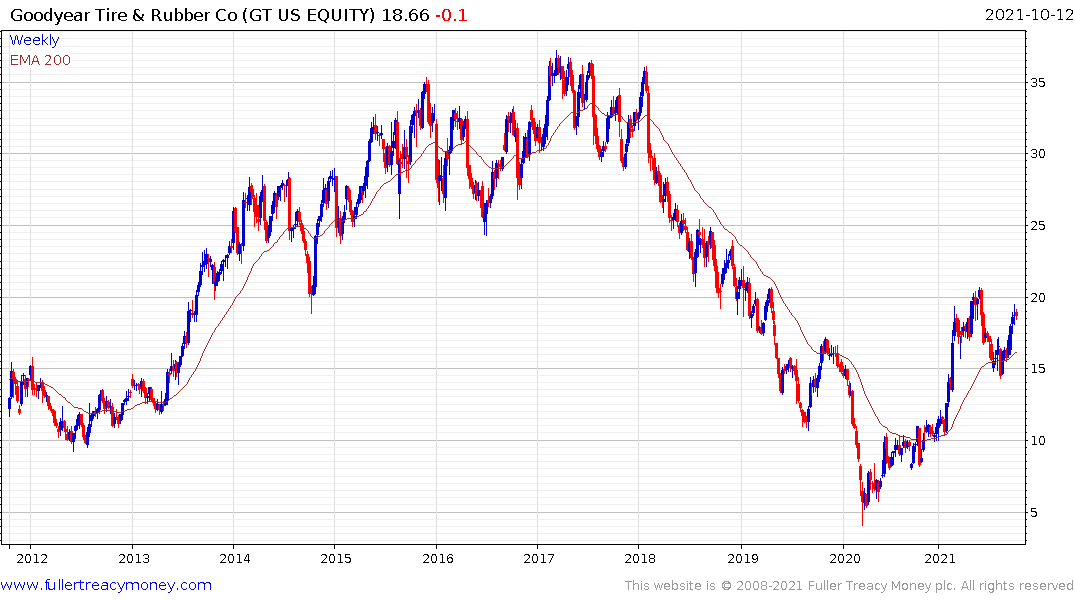 Goodyear has first step above the Type-2 bottom characteristics but is currently easing back from the upper side of the year-to-date range.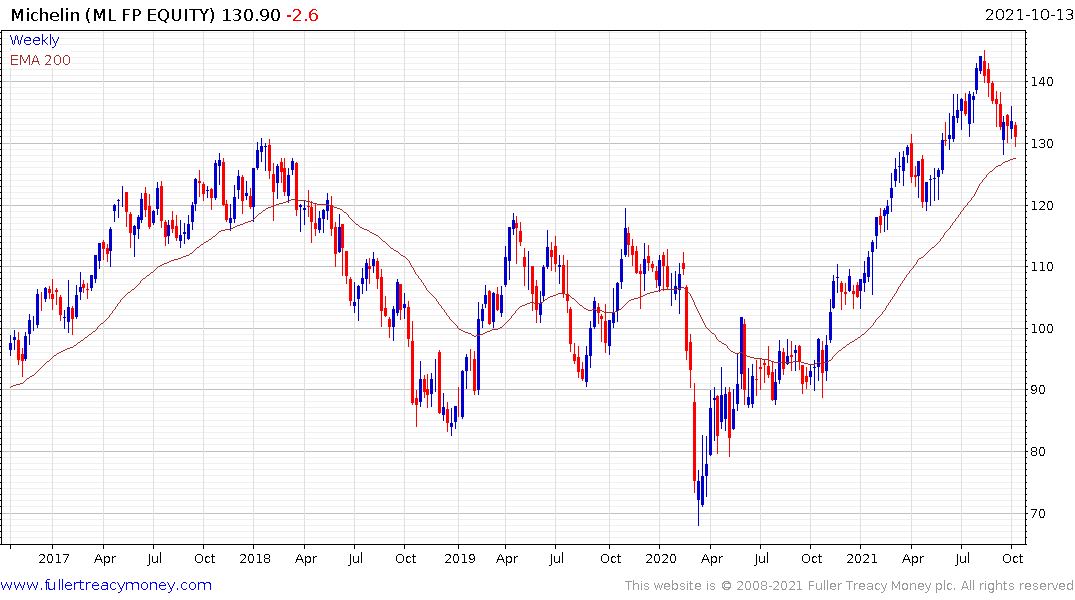 Michelin has completed a reversion towards the mean and needs to hold the €130 area if the trend is to remain reasonably consistent.
Back to top