Theresa May's Tories Are Engaged in Open Warfare
This article by Flavia Krause-Jackson for Bloomberg may be of interest to subscribers. Here is a section:
"In every negotiation, each side tries to control the timetable," Brexit Secretary David Davis said on Sunday. "The real deadline on this, of course, is December." That's when EU leaders will meet to decide whether the U.K. has made sufficient progress to move on to the next stage of talks. The EU wants May to improve her offer on the divorce bill by the end of the month.

The twists and turns of the Brexit legislation only serve to magnify May's difficulties and provide an opportunity for her political enemies to make trouble for her -- not just those in her own party.

The main opposition is seeking a route to power with polls showing Labour ahead. Exploiting Tory divisions on Brexit and testing May's slim working majority is one way for Labour leader Jeremy Corbyn to score political points.
The UK knows it has one big card to play which is its contribution to the EU's coffers. The EU knows the UK needs a trade deal so it has every intention of squeezing as many concessions as possible from the UK. There was never a prospect that these negotiations would not come down to the wire because it is in neither party's interests to concede early.

In fact, we can expect rhetoric to amplify over the coming month. The EU insisting last week that there be no difference between regulations in Northern Ireland versus the Republic of Ireland is another example of delaying tactics to force additional concessions.

The biggest question is whether the UK government is going to last the distance. The Conservative Party remains riven by differences of opinion about the best direction for talks to go. The primary factor in Theresa May's favour is that being Prime Minister today is something of a poison chalice. Regardless of what the result of the negotiations there is likely to be a rebellion. However, there is not much to be gained until the result of those negotiations is known unless a potential successor has very strong conviction on what to do next and that seems to be in short supply.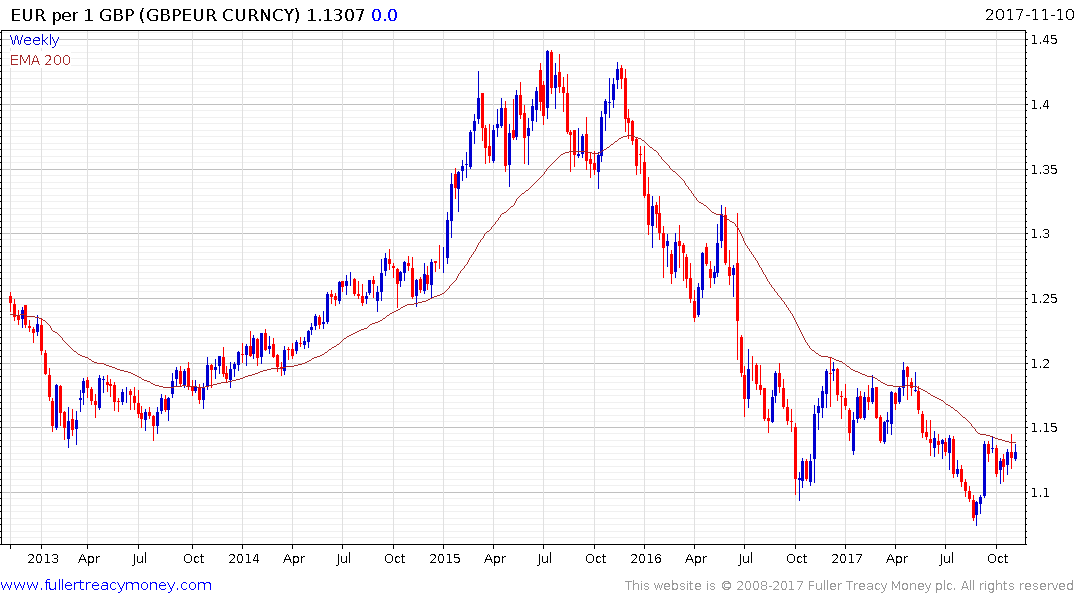 The Pound continues to encounter resistance in the region of the trend mean against the Euro, and a sustained move above it will be required to question the consistency of the medium-term downtrend.
Back to top