Therapeutic Categories Outlook: Comprehensive Study
Thanks to a subscriber for this encyclopedic 2534-page (95.7mb) report focusing on evolving trends in the biotech sector. This is a very detailed report which I recommend downloading and saving because I anticipate it being a reference guide for me over the next year and possibly longer. Here is a section on pain medication:
There are so many lawsuits against opioid manufacturers that it is hard to keep track of all of them. These suits stem from all levels of government (cities, counties, states), as well as private parties and organizations (e.g. NFL). Opioid manufacturers today are viewed similarly in public opinion to cigarette manufacturers in the 1990s.

In October 2015 for the first time a doctor was convicted of murder for patient opioid overdose and was sentenced to 30 years. Other similar suits are in progress.

Insys's Subsys (sublingual fentanyl spray) began to decline after experiencing strong sales growth over the first few years since launch. In December 2016 several senior executives were indicted over fraudulent sales practice.

The FDA has already approved one immediate release and nine extended-release opioids with abuse deterrent claims; with more likely on the horizon. As such, the field is becoming very competitive.

Market leader OxyContin has been in decline for the last two years, from ~450k scripts/month to ~260k scripts/month currently.

Newly launched abuse deterrent opioids are priced at 2-4x that of OxyContin before adjusting for discounting.
In a July 2017 report, ICER found abuse deterrent opioids to not be cost effective.
Here is a link to the full report.

The USA's opium epidemic has received a lot headlines, not least because on a per capita basis the USA consumes three time more opiates than Europe and six times more than Asia. This is not an issue specific to opiates but to prescription drugs in general. I remember arguing with pharmacists in Ireland about needing to buy 12 ibuprofen tablets instead of 6, whereas in the USA they are truly an over the counter drug and packages of 1000 are the norm.

At a Halloween party last week, I was chatting with a group of doctors working at a widely recognizable hospital in Los Angeles. One of their interns was relating how she was getting fired by patients because she was not acquiescing quickly enough to their demands for pain medication. When she had a meeting with her superiors to discuss why she could not hold patients, she was told that patients in this area have expectations that are not exactly in line with what might be the norm elsewhere. The subtext was clear; give them what they want. I don't believe that is a unique experience, but rather the norm, in the USA where the medical sector is heavily skewed towards prescription medication for just about every ailment.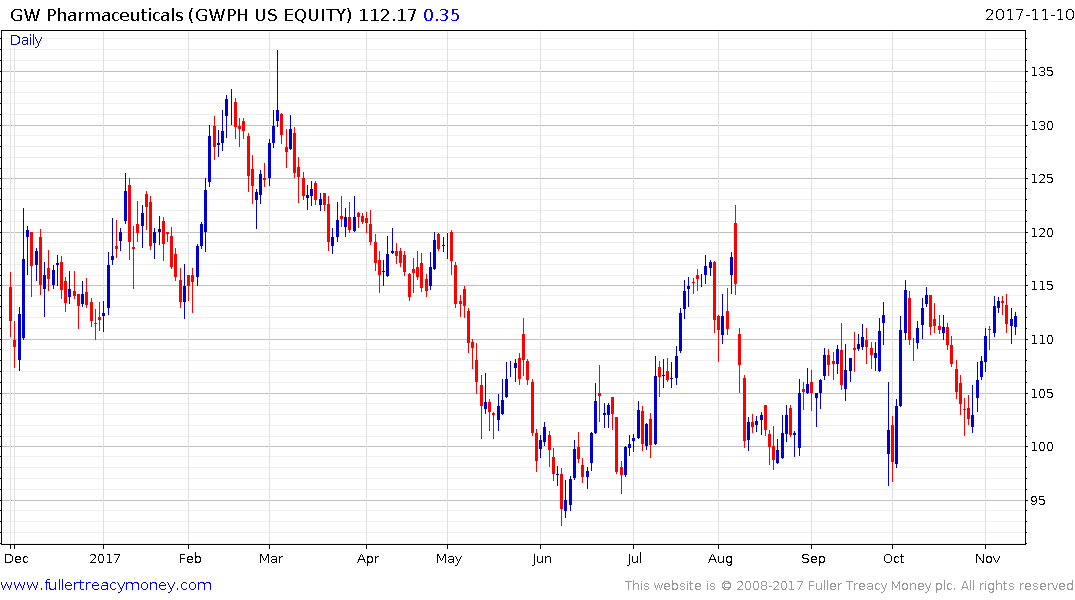 The problem with pain medication is that it has not really evolved beyond opiates for generations. The evolution of cannabis as a treatment for chronic pain is a potentially promising new avenue of exploration and GW Pharmaceuticals has one of the few products on the market offering access to the sector. The now US quoted share has been ranging above $100 since June and will need to hold that level if potential for higher to lateral ranging is to be given the benefit of the doubt.

Elsewhere, research is ongoing into opioids that have limited abuse potential. Nektar Therapeutics surged higher this week on stronger earnings and has leverage to the pain management sector.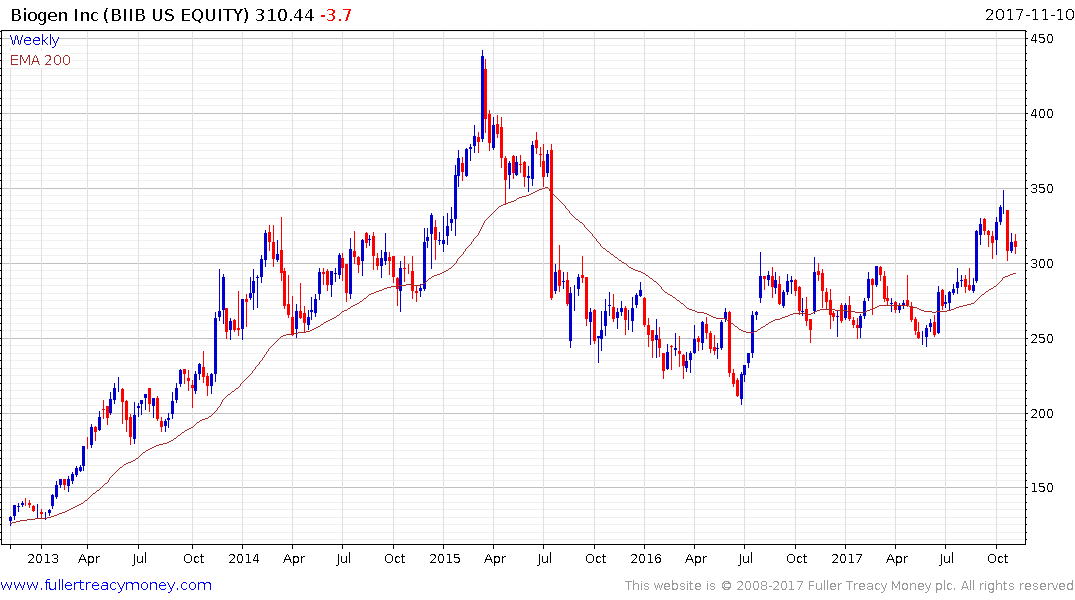 Biogen is also investigating this area and the share is back testing the upper side of its underlying range. However, a clear upward dynamic will be required to confirm support in this area.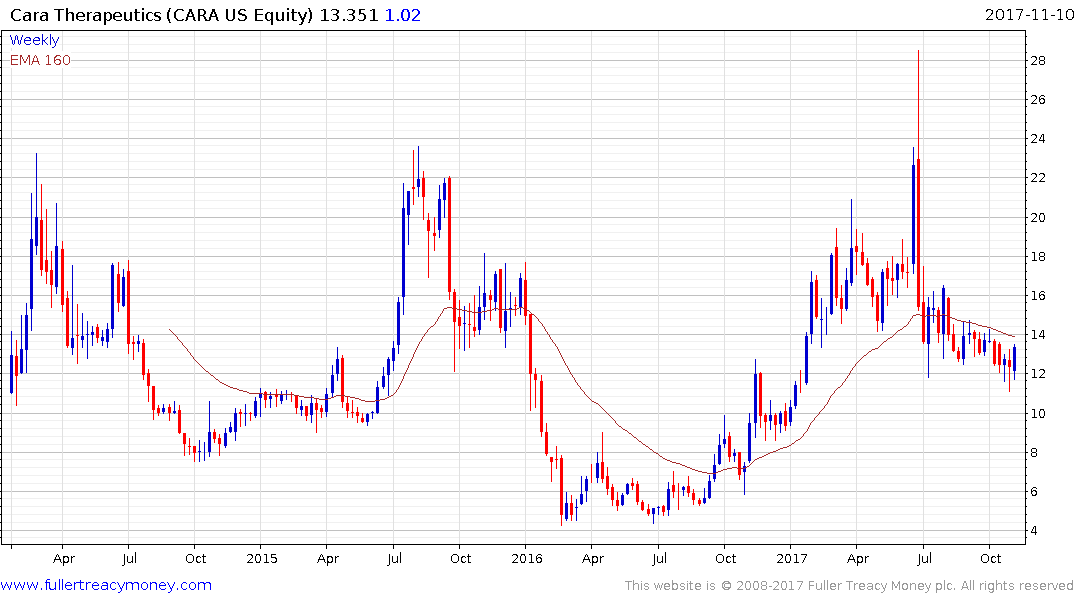 Cara Therapeutics rallied this week to challenge the progression of lower rally highs and the region of the trend mean. Upside follow through next would break the downtrend.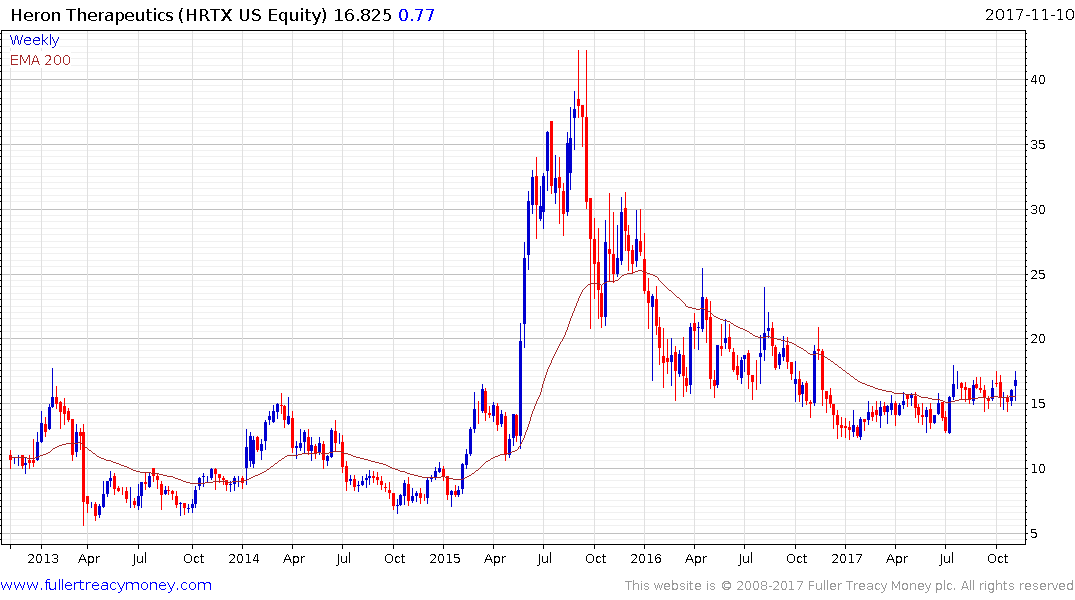 Heron Therapeutics has been ranging mostly above the trend mean for the last few months and a sustained move below it would be required to question medium-term scope for a successful upward break.
Back to top