The World Stands in Line as the iPhone X Goes on Sale
This photo montage captures the enthusiasm for Apple's iPhone X. Here is a section:
The $1,000 price tag on Apple Inc.'s new iPhone X didn't deter throngs of enthusiasts around the world who waited—sometimes overnight—in long lines with no guarantee they would walk out of the store with one of the coveted devices.

Apple briefly became the U.S.'s first $900 billion company on the day the new smartphone went on sale.
Consumers have understandably been delaying purchases until the X was launched. After all why fork over $700 for a second-rate version when the feature laden anniversary edition is only six weeks away. Glass on front and back and rumours that the augmented reality has been toned down to speed up production are unlikely to deter initial enthusiasm for the device not least as the new emoticons are designed to appeal to the young hip crowd.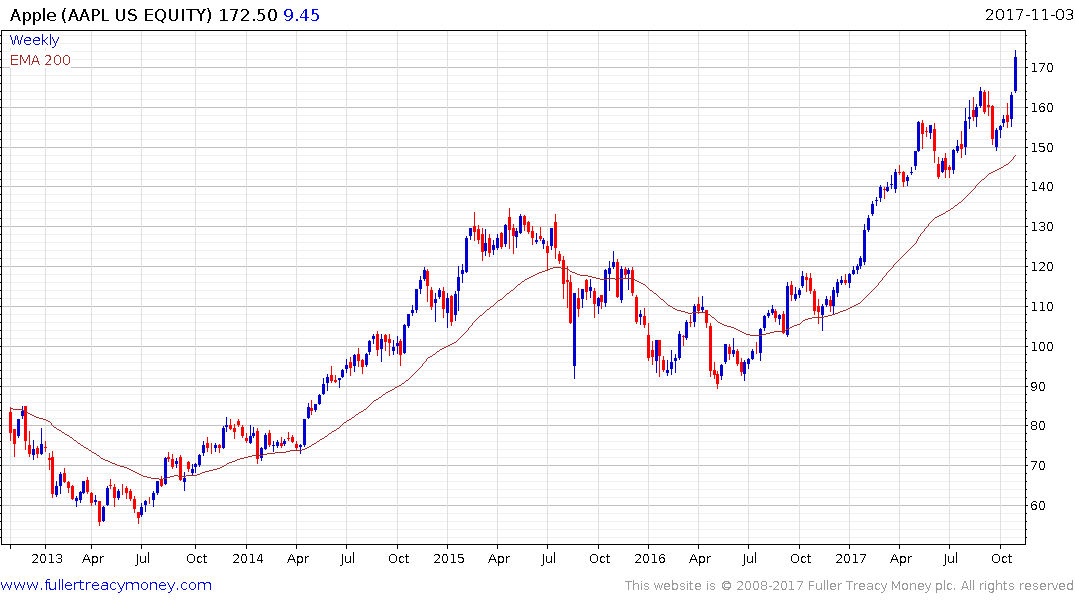 The share broke out to new highs this week and shares a short-term overbought condition with much of the global stock market. A clear downward dynamic would be required to check momentum beyond a pause.

With the world's largest company making new highs along with similar performances by mega-caps like Amazon, Alphabet, Microsoft and Facebook, the trend of outperformance in the Nasdaq continues to be supported by its largest constituents.
Back to top