The virtual reality revolution, if it's coming at all, starts tomorrow
This article by Will Shanklin for Gizmag may be of interest to subscribers. Here is a section:
Perhaps game consoles (appropriately) will be the most likely role models for VR platforms. As a child in the 80s, my first experiences with the Atari and NES kindled a wide-eyed sense of wonder that's harder to replicate as an adult. Though those same games only give me slight glimmers of that feeling today, VR rekindles that childlike sense more than any form of entertainment since (certainly more than today's cinematic AAA video games or fads like 3D movies ever did).

Gaming spent many years as a "kids' product," but as that first generation of child gamers grew up – and realized there was no reason for them to leave their hobby behind – it blew up as a lucrative industry that now knows no generational boundaries (well, almost no boundaries – gaming demographics do still lean more towards younger adults than older ones).

Perhaps, like gaming, VR will start with the most wide-eyed of users, and only gradually erode the stigmas and unfamiliarity that keeps the rest of the world from joining the party.

So what do we think? Well, in our eyes, any technology that can rekindle, and perhaps surpass, the pure joy and awe of playing Super Mario Bros. or Mike Tyson's Punch-Out for the first time – only 30 years later – has a great shot at widespread success. Whether it's in a year or a decade, it may simply be a matter of a) getting VR to a consumer-ready, high-quality stage and then b) getting enough people to try it. That first step began years ago, but the second step starts tomorrow.
As a child of the '80s and a watcher of Star Trek the Next Generation in the '90s I was one of those who was excited about the impending wide scale release of virtual reality technology that did not happen. It takes a long time for new technology to advance enough for it to become a major new consumer product. NASA was one of the primary early developers of the technology in the 1980s. They envisaged virtual reality as a way for astronauts to control robots remotely in order to reduce the risk to human operatives. The results of DARPA's robotics competition earlier this week highlight how much robotics technology has improved but also how far it still has to go.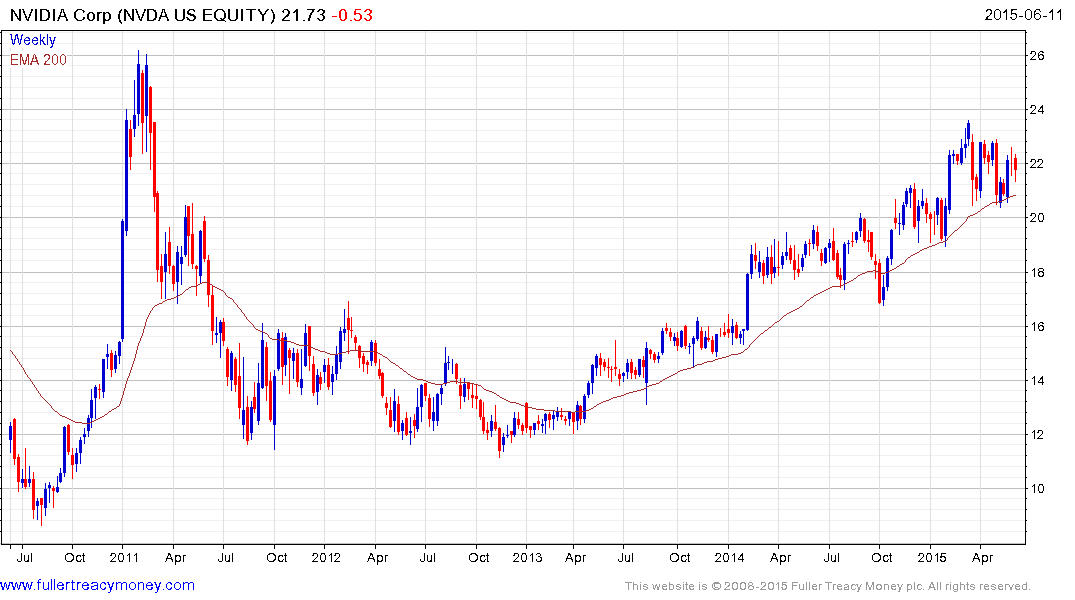 Gaming is the logical first step for this type of technology. As the dominant graphics card manufacturer NVIDIA is a potential beneficiary. The share has held a progression of higher reaction lows since late 2012 and will need to continue to find support in the region of the 200-day MA if potential for continued higher to lateral ranging is to be given the benefit of the doubt.

Facebook acquired Oculus Rift for $2.2 billion a year ago and its headset is being manufactured in a joint venture with Samsung Electronics.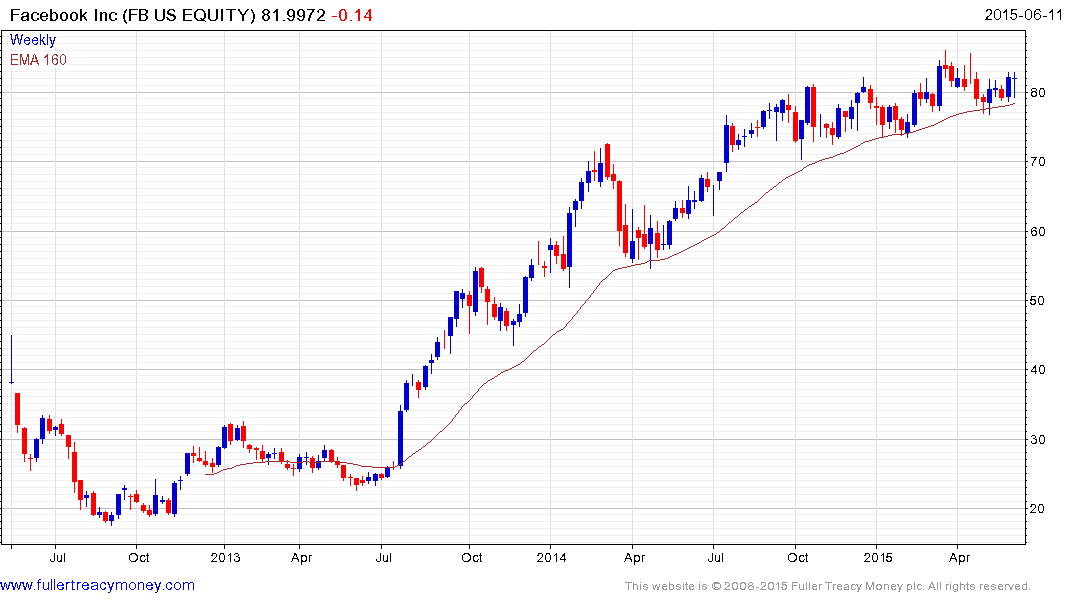 Facebook continues to find support in the region of the 200-day MA and a sustained move below it would be required to question medium-term scope for additional upside.


Samsung Electronics has been ranging with a mild downward bias since late 2012 and will need to sustain a move above KRW1.5 million to question possible Type-3 top formation development. Paul Elliot Singer's activism is also a sound of concern for investors at least until a resolution is reached.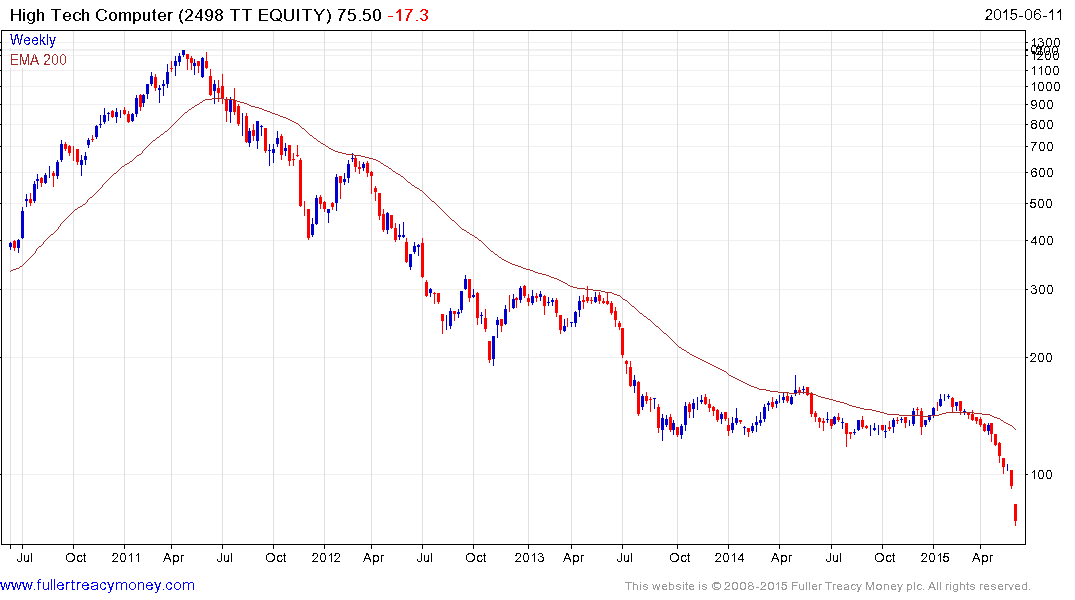 HTC has been through a tough time since its phones were competing with iPhones for popularity. Since the 2011 peak the share has declined 93%. It's once competitive yield has evaporated and it has dropped out of the S&P Pan Asia Dividend Aristocrats. To say the company needs a win is an understatement as it accelerates lower. Nevertheless, it still has a market cap of $2 billion. It has followed through on its promise to release development packs in Q1 2015 and this video suggests they hope to have a product on release for the holiday season. The first clear upward dynamic is likely to signal a low of at least near-term significance, while a process of support building is likely required before the medium-term progression of lower rally highs can be challenged. That is of course assuming it can deliver a competitive product.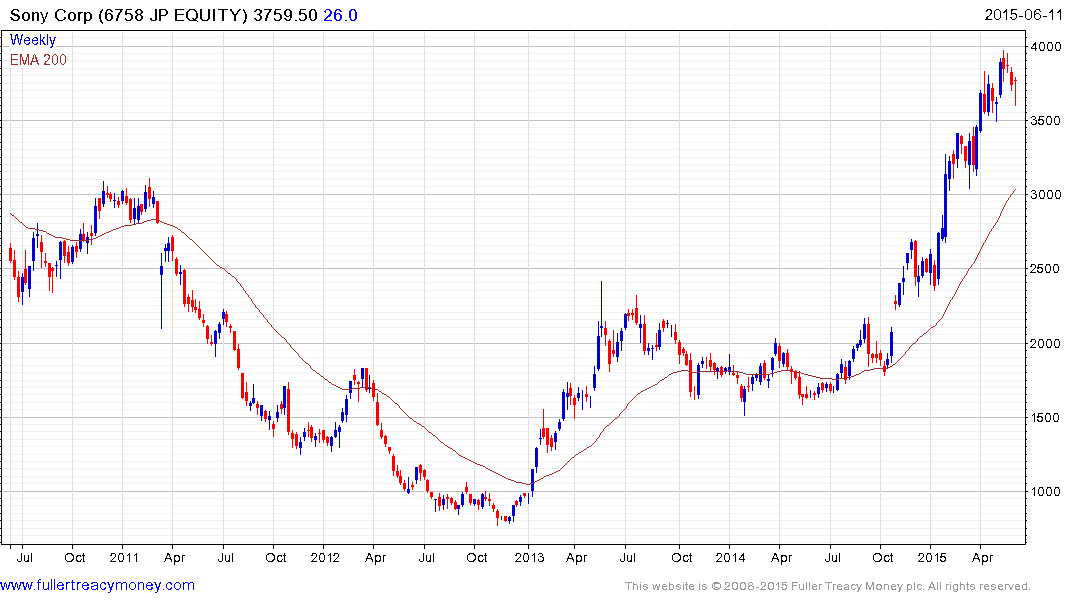 Sony has a high quality prototype in Project Morpheus and their video from the E3 conference shows it in action. (I wonder if they were inspired by the name of one of the main characters in the Matrix movies.). The share remains in a consistent uptrend and a break in the progression of higher reaction lows would be required to suggest mean reversion is underway.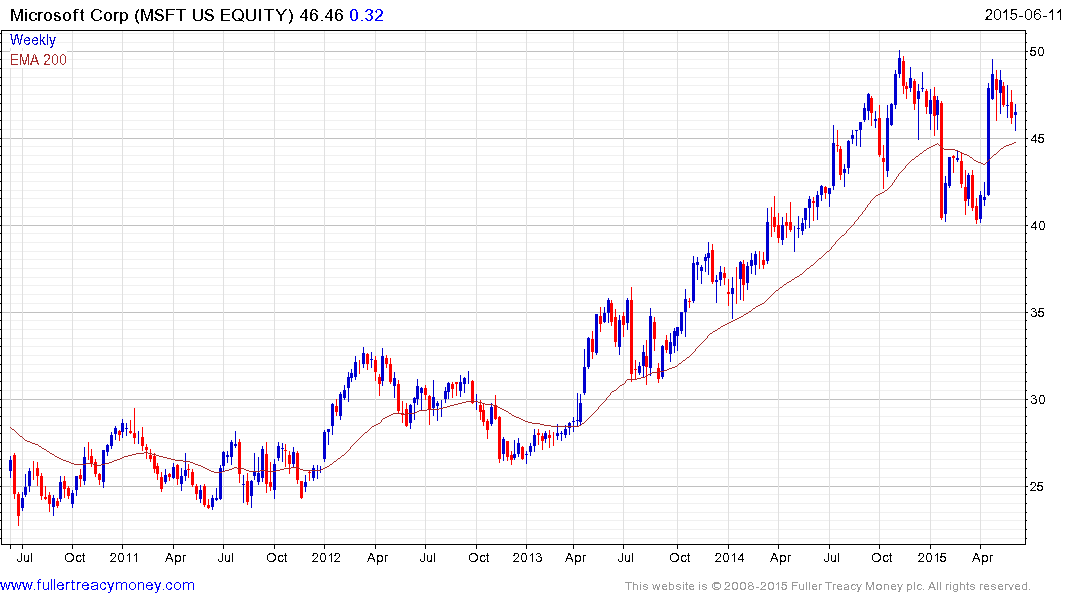 Microsoft is betting more on holograms than virtual reality. This video highlights how they imagine the virtual world interacting with the real world. It is not beyond the realm of possibilities that the purchase of Minecraft last year was at least in part aimed at tapping into a new young user base for additional products since the game is centred on a user's ability to alter the world their character inhabits. The share experienced a deep pullback in January but rebounded emphatically in April and found at least short-term support this week in the region of the 200-day MA. A sustained move below $45 would be required to question medium-term scope for additional higher to lateral ranging.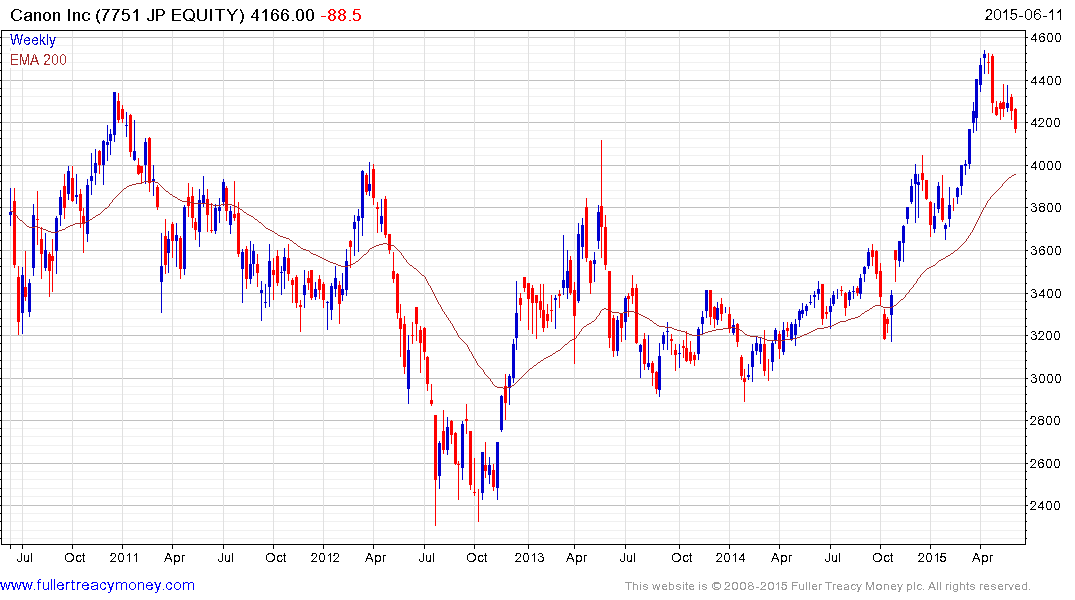 Canon's Mixed Reality headset is based on a relatively similar premise to Microsoft's. The share is currently engaged in a process of mean reversion and will need to find support in the region of ¥4000 if potential for continued upside is to be given the benefit of the doubt.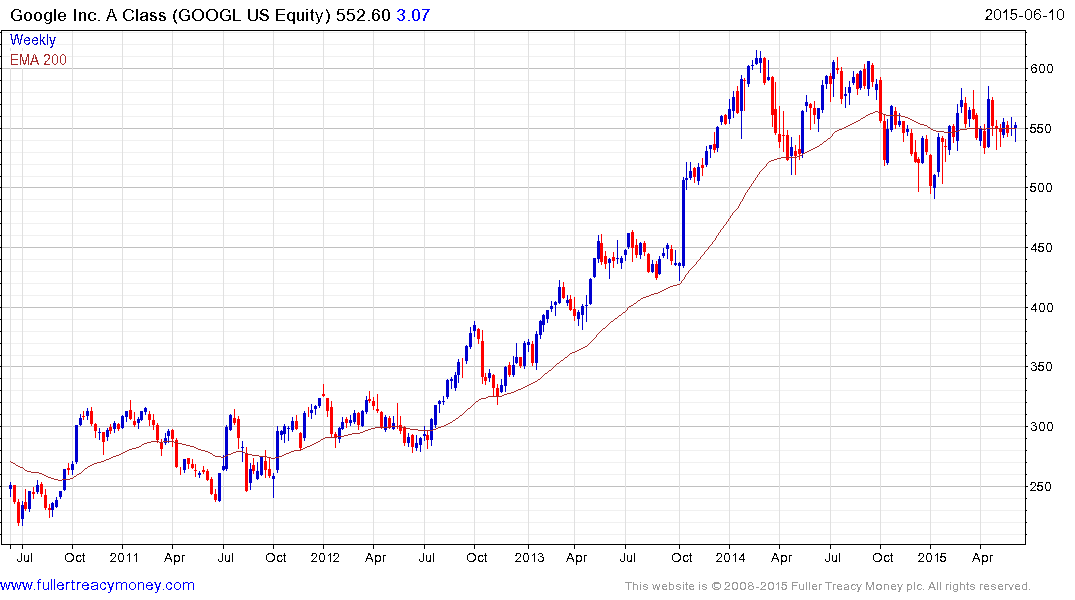 Google Cardboard might look like it can be made out of a cereal box, and it can, but it is a reflection of the view that smartphones will be among the most accessible virtual reality hardware devices as the sector develops. The share continues to range in the region of $550 but needs to sustain a move above $580 to indicate a return to medium-term demand dominance.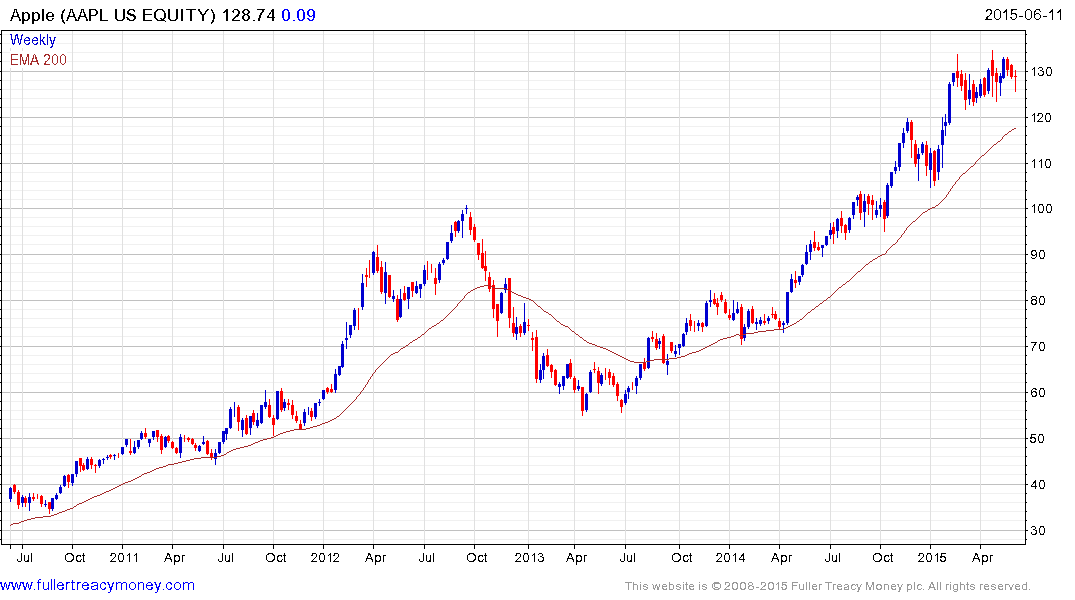 Apple has a record of watching what others develop, then release their own product which is better and offers an enhanced user experience. It is conceivable that they are planning something similar with virtual reality. The share has been ranging since February in a reasonably gradual process of mean reversion. It is currently rebounding from the lower side and a sustained move below $120 would be required to question the consistency of the medium-term uptrend.

While the above list represents a group of companies with the highest probability of delivering a consumer ready product there are a number of private companies attracting attention via Kickstarter programs that could conceivably IPO over the next few years; provided virtual reality gains traction.
At present, the focus of attention is gaming and enhanced tourist-like experiences. However, I believe the more powerful application of the technology will be when companies like Amazon and other online retailers create virtual shops we can walk through. Many people, for example, miss the experience of perusing the shelves of a book shop but this could be readily delivered in a virtual world.

An additional, though unsavoury, source of development in virtual reality will be the pornography industry which accounts for a substantial proportion of online activity.

I've created a heading in the Eoin's Favourites section of the Chart Library for Virtual Reality shares and will add to it as more companies enter the field.
Back to top