The story of Ethiopia's incredible economic rise
This article from Quartz may be of interest to subscribers. Here is a section:
In 2000, Ethiopia, the second-most populous country in Africa, was the third-poorest country in the world. Its annual GDP per capita was only about $650. More than 50% of the population lived below the global poverty line, the highest poverty rate in the world.

What has happened since is miraculous. According to IMF estimates, from 2000 to 2016, Ethiopia was the third-fastest growing country of 10 million or more people in the world, as measured by GDP per capita. The country's poverty rate fell to 31% by 2011 (the latest year Ethiopia's poverty level was assessed by the World Bank).

The outlook for the next five years is bright. In its latest global forecast, the IMF projected that Ethiopian GDP per capita would expand at an annual pace of of 6.2% through 2022—among countries with 10 million or more people, only India and Myanmar are expected to grow faster.

Any country making such progress would be cause for celebration, but because of its size, swelling population, and the depths of its poverty, Ethiopia's gains are particularly heartening. By 2050, the UN expects the country to grow to 190 million people, from around 100 million today, making it among the fastest-growing large countries in terms of population, too.
It has been an adage at this service for decades that in emerging markets governance is everything. In the last decade we truncated it to simply governance is everything because that is as true of highly developed markets as of anywhere else. For a country with a population that is expected to just about double in the next 30 years an trend of improving standards of governance is essential if famine and civil unrest is to be avoided.

The last time I flew to Ireland it was direct on Ethiopia Airlines. The service and good were good, the aircraft was new and the price was cheap. Starbucks has been running Ethiopian coffee since the country insisted its beans be designated separately from others and the country's cuisine is one of the hit must tries in Los Angeles' ever evolving milieu of restaurants. Despite its relative wealth, I have never flown Nigerian Airlines, eaten in an Nigerian restaurant but my inbox is full of emails from exiled princes looking for somewhere to park their billions. The point here is we often don't have to look far to see country's where governance is improving.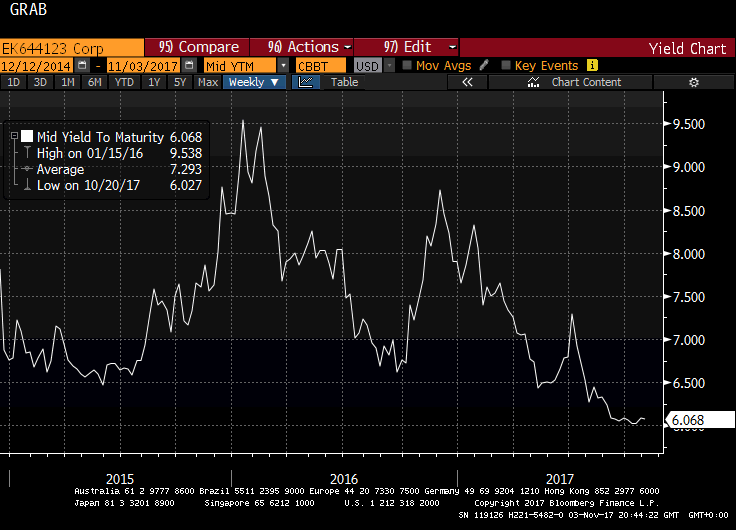 Ethiopia's B rated 6.785% 2014 bond yield has contracted from 9.5 to 6% since early 2016 and a move above 7% would be required to question the overall demand dominance.


It occurs to me that Tesla Motors is a B- rated credit trading with negative earnings and paying a similar yield, but the trend is moving in the opposite direction. That should give investors pause considering how often Tesla is pushing back its production targets.
Back to top