The Senate Health Bill Is a Travesty on a Fast Track: Editorial
This article by Bloomberg's Editors may be of interest to subscribers. Here is a section:
Efforts to shame Republicans for this attack on the poor, old and sick, who will face the brunt of the cuts, are unlikely to succeed. The bill puts some of the party's most cherished goals in a single package:

It fulfills their promise to repeal Obamacare, eliminating individual and employer mandates for insurance coverage and reversing the trend toward universal access to health care in America.

It caps Medicaid payments to the states and slows the program's growth while enabling states to reduce standards for private insurance.

It cuts more than $900 billion in taxes on the wealthiest.
There are substantial questions about what the cost of insurance is likely to be over the coming years as the new administration tinkers with the system without seeming to have a clear vision for what the result will look like. While that is likely to be of particular interest to consumers but there are broader considerations for related stocks.

For a market perspective the biotechnology sector has sprung to life on the assumption that it will benefit from less official interference in new drug pricing and clinical trials may be fast tracked.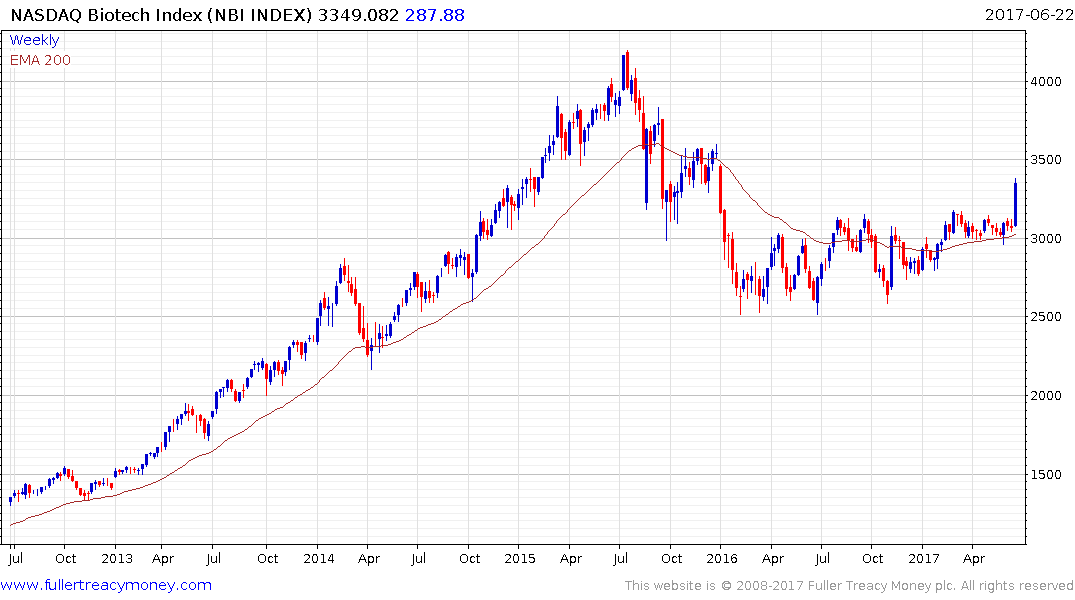 The Nasdaq Biotech Index surged higher over the last three days to reassert medium-term demand dominance.

The three largest shares on the Index are Amgen, Celgene and Gilead Sciences.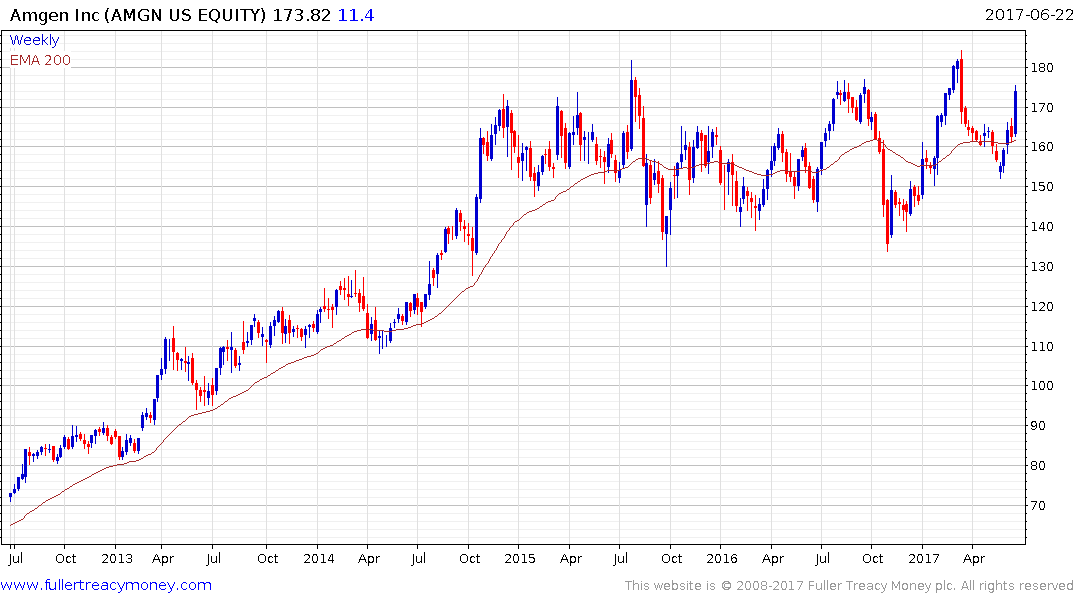 Amgen is firming within a two and half year range.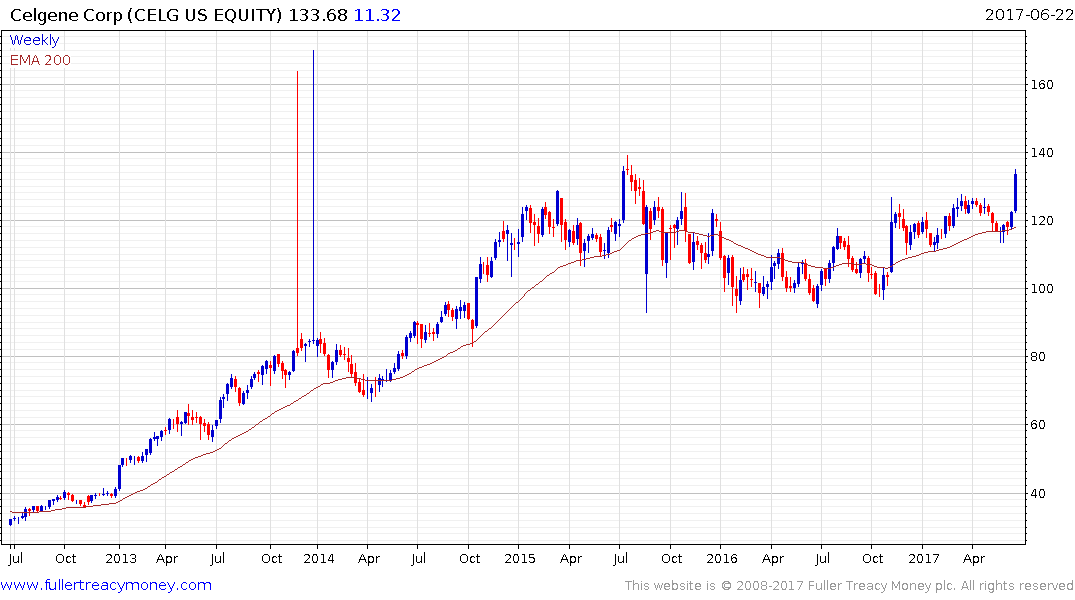 Celgene rallied emphatically from the region of the trend mean over the last three weeks and is now challenging its 2015 peak.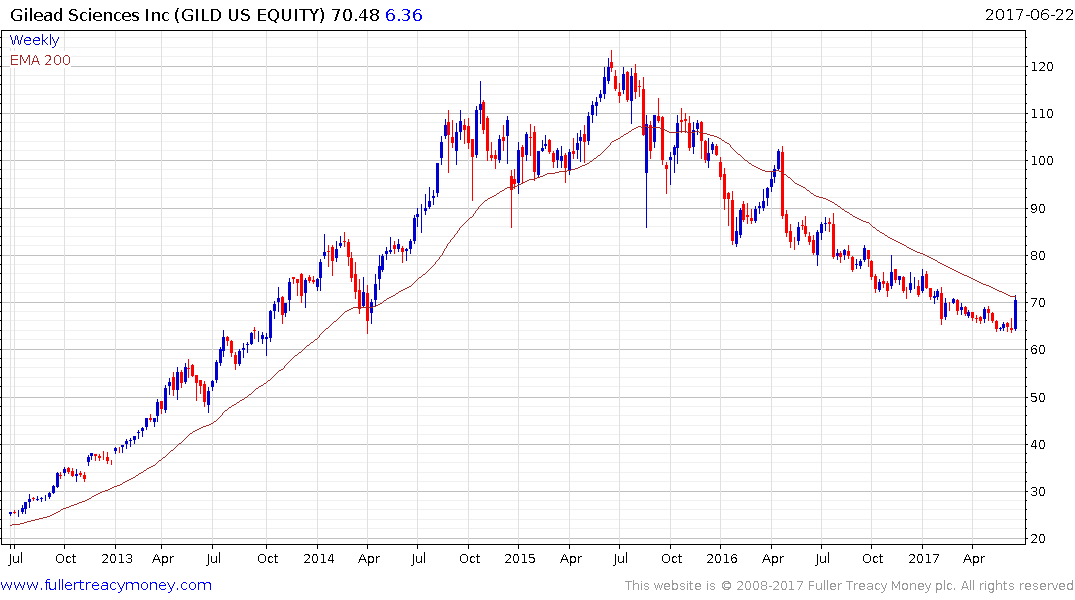 Gilead Sciences almost halved between 2015 and this week's low. It is now staging an impressive short covering rally and broke its medium-term progression of lower rally highs today.

As I have mentioned in a number of previous reviews the sector is being led higher by small immuno-oncology companies but the renewed participation of large cap companies is an additional bullish factor suggesting the rotation into biotech is picking up pace.
Back to top