The Robots Are Coming for Garment Workers. That's Good for the U.S., Bad for Poor Countries
This article by Jon Emont for the Wall Street Journal covers a theme I have been highlighting for years. Here is a section:
The apparel industry—unlike cars or electronics—seemed protected. Fabrics are notoriously difficult to work with, meaning nimble human hands are often better than machines. There was plenty of labor in Bangladesh, Cambodia and China, reducing the urgency to automate.

But labor costs have been climbing, even in developing countries. And technology is becoming so advanced that machines can increasingly handle difficult tasks such as manipulating pliable fabrics, stitching pockets and attaching belt loops to pants.

All that is upending the economics of the apparel industry, which long served as the first rung on the economic ladder for poorer countries, especially in Asia. A 2016 International Labor Organization study predicted some Asian nations could lose more than 80% of their garment, textile and apparel manufacturing jobs as automation spreads.

"I worry about developing countries—they are in the bull's-eye of this automation revolution" as robots master repetitive tasks once dominated by poor nations, said Erik Brynjolfsson, director of the MIT Initiative on the Digital Economy. Most jobs of the future require significant skills training—and that is where more-developed nations thrive, he said.
Here is a link to the full article.

The textile sector has for generations represented the first rung on the road to economic development. That is probably still the case since there are still plenty of low cost, high population areas, not least in Africa.
However, while in previous generations a country could rely on the textile sector for job growth for decades, technological innovation now demands much faster progression up the value chain as well as the fostering of a domestic market.
Constantly improving standards of governance are required for a country to avoid being left behind. The fact many high population countries also have tens, if not hundreds of millions, of young people adds further impetus to the need for policies that foster rapid development.
China, India and Indonesia are well on their way to further development. Poorer countries trying to play catch-up, have the potential to skip whole stages of development by leaping to broadband and becoming more energy efficient, but the big question is whether they can overcome graft and political sclerosis to grasp the opportunities that are available.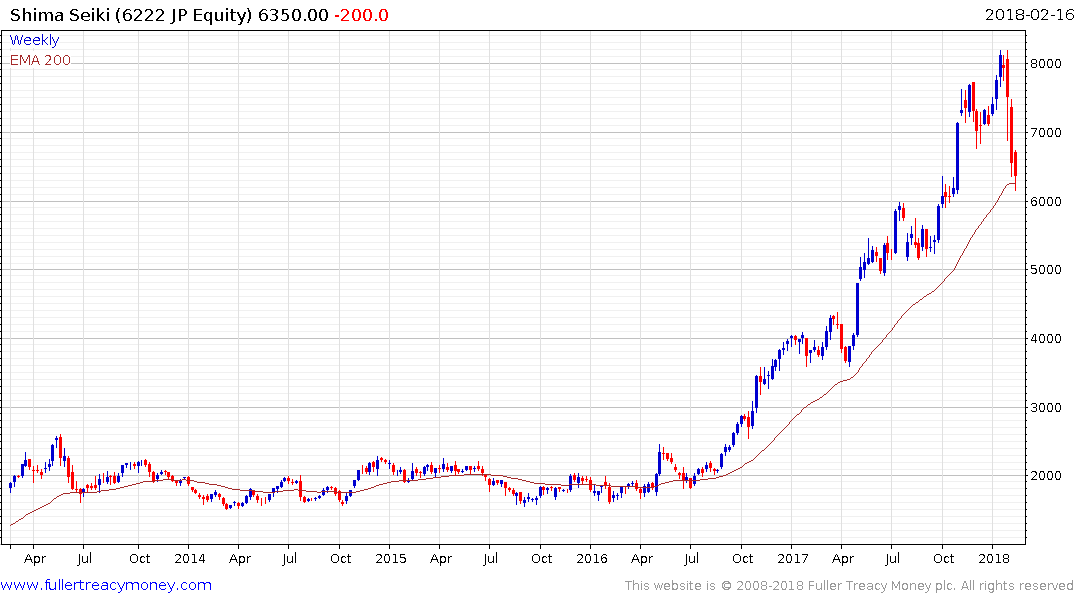 In the meantime, companies producing the machines providing automation are on a growth trajectory. The recent strength of the Yen has taken a toll on Shima Seiki. The share is back testing the region of the trend mean, where it will need to demonstrate support if medium-term scope for additional upside is to be given the benefit of the doubt.
Back to top