The rhetoric is changing, but Xi Jinping is staying the course
This article by George Magnus for the Financial Times may be of interest to subscribers. Here is a section:
The 40th anniversary of Deng Xiaoping's opening up of the Chinese economy, and the end-of-year Central Economic Work Conference last month, suggest that Mr Xi is prepared to accede to change but not to anything that threatens China's core interests. He cannot risk caving in to US pressure. Foreign companies and SOEs will still be required to buy and prioritise locally. Local governments and tech companies are bound to support the security, innovation, and industrial transformation of the state. Industrial policy designed to boost China's technological and military capacity is not up for negotiation. Changes to intellectual property laws are aimed more at small businesses rather than SOEs and big technology companies. Changes in foreign ownership caps and technology transfer will have to go some way for foreign companies to back away from reconsidering supply chain strategies. So, while we can anticipate some flexibility in the optics of Mr Xi's negotiating stance, no one really doubts that he is firmly in control, and remains committed to both the Made in China and Belt and Road strategies, which are enshrined in the party's constitution.
Liu He, Xi's top economic advisor, turned up at the talks between the US and China today despite the fact they were to be led by mid-level officials. That's a signal China is taking these negotiations seriously.
The simple fact is that if China wants to achieve its ambitions of becoming a global super power in a military, economic, technological, political and cultural sense it needs to placate the USA today so that it can show its true strength later. That, in fact, was exactly the strategy Deng followed when he advised the Party to hide its strength and just play along with the global economy in opening up.
Tesla broke ground today on a Chinese plant which is exactly the kind of investment China wants. On the other hand, they have been very slow to open up the financial services sector; giving a licence to American Express for example but not the much larger more competitive Visa Inc. It is movement on overcoming protectionism in higher value services that the main sticking point in trade is likely to rest.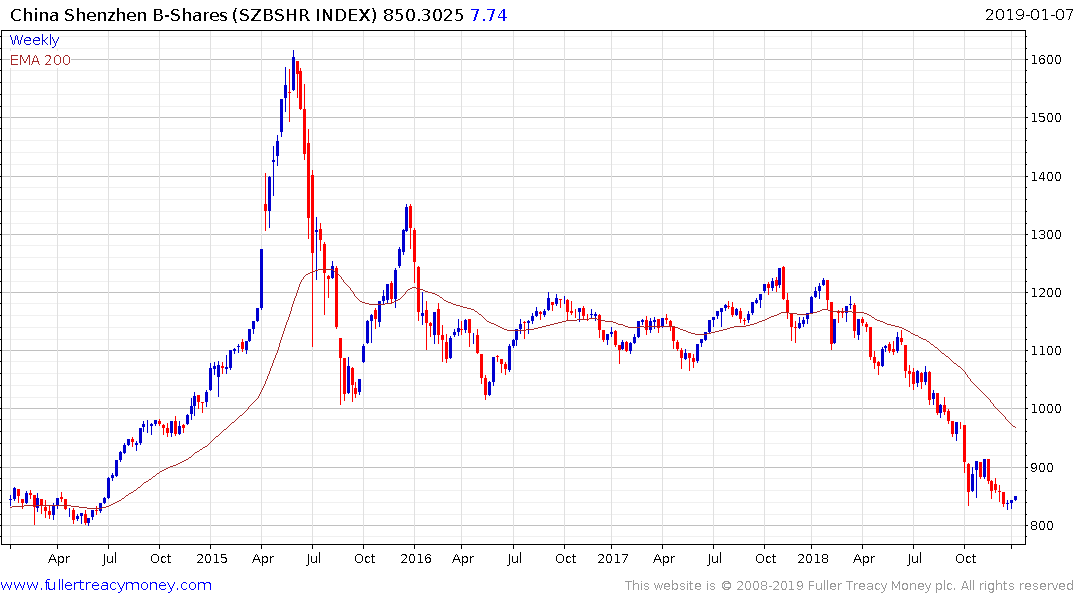 The Shanghai B-Share Index, which excludes banks, has steadied in the region of the October lows but needs to break its sequence of lower rally highs if potential for a return to medium-term demand dominance is to be given the benefit of the doubt.
Back to top