The Real Winners From Trump's Tariffs Are China's Neighbors
This article by Nathaniel Taplin for the Wall Street Journal may be of interest to subscribers. Here is a section:
There is some evidence of that happening, even with the previous, smaller tariffs. Since the third round of U.S. tariffs on China went into effect in late September, U.S. imports from China have faltered. An 8% growth rate in October turned to an 18% decline on the year in March. Yet import growth from Taiwan has risen from 12% to 21% over the same period. Imports from Vietnam grew 34% in March, up from a 15% rate in October. And imports from South Korea also surged in the first quarter: They were up 18% on the year, against just 9% in the fourth quarter of 2018.

Some of those shifts might represent manufacturers in China rerouting goods through neighboring countries. Chinese export growth to Southeast Asia and Taiwan accelerated in the first quarter of 2019, even as its overall export growth slowed. Regardless, the result is probably more expensive goods in the U.S. and lower employment in China, as Chinese companies shift elements of supply chains across borders or lose market share to pricier but tariff-free Asian competitors.

Many U.S. policy makers would argue that some pain for U.S. households is worthwhile if it achieves broader strategic goals. In the meantime, however, the big winners from the Sino-U.S. trade conflict are still across the Pacific.
In the cryptocurrency world, "trust" is the buzzword. It occurs to me it is also the primary asset which has been lost in the pursuit of the trade war. The USA and other countries were willing to tolerate China's misdeeds for years until the populist revolution highlighted just how much damage had already been sustained by the middle classes. Now the unfair trade practices and theft China has engaged in are no longer being tolerated and normal trade practices are being demanded. China is not in a position to accept those terms and that is setting up the conditions for a protracted disagreement which is likely to ebb and flow for years.
Who is still willing to play along to get along? President Trump's visit to Japan on the USA's Memorial Day says a lot about where loyalties lie and the strength of mutual defence agreements with countries like Japan, Taiwan and South Korea. Vietnam, has a government suspicious of China's intentions and is keen to develop the economy while India has millions of young people joining the workforce every year which represents a potent source of productivity growth for the foreseeable future.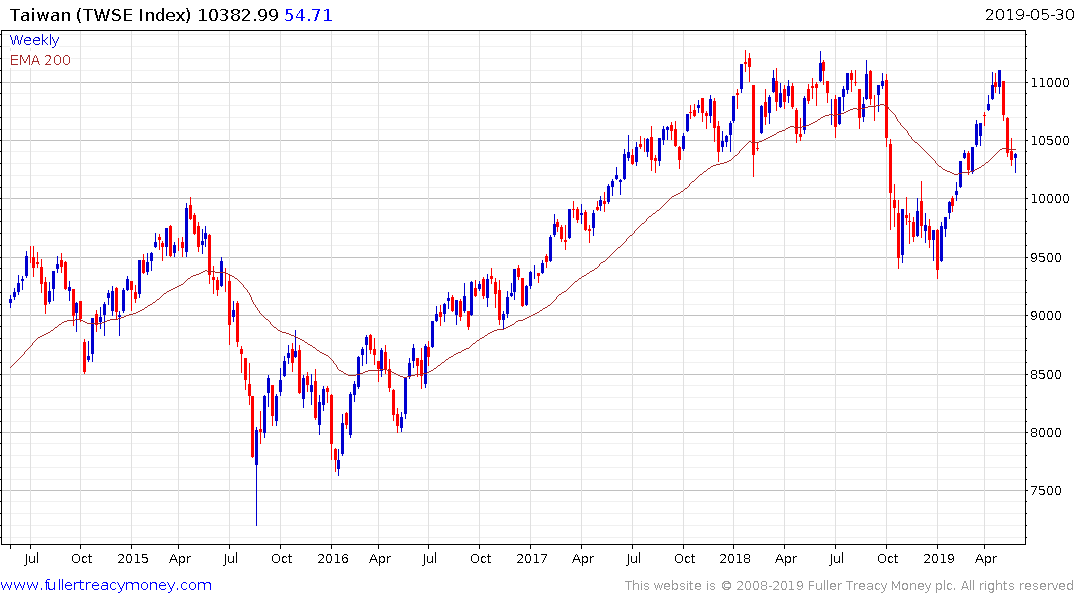 The TAIEX broke out to new all-time highs in 2017 and has been consolidating mostly above 10,000 since then.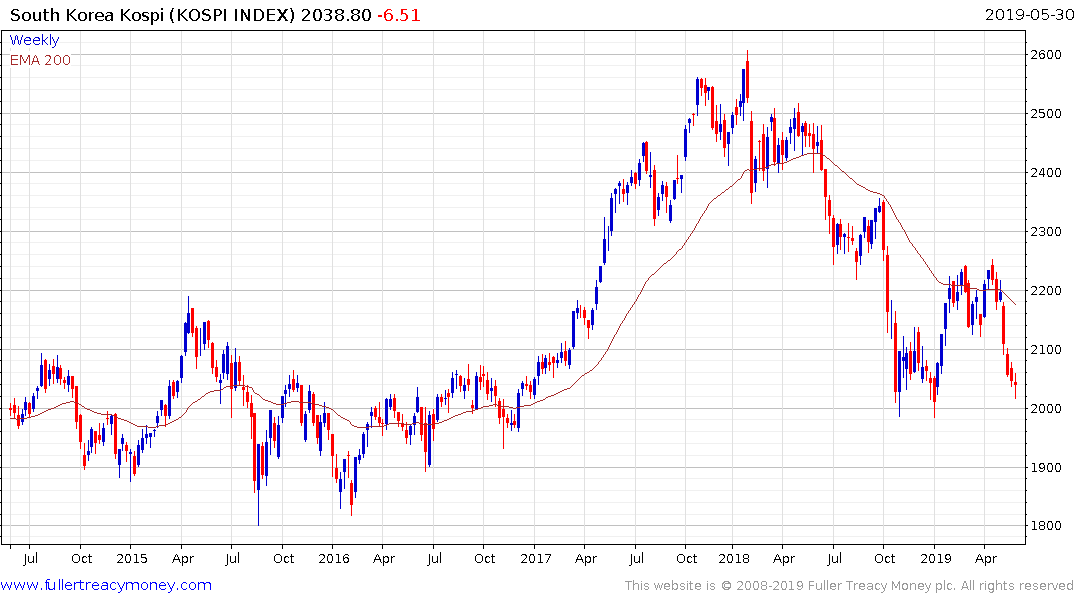 The South Korean Kospi is much more heavily influenced by global demand growth and is back testing its lows having failed to sustain its breakout.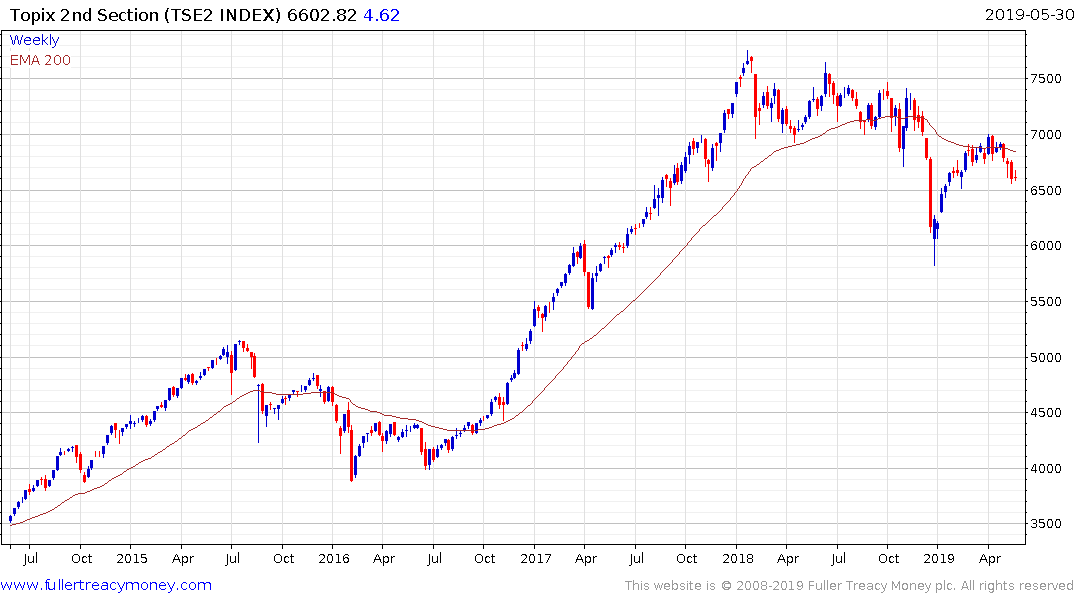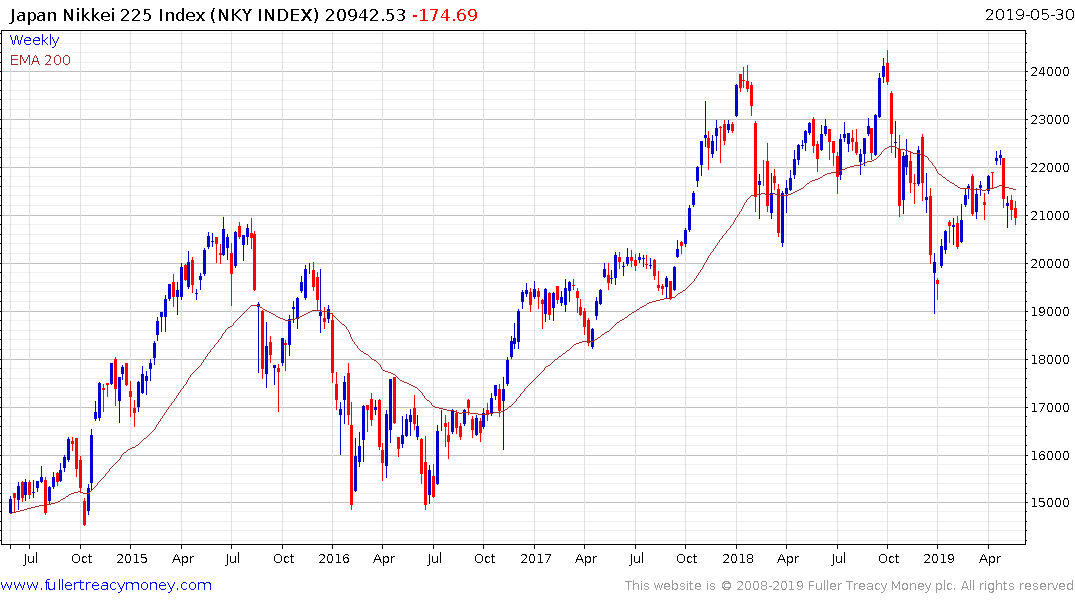 Japan's 2nd Section Index has encountered resistance in the region of the trend mean and that now represents a meaningful headwind to the Nikkei-225.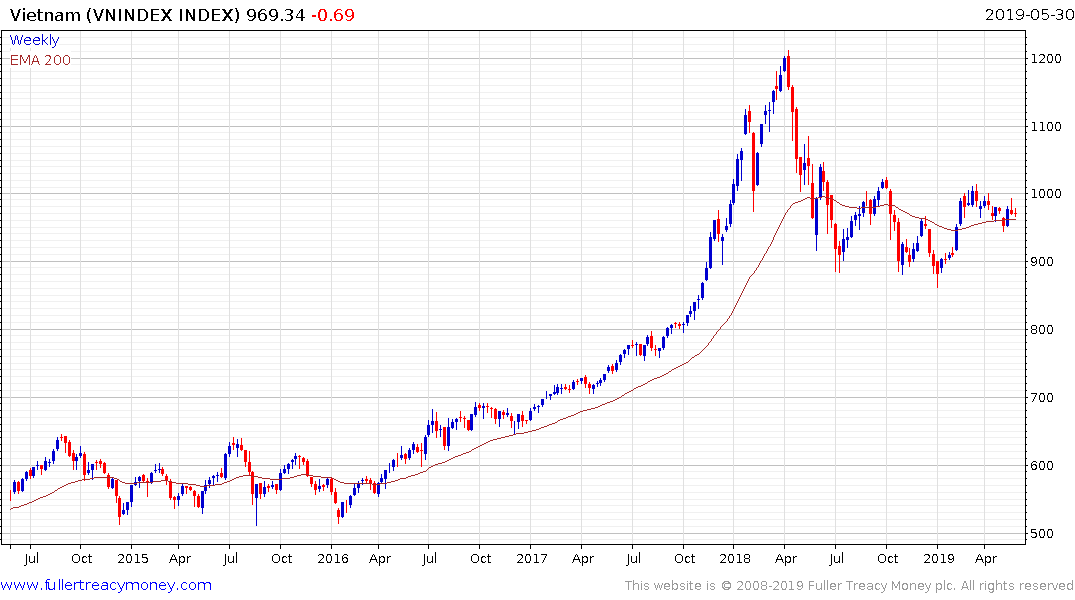 Vietnam's Index has spent much of the last few months ranging above the trend mean and a sustained move above the psychological 1000 would signal a return to demand dominance.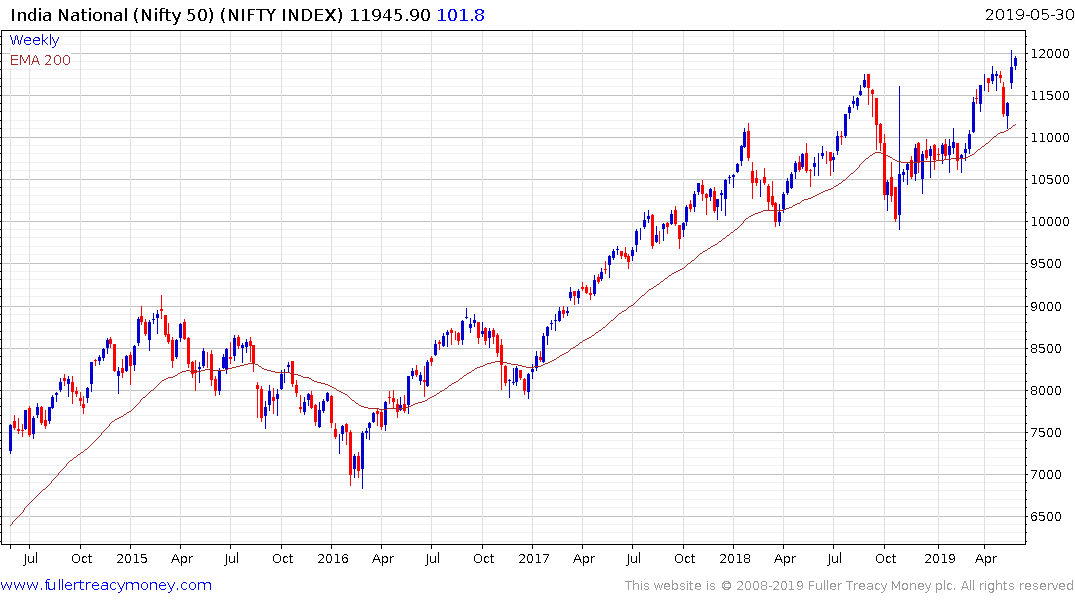 India's market is continuing to respond to Narendra Modi's victory in the recent election and of all the above charts it is exhibiting the clearest relative strength.
What we can also ascertain from the above charts is that while trade flows may now be favouring these countries, the pressure from slowing Chinese economy is a counterbalancing factor which is a drag on sentiment.
Back to top