The Millennial State of Mind
Thanks to a subscriber for this report from Bain and Co. which focuses on the luxury goods sector and may be of interest. Here is a section:
The luxury industry has entered a "new normal," characterized by lower growth. To succeed in the next decade, brands will need to refocus on their customers to better anticipate and cater to their needs. The younger generation will be key: New research by Bain & Company and Farfetch estimates that millennials will represent 40% of the global personal luxury goods market by 2025.

• The characteristics of millennial behavior are already seeping through to older generations - which accounted for 73% of luxury purchases in 2016.

• This generates a widespread "millennial state of mind" that requires brands to act. It is characterized by three main traits:
– Uneasiness. Digital interaction with peers is on the rise when choosing to purchase a product.
– Urgency. "I want it fast and I want it now." The time to make a purchase is decreasing, with younger customers taking one-third less time than older customers to make decisions.
– Uniqueness. Consumers now expect brands to align with their personal values and passions.

• Today, 70% of luxury purchases are influenced by online interactions, which means at least one digital interaction has taken place with the brand or the product before those purchases.
– 14% of consumers from the ages 18 to 24 complete their first luxury purchase online. – Digital traffic to websites of luxury brands is double the amount of store visits.

• By 2025, online and monobrand stores will become the two largest channels for luxury sales, each accounting for 25%.
Here is a link to the full report.

Supreme's continued success in using a limited supply model to drive demand for its products highlights the fact that the millennial generation is as interested in differentiating themselves along exclusivity, social and wealth lines as any earlier generation. In fact, it is reasonable to argue the cult of conspicuous consumption and vanity took on an added dimension with the evolution of Instagram and the selfie culture.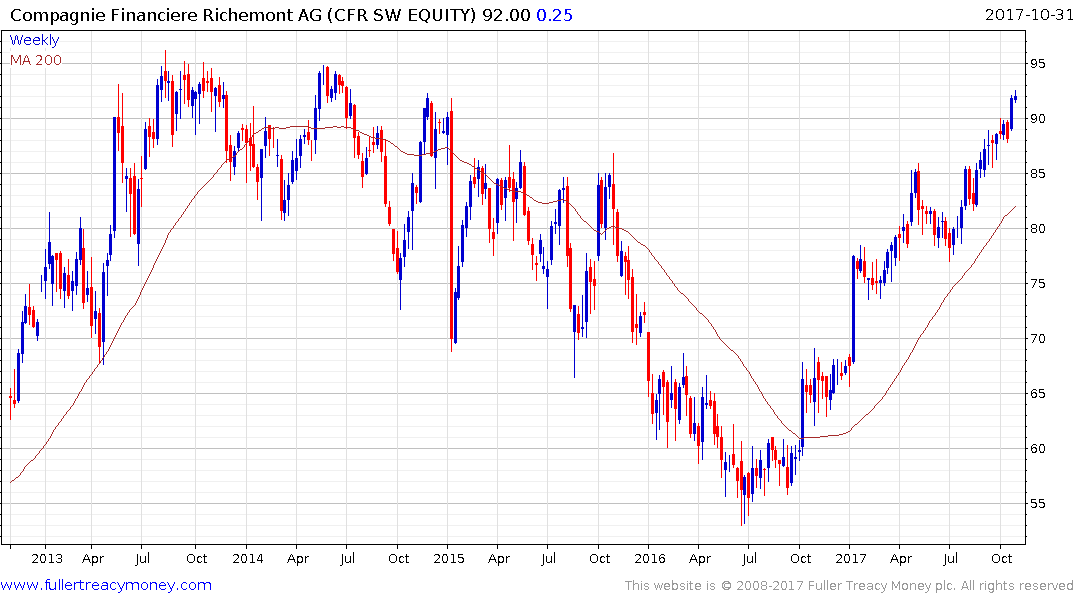 Major luxury goods companies are heavily leveraged to the growth of the global consumer and therefore synchronised global economic expansion. Richemont has been trending higher since mid-2016 and is now testing the region of the 2013 peak. While some consolidation is possible a sustained move below the trend mean would be required to question medium-term scope for additional upside.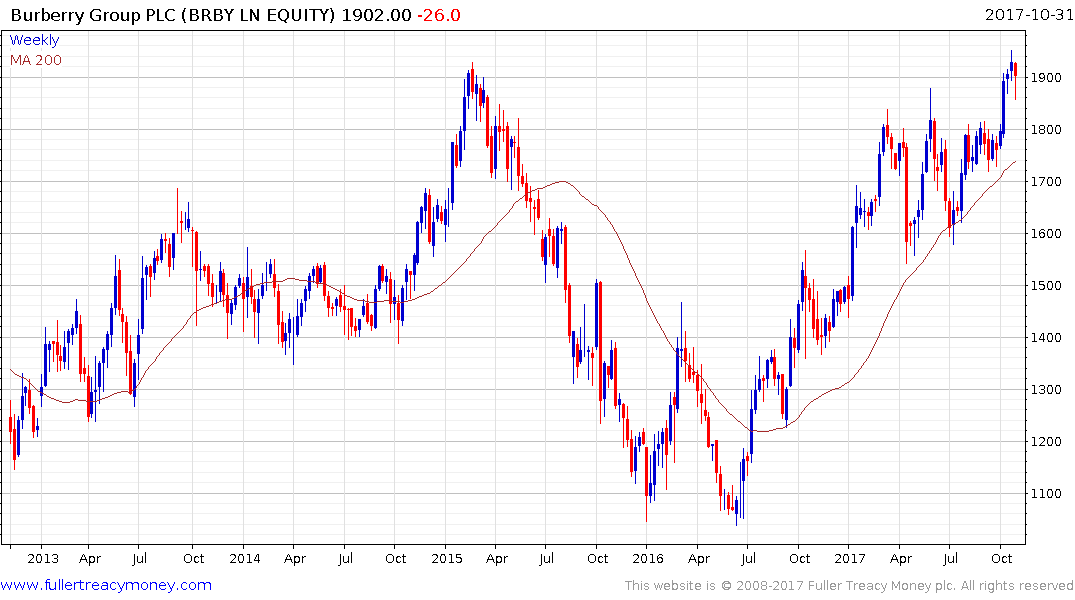 Burberry is also back testing its 2015 highs.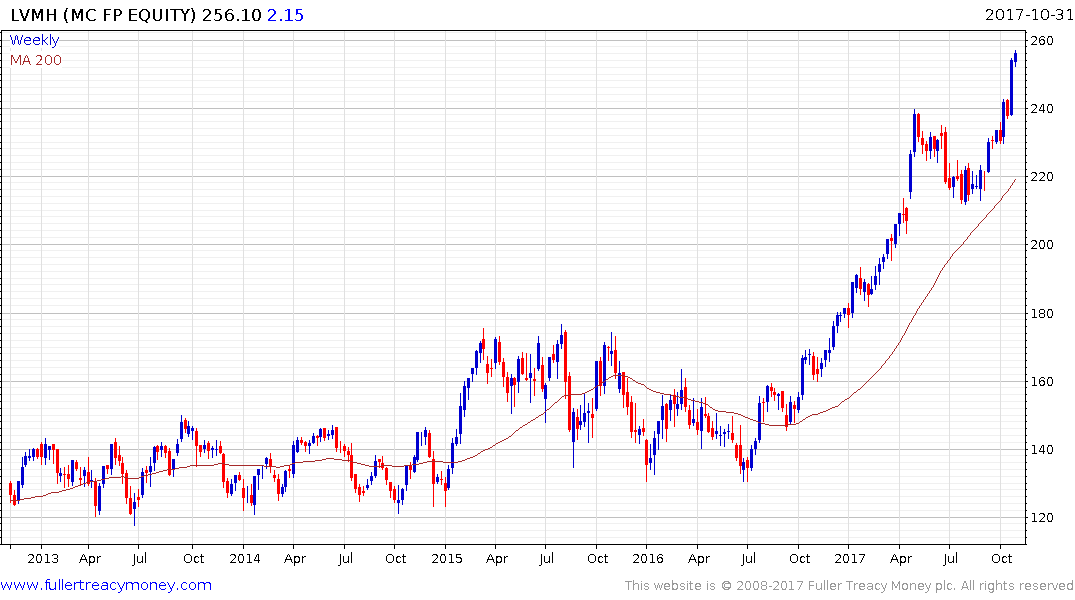 LVMH is currently somewhat overextended but a clear downward dynamic would be required to check momentum beyond a pause.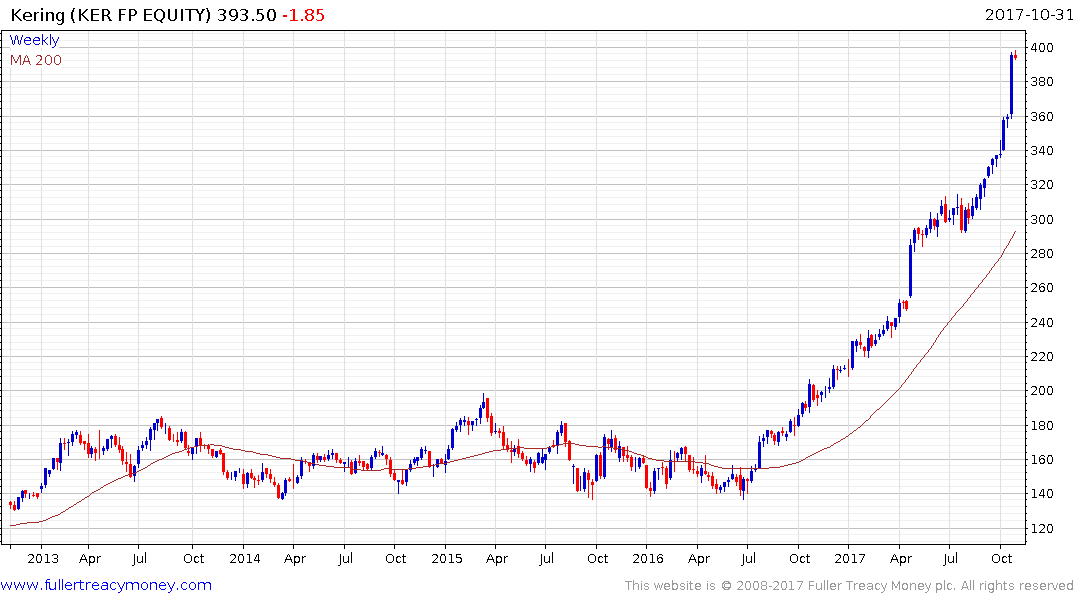 Kering accelerated higher last week on strong earnings from Gucci. The first clear downward dynamic is likely to make a peak of at least near-term significance.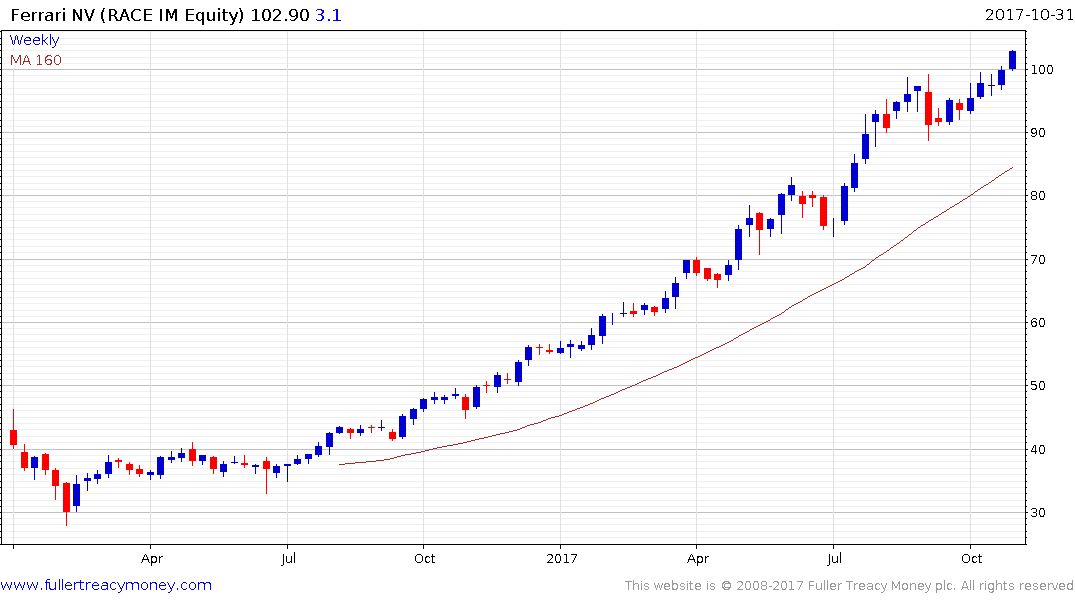 Ferrari remains in a consistent medium-term uptrend.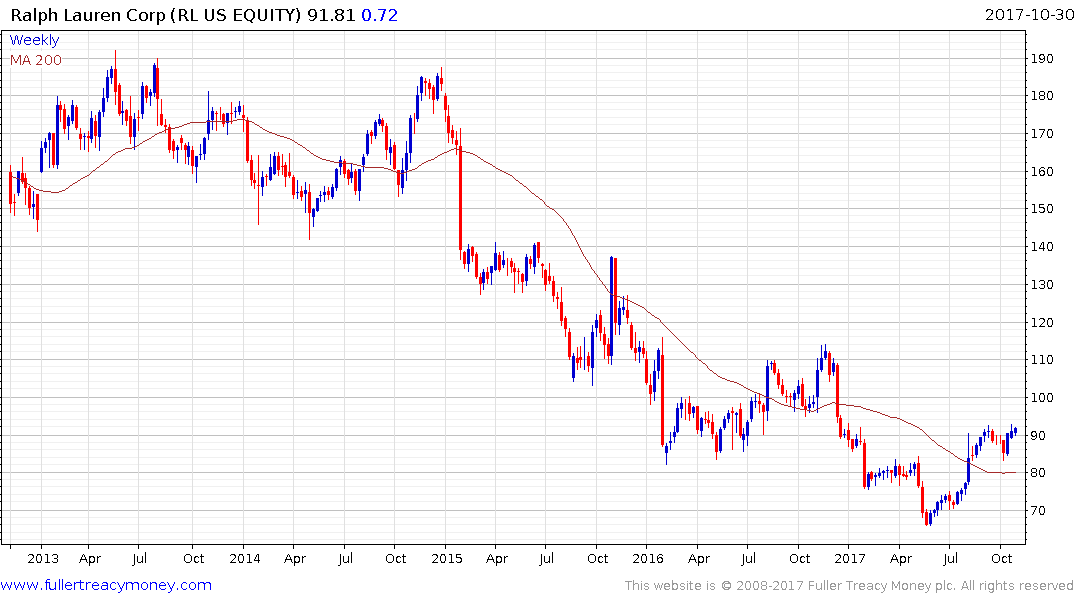 Ralph Lauren hit a medium-term low in June and has since rallied to consolidate above the trend mean. It will need to continue to hold above $80 if medium-term recovery potential is to be given the benefit of the doubt.

From friends in the diamonds business I hear one of the biggest issues with selling luxury goods online is customers saying they never got the item and returns. That suggests luxury goods will still have physical stores for the foreseeable future.
Back to top