The Main Street Faces of the Fierce Rebound in Stocks
This article by Sarah Ponczek for Bloomberg may be of interest to subscribers. Here is a section:
On their own, Kelleher's purchases don't amount to much. But combined with similar decisions by tiny investors around the country, the buying represents a formidable force that has helped the market claw back more than half the ground lost in its fastest bear-market drop. A trio of giant retail brokerages, E*Trade Financial Corp., TD Ameritrade Holding Corp., and Charles Schwab Corp., each saw record sign-ups in the three months ending in March, with much of it coming at the depths of the swoon.

"I'm a complete noob when it comes to stocks," the mother of high school senior twin boys said while sheltering at home. "It's not thousands and thousands of dollars that I invested, but it's a start. We'll see what happens. I hate to say it, but it's like gambling, isn't it?"

There may be something to that. "When the casinos/sport betting closed down, some of that action went to stock markets," speculated Nicholas Colas, cofounder of DataTrek Research, in a note Wednesday. "Google Trends data supports that idea."
When I started receiving stock tips from the twentysomething working at UPS a few weeks ago, my contrarian heckles rose.

The trend of zero commissions, promise of massive quick profits and the confidence built up from a decade of watching buying the dip be successful has emboldened legions of new investors into the market.

This article from the Wall Street Journal makes many of the same points. This article from Bloomberg highlights the fact futures trading funds (CTAs) have now fully unwound short positions. Here is a section:

The Nomura analysis chimes with that of JPMorgan Chase & Co., which suggests CTAs are poised to finish covering their short bets -- a stepping stone toward building longs.

The stock market was buoyed overnight with Alphabet's (Google) strong performance and the continued speculation Gilead's Remdesivir will be a successful treatment for severe cases of COVID-19.

The big bet right now is excess liquidity will more than make up for the drag on growth even in the event we get a rebound from the extreme economic doldrums in the 3rd and 4th quarters.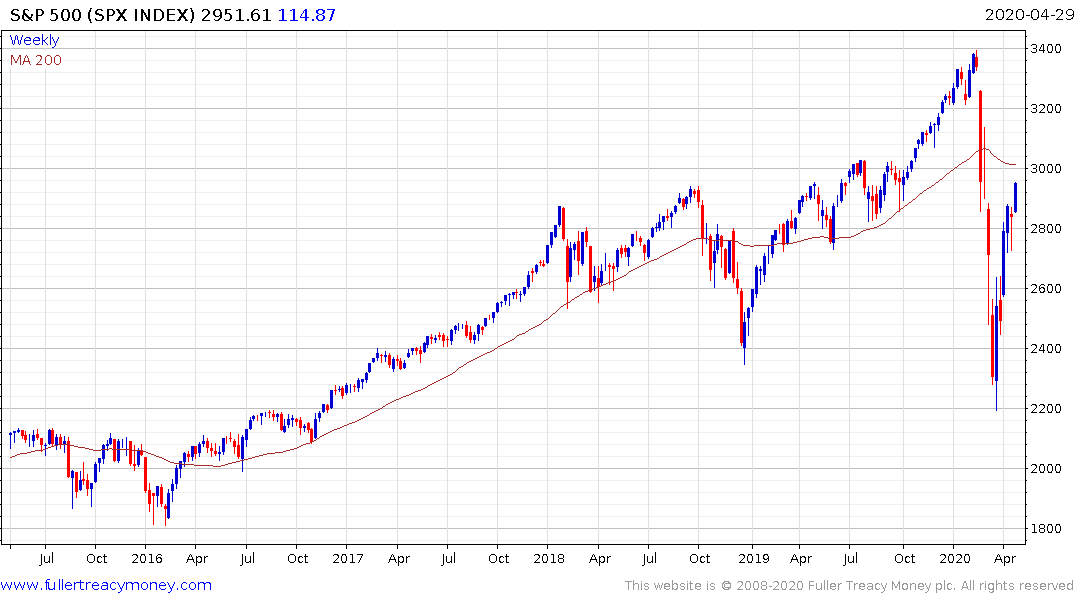 The S&P500 is approaching the first major area of potential resistance near the 200-day MA and the psychological 3000 level. It is going to have to sustain a move above that level for more than a few sessions to confirm a return to demand dominance beyond the short covering rally.
Back to top