The IPO Race for Uber and Lyft Isn't Against Each Other
This article by Shira Ovide for Bloomberg may be of interest to subscribers. Here is a section
After a relative tech IPO dry spell of 2015 and 2016, there's less of a stock feeding frenzy around each new tech listing now. Snapchat's valuation has moved from outlandish at its IPO to tame.(1) Most other tech companies that went public in the last couple of years also trade relatively in line with their older peers. That shows investors have grown more discriminating about when to pay a rich price for fast-growing companies. I think that temperance will carry over to IPOs for Lyft and Uber.

Ultimately, though, Uber and Lyft have more to worry about than IPO order. Uber in particular has yet to prove its basic business model makes sense after 10 years of history. Economic and market conditions are deteriorating. In the U.S., people are openly talking about the "R-Word" — recession. Those are all good reasons to hurry and go public. But Uber and Lyft shouldn't overthink the advantages of hitting the stock market first.
At The Chart Seminar we ask this question; when is the best time to sell your company? The answer is simple when you think about it. When you can get more for it than you think it is worth. The founders and early investors in multi-billion Dollar unicorns have a clear incentive to diversify exposure by seeking to sell when the going is good, because it will obviously be a more difficult prospect when the going is bad.
One of the factors we often see in maturing markets is that supply increases. There is nothing like a big bull market to encourage people start businesses but when companies start competing for IPOs so they can tap the wall of cash hitting the market that is usually a factor in supply returning to dominance.
As far as I can see the only way Uber or Lyft for that matter are going to turn a profit is by getting rid of their drivers. Unless either is the first to deliver autonomous vehicles they may not survive regardless of whether they delivering pizza or people.
I try to keep my eyes open to signs of mounting fervour in the appetite for conspicuous consumption and there are a couple of things that have been catching my attention lately which I think are worth reporting.
The first is the pace with which houses on my street have been changing hands. Sales earlier this year were brisk with homes selling within a few days of listing. Now they are sitting for longer, prices are not as aggressive and discounts are on offer. This is definitely the low season for real estate but the deterioration in the shares of homebuilders suggests there is some resistance to taking out a mortgage at these rates and with the change to the tax code slated for next year.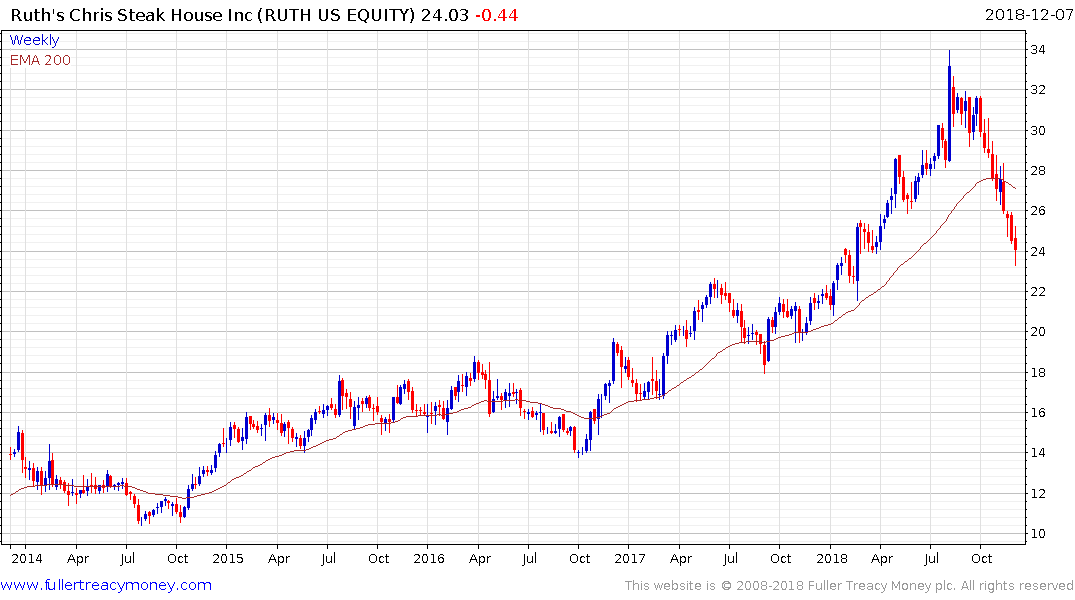 The second is the fact that Ruth's Chris Steakhouse Tomahawk, on the bone ribeye seems to be getting smaller. The tomahawk has been our go-to steak for a few years but on our last two visits we definitely noticed it looked on the smaller side. Ruth's has been expanding but if they are sacrificing quality to preserve margins that's not good news. The share accelerated to the peak in August and has since pulled back by more than at any time since 2007. For a chain that sells a high cost item, their fortunes are likely to be a lead indicator for consumer demand.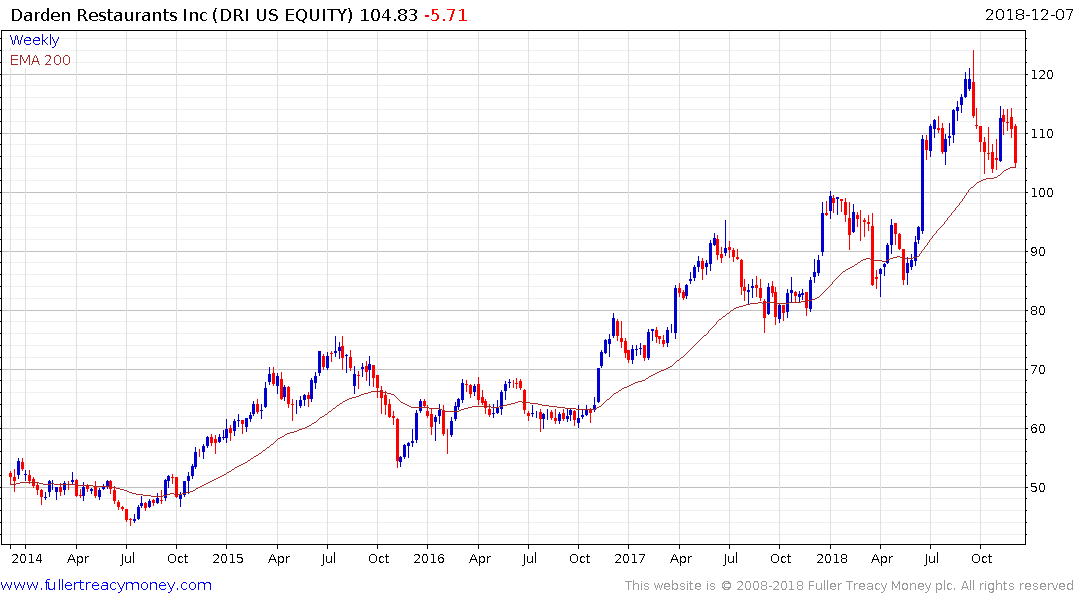 Darden Restaurants has not broken down yet but will need to rally soon if demand dominance is to be reasserted.

The third is the number of very high value cars I have seen over the last couple of weeks. At my tennis club yesterday, there was a Ferrari and three Aston Martins in the parking lot and I was not taking an exhaustive inventory. That's only remarkable because they are not the norm. I have also seen a lot more Bentley and Rolls Royce's around the neighbourhood. Generally speaking when someone buys a sports car it is because they are very enthusiastic about the future.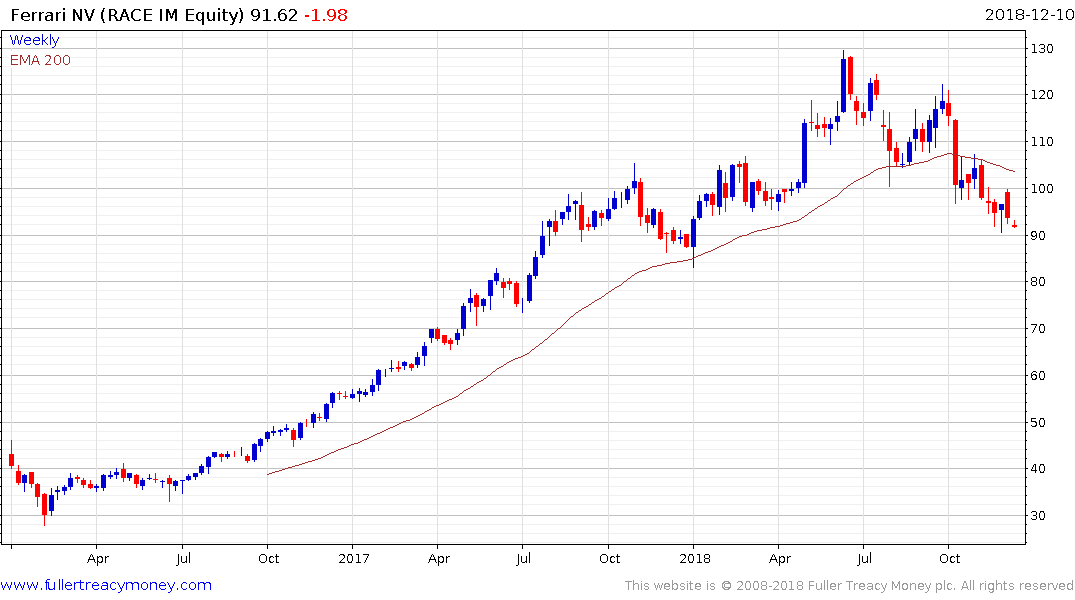 This chart of Ferrari's price suggests it has hit at least a medium-term peak.

These factors are not a timing indicator but they are suggestive of late in the cycle activity.
Back to top