The Importance of Bitcoin Upgrades and Layer Two Applications
This article from Coindesk may be of interest to subscribers. Here is a section:
This November, Bitcoin will undergo the biggest upgrade to its code since SegWit. Taproot (discussed in BIP 340, 341 and 342) introduces what are called Schnorr signatures to Bitcoin. To avoid a very technical discussion, Taproot will improve privacy, scalability and finally implement smart contract functions on Bitcoin.

One of the major benefits of Taproot activation is the fact that multi-signature transactions will become much less data heavy, which blazes a Bitcoin path for smart contract implementation. Many alt coins were designed from the ground up with these improvements in place and therefore drew attention and investment away from Bitcoin. The Bitcoin developers took plenty of time to ensure this upgrade was safe before implementation. Many, including myself, view this as a monumental move for Bitcoin, and it certainly levels the playing field in the smart-contract competition.

And

Along came the Bitcoin Lightning Network. The Lightning Network is a second layer protocol that operates on top of the Bitcoin blockchain. Lightning takes transactions "off-chain." Basically, bitcoin is removed from the main network and placed into a two-party, multi-signature "channel." This channel is created between two parties and allows each party to send nearly an unlimited amount of transactions at a very low cost. These transactions happen specifically on the Lightning Network and not on the Bitcoin blockchain. Because these transactions are not approved by Bitcoin nodes or miners, the Bitcoin network is not affected. Upon terminating or closing the Lightning channel, all of the information included in the history of the channel is consolidated and included in a transaction that is then sent to the main Bitcoin blockchain (mainnet) to be recorded.

Twitter recently announced tipping for all iOS users. For this to be possible, Twitter will rely on third-party companies such as Strike that provide the ability to link a Twitter account to a Bitcoin address and a Lightning Network address. The Lightning Network allows tiny amounts of money to be sent instantly to anyone with an address. Twitter CEO Jack Dorsey has been a longtime proponent of Bitcoin and the Lightning Network. Many view this as an elegant solution to many problems faced in the global payment's ecosystem. Many pro-Bitcoin investors are encouraged to see that such a large social media company is exclusively building on Bitcoin, and this adds to their Bitcoin-only conviction.

What is clear is that Bitcoin Core developers are focused exclusively on improving Bitcoin. Through BIP implementations, layer 2 advancements, and the continued focus on Bitcoin, the largest cryptocurrency is constantly able to compete with newer projects and continues to demand the majority of market share in the cryptosphere. Taproot and Lightning Network will allow bitcoin to remain competitive with other alt coins in terms of functionality, speed and security. Not only is bitcoin the largest cryptocurrency based on market cap, but the upgrades and core developers are working to ensure that bitcoin remains preeminent.
The innovations discussed above greatly enhance the scope of bitcoin to compete with altcoins in the provision of real-world services. It will further act to concentrate user interest in bitcoin and the other larger tokens. The threat of regulation is already doing that to small projects and this development will likely accelerate the trend.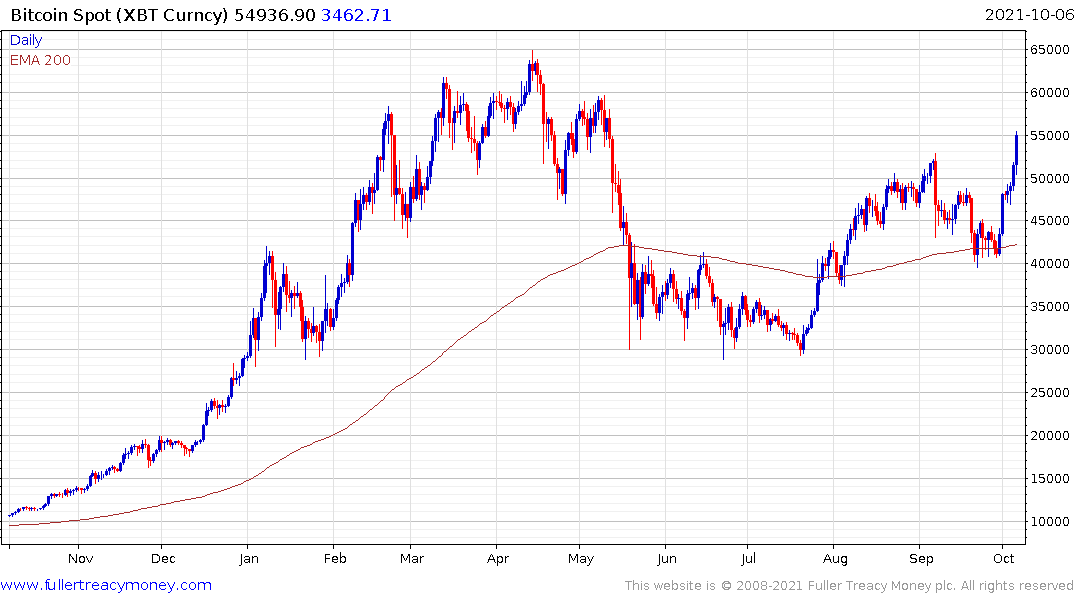 That's helping to support the bitcoin price right now. It cleared the psychological $50,000 level yesterday and improved on that performance today in even more impressive form. A run back towards the April peak April now looks assured.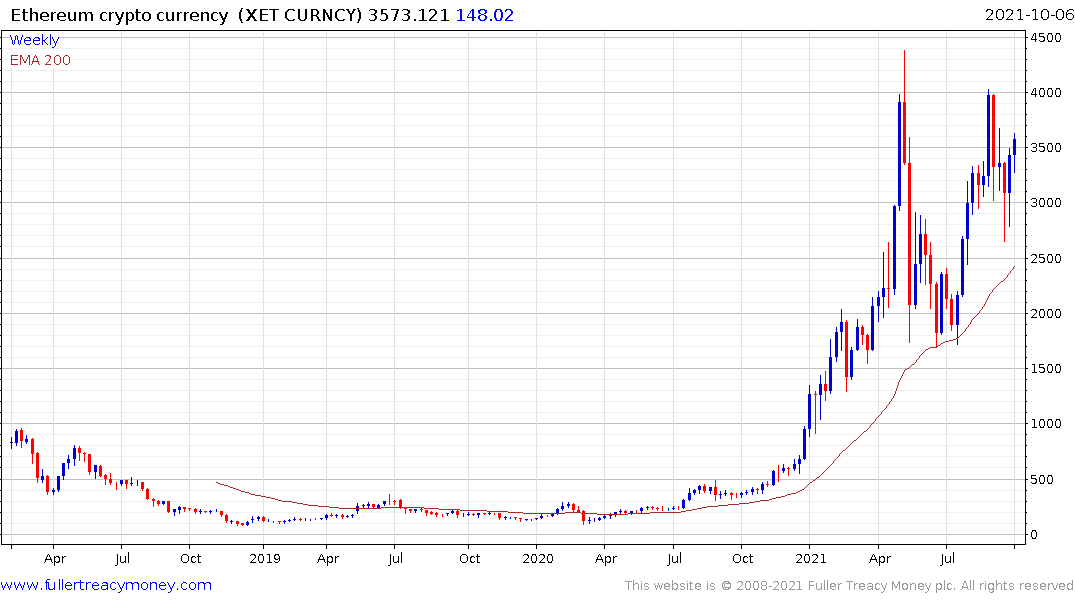 Ethereum has lagged bitcoin's recovery but it is now also firming.
Back to top