The Great Cycle Debate
Thanks to a subscriber for this well-considered report from Morgan Stanley which may be of interest. Here is a section:
Here is a link to the full report and here is a section:

At the time of publication in late November, our key views for higher volatility, lower equity multiples, wider credit spreads and flatter yield curves were very much out of consensus. Fast forward to today and many of our views are coming to fruition. In the US, we continue to expect a peak in year-on-year EPS growth, operating margins and economic leading indicators by 2Q/3Q. As these fundamental indicators roll over, it should only exacerbate the negative market developments we have been experiencing since late January. In short, the market is topping on a cyclical basis.
Unfortunately, cycle tops are typically excruciating and almost always brutal, reminding us of another old adage that markets only exist to torture us. We have been using a checklist to see if our call for a cyclical market top this year is on track, at least in the US. That checklist is making progress, as seen in Exhibit 7. So far the checklist has hit on many of our market signals which tend to lead the fundamental signals of a true market top. Therefore, we remain confident that our fundamental signals will happen later this year.
First, while year-on-year growth in S&P 500 EPS is unlikely to peak in 1Q, it is very likely to reach such high levels by 3Q that a significant deceleration is inevitable (Exhibit 7). Second, operating margins remain stubbornly high for the time being, but this is another variable we are confident will roll over this year. Remember that all of the tax cut benefits to earnings are happening below the operating line. Meanwhile, the tax law changes encourage higher investment levels just as labour and interest costs are rising, all of which are bad for margins if not absolute levels of operating profit. Exhibit 9 shows that while EPS forecasts have risen almost parabolically since the tax cut legislation was passed, both EBIT and EBITDA estimates have remained on the same trajectory they were on and even flattened out a bit. The same can be said for economic leading indicators such as the purchasing managers' surveys and economic data surprises, both of which are at extreme levels and mean-reverting by nature.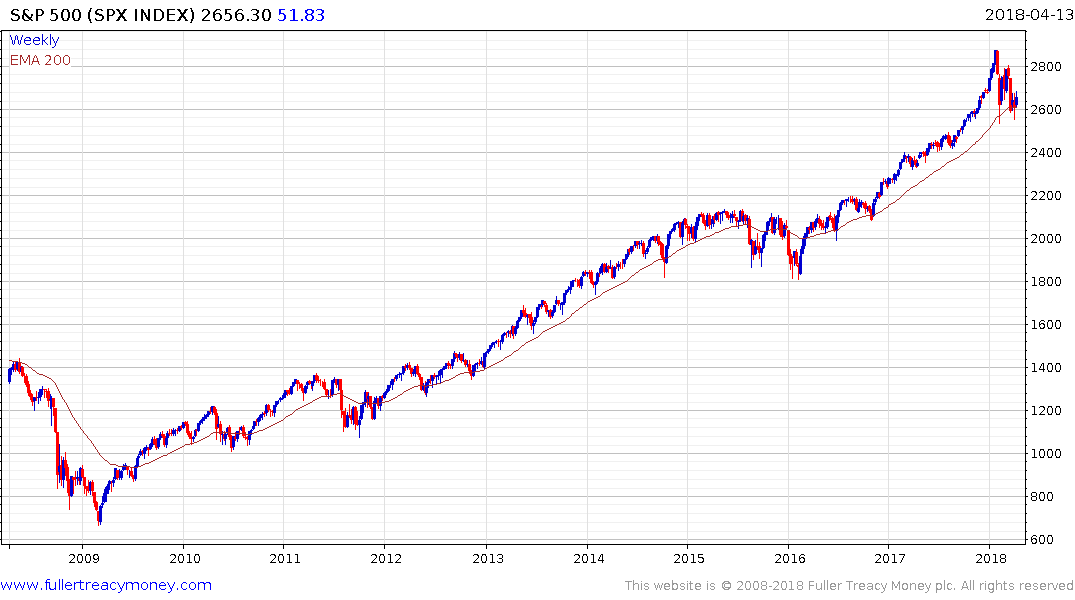 Everyone was conditioned to expect crashes. The one thing everyone in the financial community, who has been around for more than a decade at least, has vowed is not to be caught on the wrong side of a crash again. That contributed to a lot of trading in and out of position in the aftermath of the credit crisis. That's the first psychological perception stage of the market: disbelief.
More recently the argument that it is impossible to beat the market and that the only way to participate is with ETFs has been gaining ground. That coincides with the evolving psychological condition to accept the bullish hypothesis and to just stay long, in other words buy and hold. That's the second psychological perception stage of the market: acceptance.
Then the market accelerated into the January peaks as people extrapolated the trend and felt they needed to buy in order to avoid losing out later. That has contributed to the corrective phase the market is now in because so much good news was priced in there wasn't much left over. That's the third psychological perception stage: euphoria.
This will form a major part of the conversation at The Chart Seminar in Melbourne on Monday and Tuesday next week.
So what next?

Wall Street is at least in a medium-term corrective phase that could last for anything from 6 to 18 months. The massive reaction against the prevailing trend posted in February had type-2 trend ending characteristics. Generally speaking it is normal to a see a period of volatile ranging after such an event. So far, the region of the trend mean continues to offer support. If the evolving range is limited on the downside by the trend mean that can be considered the best possible scenario and, so far, the primary indices are bouncing which is encouraging.
The big question I think many people will be wondering is whether this evolving range is a pause in the medium-term bull market or part of a softening up process ahead of deeper declines in conjunction with the next recession.
There is no doubt that the medium-term bull market is in a mature stage. However, the lead indicators for a recession are not flashing red. The stock market is a discounting mechanism so it is not at all unusual that a loss of momentum evolves before a recession. That does not mean we have to conclude that a crash is inevitable but there are definitely unresolved questions about the short-term nature of fiscal stimulus against a background of already full employment high capacity utilitisation, which could exacerbate emerging inflationary pressures and therefore a more robust central bank response. These are medium-term considerations however. The immediate focus of attention remains on how well major indices hold their recent lows. That will inform us on whether these medium-term considerations are becoming more urgent.
Back to top