The Gold Digger
Thanks to a subscriber for this report from Raymond James which may be of interest. Here is a section:
The mining clock, is a concept originally introduced by Lion Securities and adopted by Investec. The clock on the right, gives us a sense of where we are in the mining cycle based on various liquidity indicators.

In our opinion, the clock was positioned at 6:30 as of September 2020.
Mining is one of the most cyclical industries on the planet, gains are very large on the upside, and losses are also magnified on the downside.

Why is it important?
We cover the Investec Mining Clock because it is crucial to know where we are in the mining cycle so we can properly plan for reaping the rewards the mining sector can give. Without a logic based system, investors end up doing the investment round trip making sizable money on paper only to see it vanish when the cycle turns.

You can see that there are times to look, times to buy, and times to sell. Unfortunately, most investors sell when they should be looking, look when they should be buying, and buy when they should be selling. Bull markets create bear markets, and bear markets create bull markets. The ways you look at the market must change depending on whether a primary bull market or a primary bear market is at hand.
Here is a link to the full report.

The gold mining sector is still scarred from the previous bear market. They are not aggressively engaging in new exploration. That's a limiting factor in how quickly supply can be increased.
Instead, they are deploying the same business development strategy deployed by pharmaceutical companies. That involves watching junior miners and acquiring promising projects as feasibility studies are completed and reserves are proofed up.
It's a risk averse, capital preservation method of replenishing and growing reserves. It effectively outsources exploration to risk tolerant early investors. The company has to pay up later but the risk of total loss is averted. That's good news for the long-term health of the sector.
In my view it is only a matter of time before the extraordinarily detailed topographical satellite imagery now being created is used for prospecting. That has the potential to greatly enhance the hit rate of holes drilled and decrease the cost of developing new mines in the process.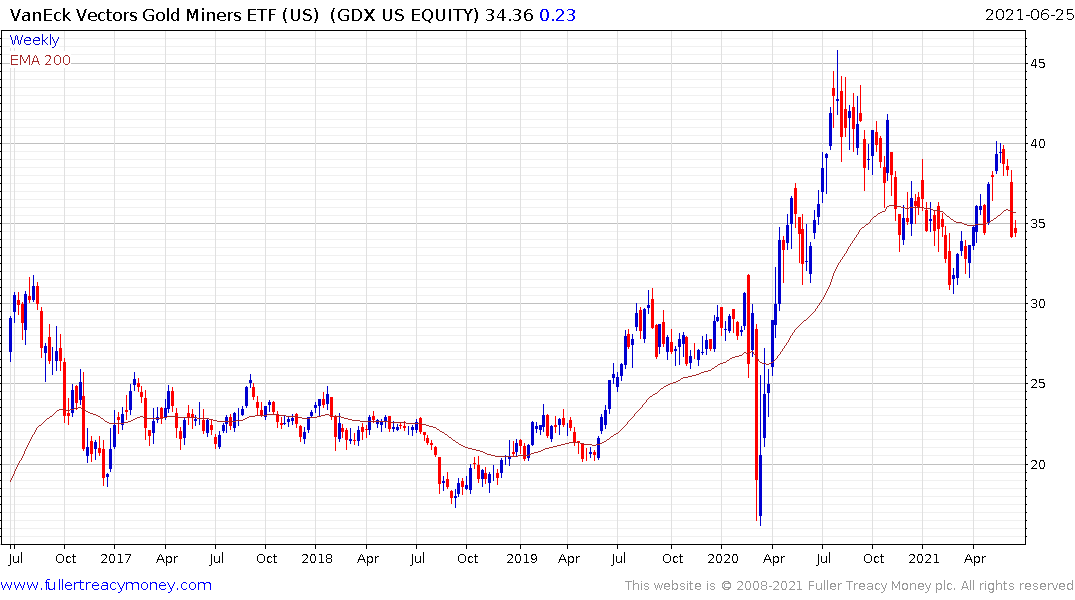 The Gold miners ETF has experienced some selling pressure over the last month. To confirm a return to demand dominance we need to see a higher reaction low. I believe it is likely support will be found above $30 but nothing is confirmed until that first upward dynamic.
Back to top