The Fat Tech Dragon
This report by Scott Kennedy for the Center for Strategic & International Studies may be of interest to subscribers. Here is a section:
China's embrace of intellectual property (IP) is highly positive when contrasted with the country's original disdain for property rights of any sort and widespread violation of IP rights. However, China's efforts to develop and obtain more IP is driven heavily by bureaucratic imperatives as opposed to market incentives. Moreover, China may now be a "large" IP country, but it is still a "weak" one. Whether one is discussing licensing and royalties, mergers and acquisitions, or dispute settlement, Chinese patents still have little commercial value.

China's commercial success has outstripped its progress in technology innovation. Chinese companies are acquiring greater market share in high tech, particularly in the most commodified segments of sectors. The value-added contribution to manufacturing is growing in absolute terms, and domestic companies are contributing a growing share to China's high-tech exports.

Overall, China's high-tech drive may be characterized as "good-enough innovation." From a negative perspective, China is investing—and may be wasting—a great deal of human capital and funding, but is still far from a leader in high tech. From a more positive perspective, China is achieving incremental progress by benefiting from its strong capacity in manufacturing, the accumulation and diffusion of tacit knowledge, and the opportunities provided by such a large market.

Regardless of the level of support they receive from their government, Chinese companies will face growing challenges in their interactions with multinational businesses and in overseas markets. Foreign governments and multinational businesses likewise need to decide how to strategically respond to China's approach. They could take a firm stand in opposition, try to influence China's approach at the margins, or go along with the strategy as best they can. In any case, if they are not careful, they could end up under the heavy foot of a fat tech dragon.
Here is a link to the full report.

In addition to its race to become a centre for high tech innovation China is also intent on a "China first" policy of making sure it is producing its own semiconductors without having to rely on US, Japanese, Taiwanese and South Korean manufacturers. That raises important questions about M&A activity since so much of it is state sponsored. The reality is that if China gains the technology to produce its own semiconductors it will seek to flood the market with cheap products and that could represent a significant issue for the global tech ecosystem.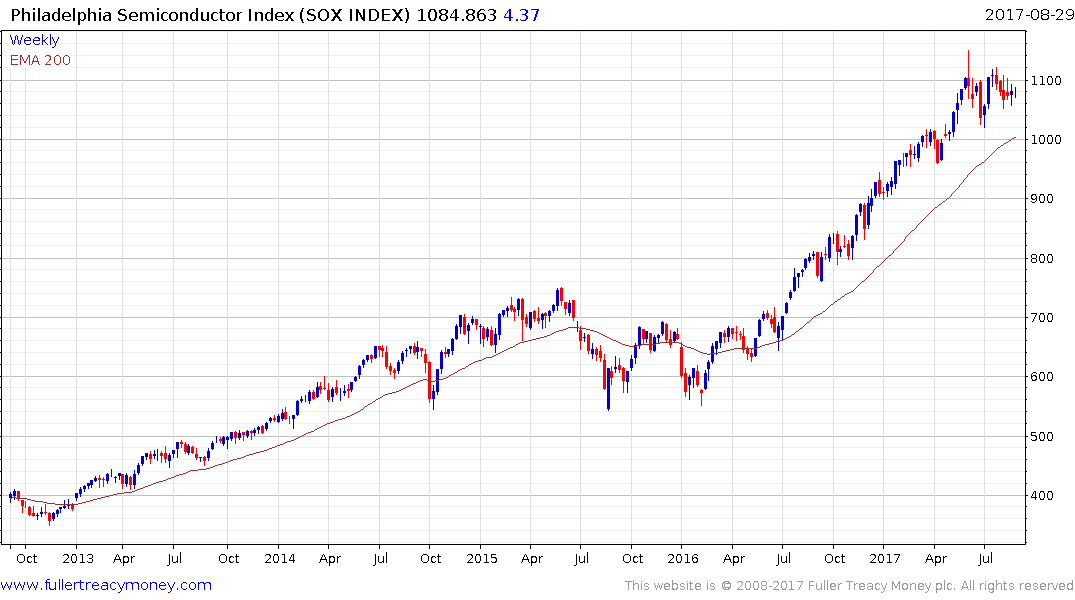 The Philadelphia Semiconductor Index was led higher by Nvidia in 2016 and through until June of this year but has paused over the last few months is a steady process of mean reversion. It is currently firming within its range and a sustained move below 1000 would be required to question medium-term scope for additional upside.
Back to top