The EU's Real Rule-of-Law Crisis
This article by Simon Nixon for the Wall Street Journal may be of interest to subscribers. Here is a section:
Northern European countries will argue that the key to making the EU more resilient is to ensure that existing rules are more effectively enforced. For example, the German, Dutch and Finnish governments have called for changes to the way the EU budget is administered to make future EU funds conditional on member states undertaking reforms that would boost economic convergence.

That will put them on a collision course with countries in Eastern Europe who fear that the EU budget will be turned into another tool to allow Brussels to interfere in their domestic politics.

It will also put them on a collision course with the French government, which believes that simply relying on stricter enforcement of rules to rebuild trust isn't sufficient.

French officials argue that the answer is deeper political integration based less on rules and more on institutions. They point to the creation of the European Central Bank as an example of a significant pooling of sovereignty that was greeted with suspicion at first but has won broad public trust by operating independently and decisively. They say that a similar leap is needed now.

But to succeed, France will need to convince skeptical partners that any new institutions can be trusted to apply EU rules consistently and ensure member states respect their obligations—rather than deepen what has become the EU's true rule-of-law crisis.
The European Union has one set of rules for large countries and quite another for small countries. At the same time the national champions of large countries can act with impunity while just about everyone else is expected to abide by the mille feuille of bureaucracy spewing from Brussels.
For example, Cyprus was forced into a bail-in for its banks that punished its depositors but that solution was seen as untenable in Italy when Banca Monte dei Paschi di Siena was going under.
Volkswagen cheated the world with its diesel scam and might have paid fines in the USA but no fines or indeed prosecutions have been forthcoming in Germany. Here is a section from a recent propublica.org article:
And it would highlight a stark contrast in punishment. U.S. authorities have extracted $25 billion in fines, penalties, civil damages and restitution from VW for the 580,000 tainted diesels it sold in the U.S. In Europe, where the company sold 8 million tainted diesels, it has not sustained any major fines, nor offered snookered owners a single Euro in compensation.
France is no poster child for probity in abiding by the EU's rules. The sudden enthusiasm for greater institutional integration is as much an admittance that the political infrastructure is incapable of pushing through reforms as it is about attempting to ensure the EU remains intact.
The EU's fiscal austerity drive ripped open the contradiction that underlie EUs institutions. It was only the ECB's quantitative easing program that helped to reverse the deflation. With the ECB now tapering its monetary largesse the greatest impact is likely to be felt by peripheral sovereign bond issuers since it will be buying fewer of their issues.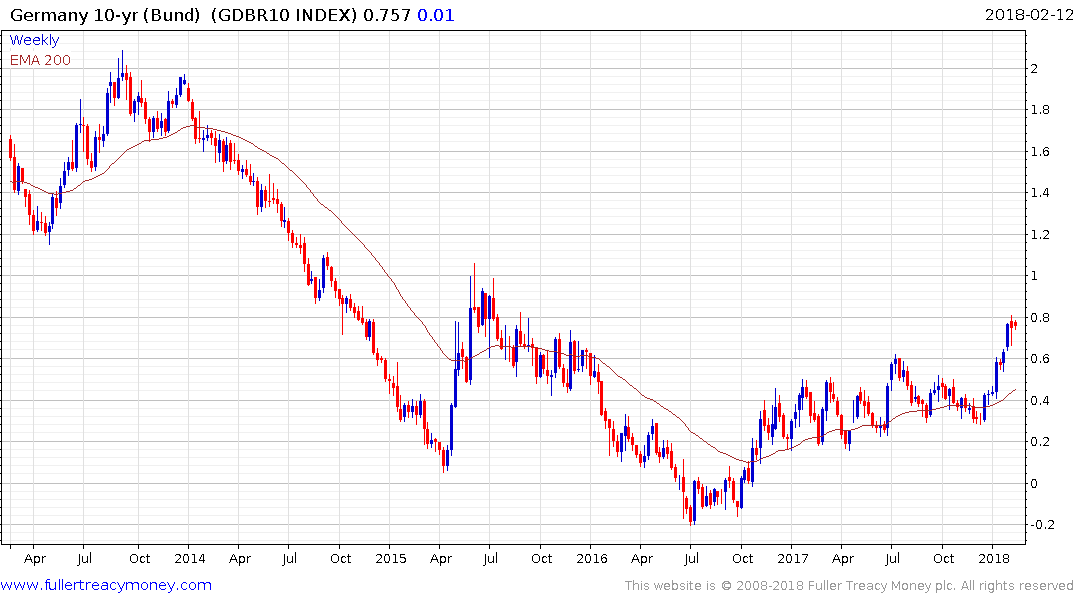 German Bund yields have risen by 50 basis points in the last six weeks to hit new recovery highs.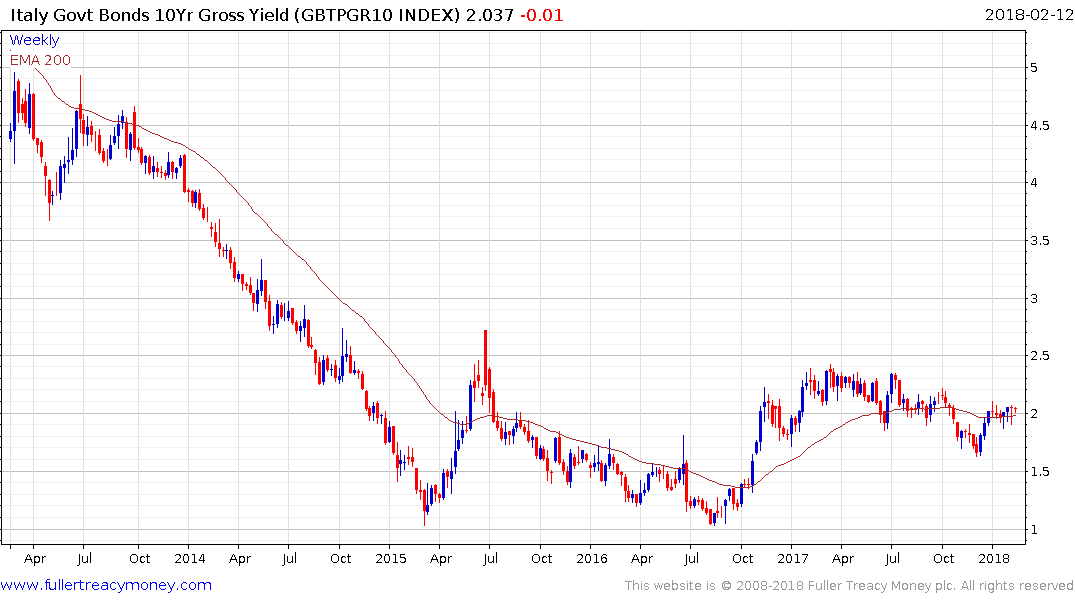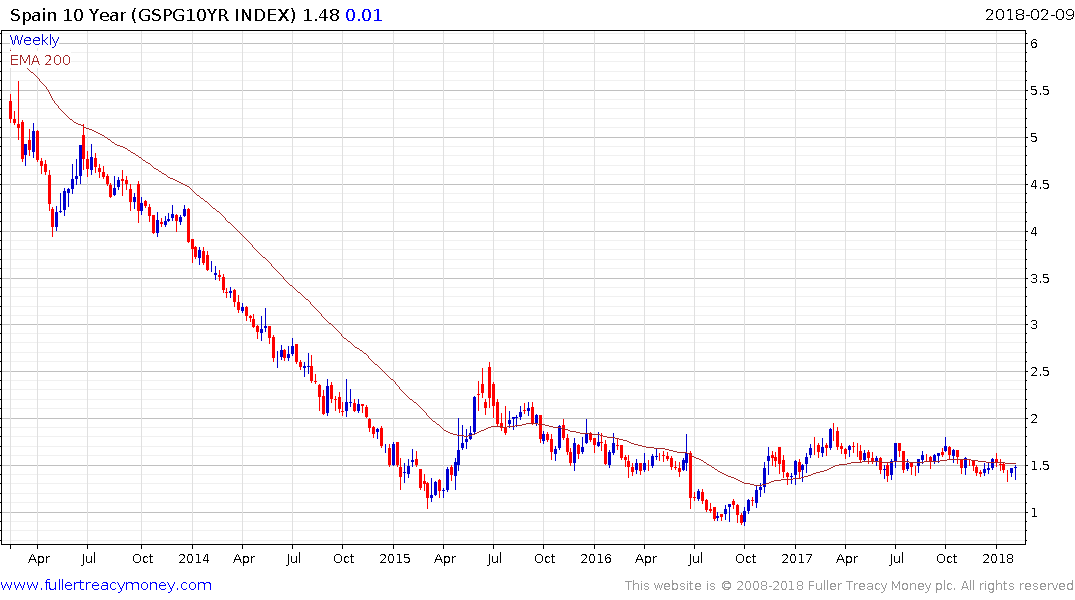 Meanwhile Spanish and Italian government bond yields have been inert. That seems unlikely to last if German yields continue to hold higher levels not least as the relevant spreads are close to record narrows.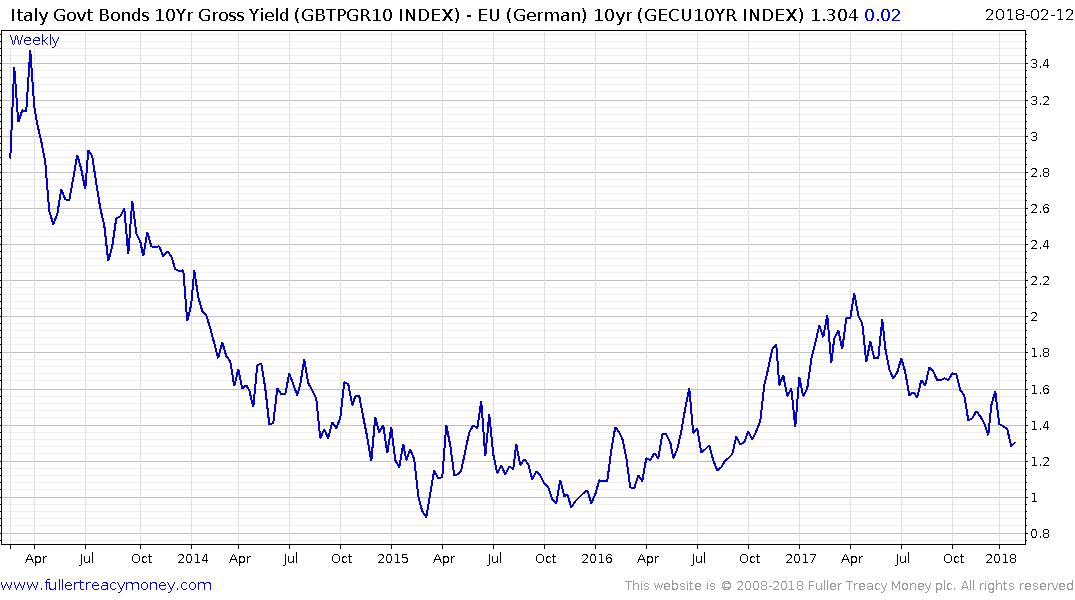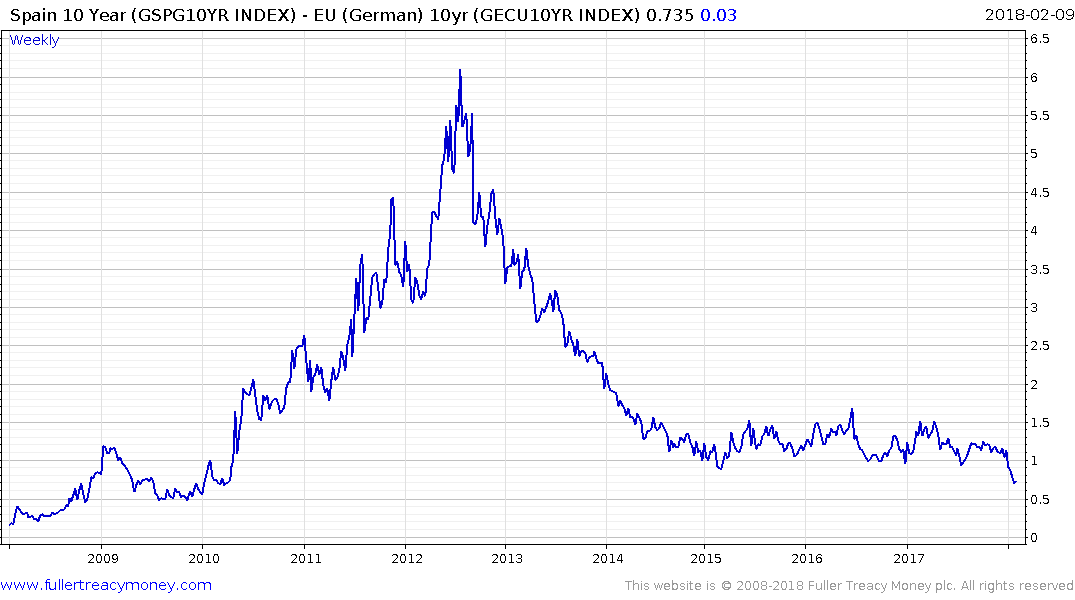 Back to top