The ecommerce surge
This article by Benedict Evans may be of interest to subscribers. Here is a section:
Both the UK and (today) the USA have given official statistics on how ecommerce and retail have changed during lockdown. The headline numbers are pretty dramatic. The UK went from 20% ecommerce penetration to over 30% in two months, and the USA from 17% to 22%.

This spike partly reflects a shift in the denominator: digital increased while sales at most physical retail declined, except for groceries. This effect was much stronger in the UK, where lockdown was much deeper. Even so, absolute US ecommerce sales rose 32% in Q2. Interestingly, though, absolute UK ecommerce has continued to accelerate even as the lockdown has eased (the UK's monthly ecommerce numbers make this visible, where the quarterly US reporting makes it harder to tell.
The lockdowns have been a golden opportunity for ecommerce brands to capture market share. It's also likely that they will be able to hold that gain once consumers become accustomed to having their purchases delivered.
The primary concern is how much more they can grow beyond the current percentage of the market? There is no doubt that anyone who was thinking of buying online has now done so at least once. Being cooped up at home for months leads to all manner of experimentations and online shopping has certainly benefitted.
The big question is what do statisticians regard as the addressable market? Clothing, books, household goods, furniture, pharmaceuticals and food all fall into the category. People have been buying cars on eBay for years and Tesla is also running an online store. It's debatable whether companies like Ford or GM will ditch their dealers in preference to Amazon. Mortgages are also a major retail purchase and make up a significant portion of consumer spending. Whether mortgages are included in the addressable market is likely to skew the data significantly.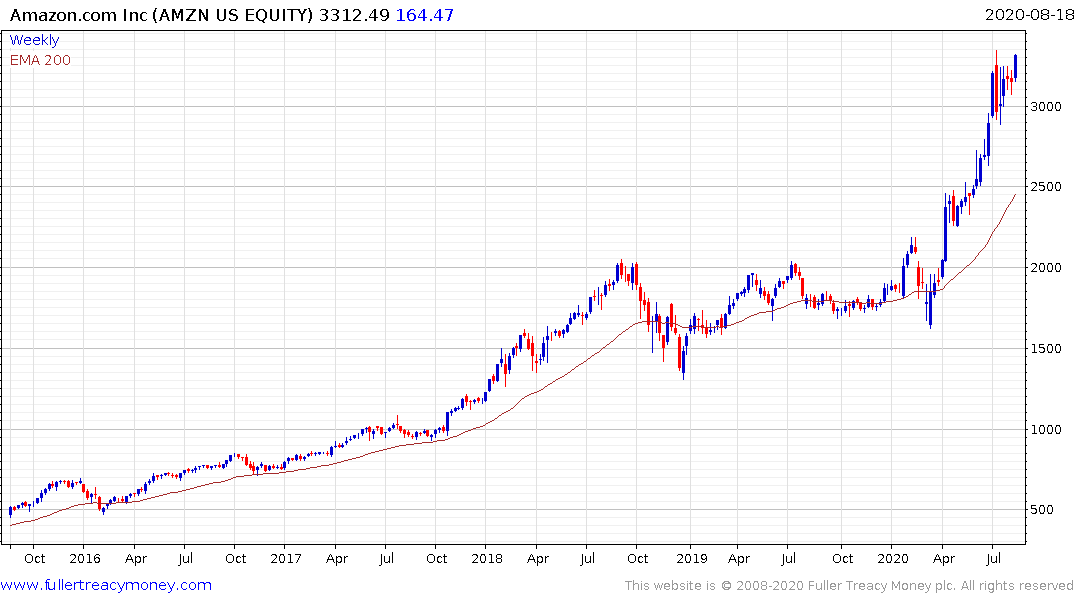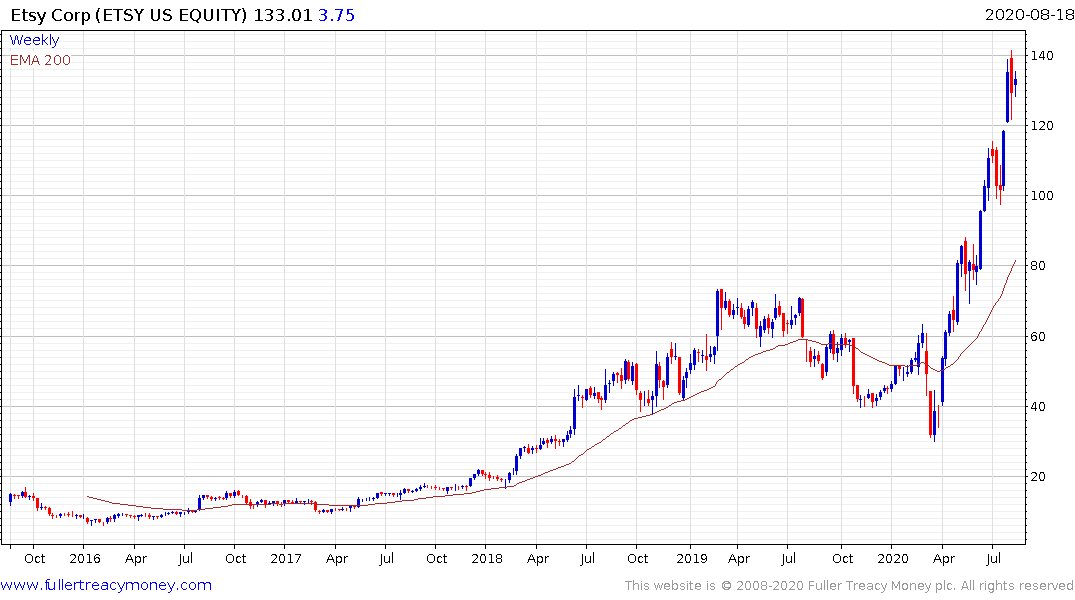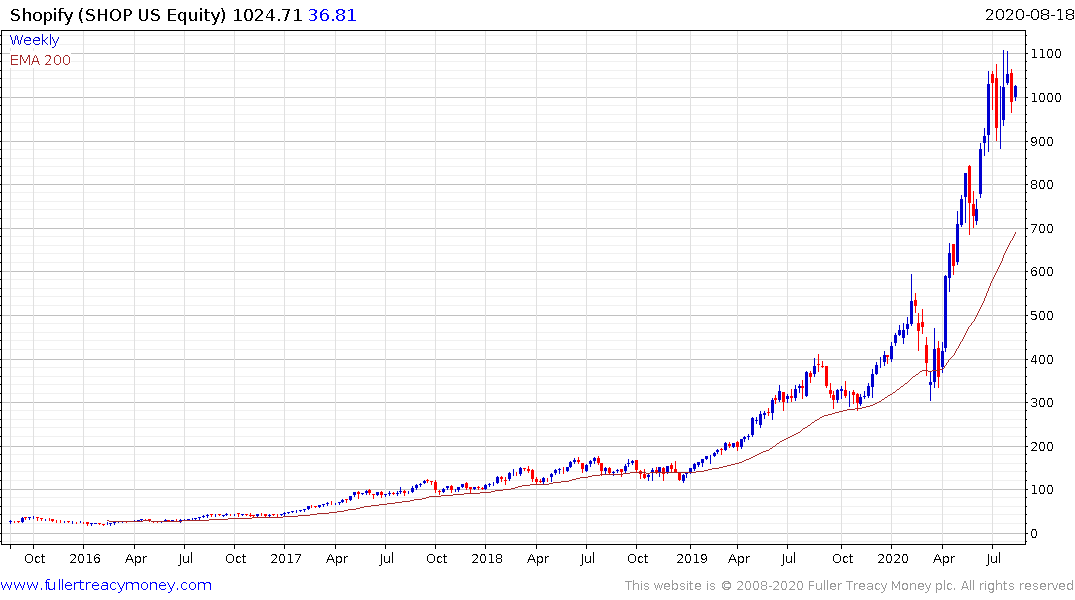 Amazon, Etsy and Shopify might trade at rich valuations but their uptrends are still consistent.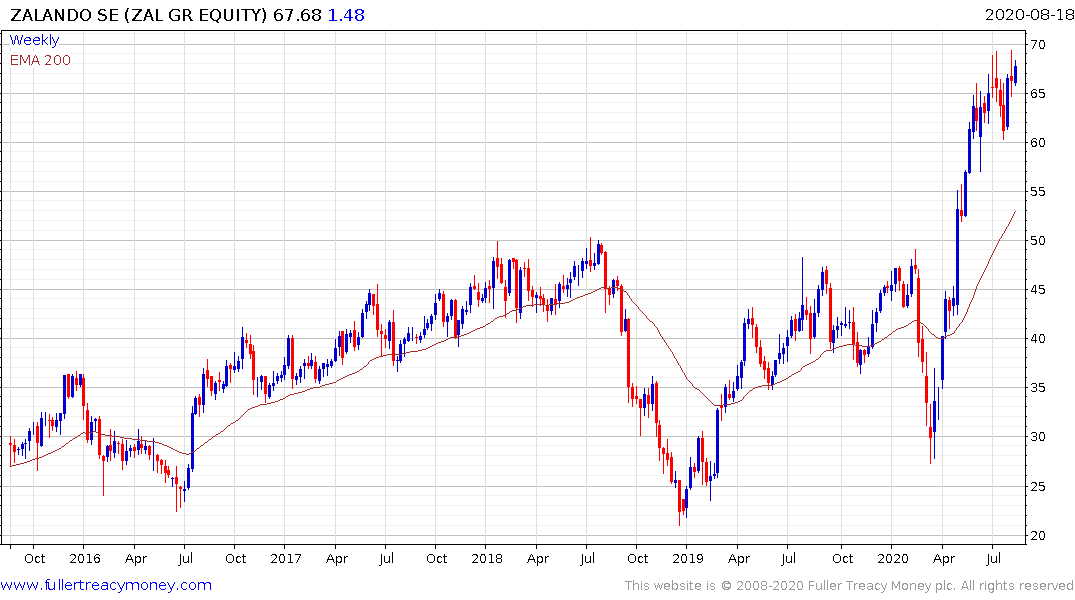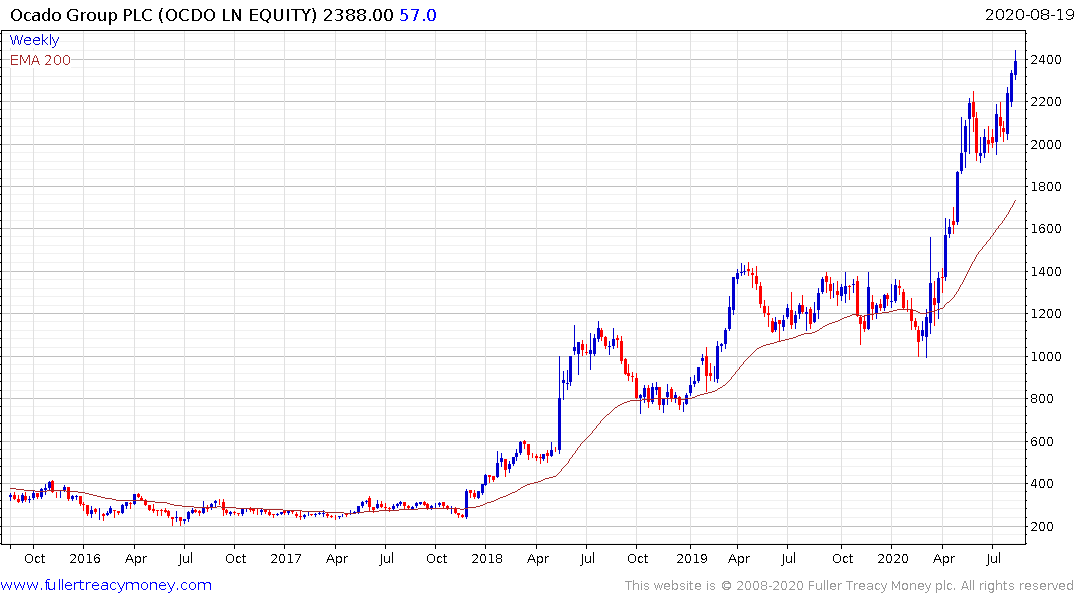 Germany's Zalando and the UK's Ocado share similar chart patterns.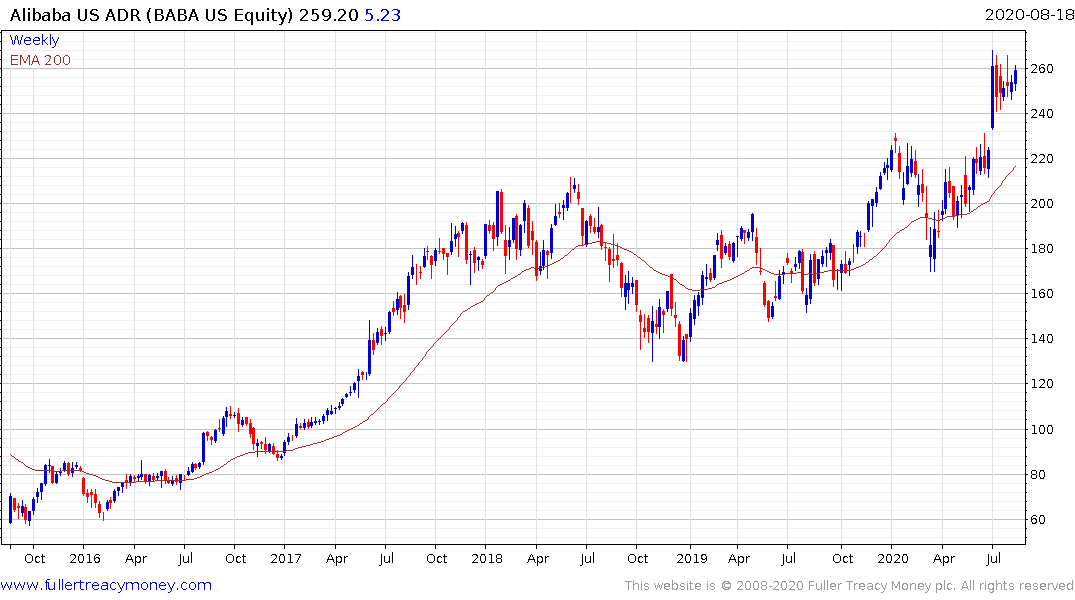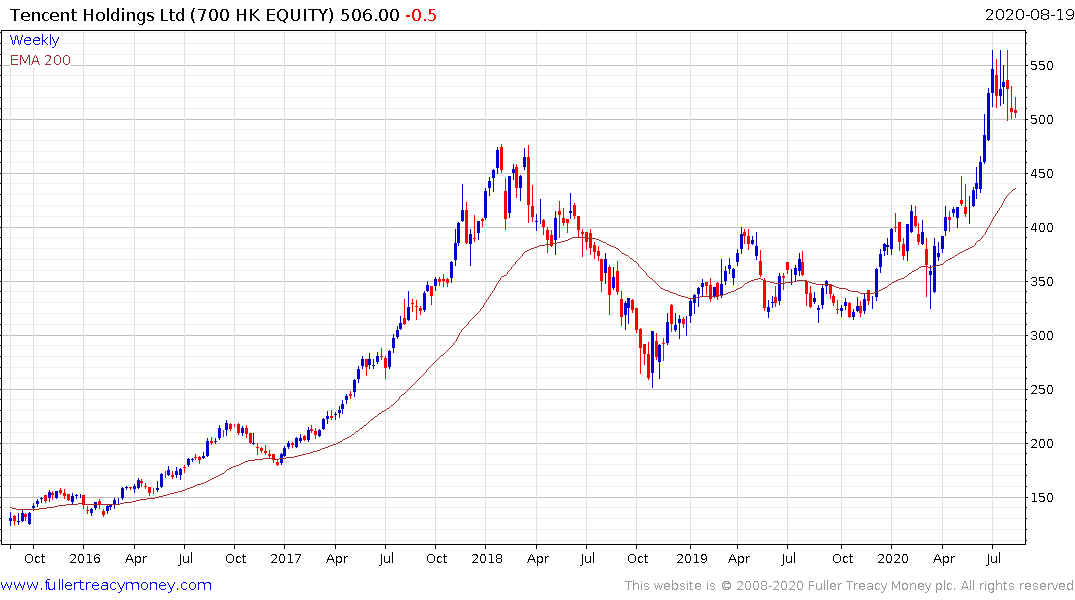 China's Alibaba and Tencent have lagged this performance with Tencent now susceptible to some additional consolidation.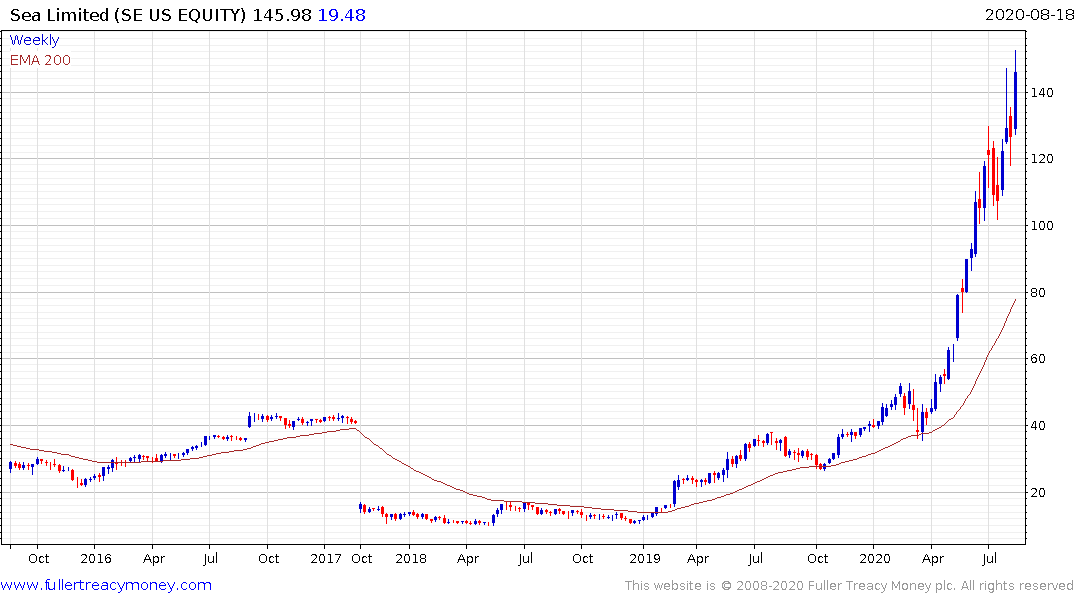 ASEAN's Sea Ltd has a posted an even more impressive advance.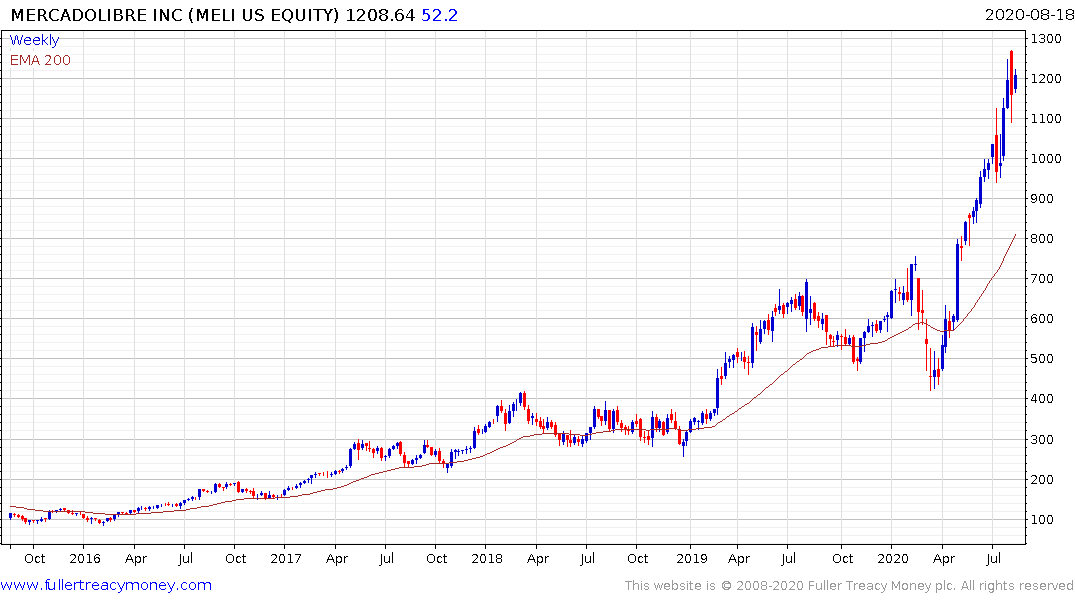 Latin America's MercadoLibre has also accelerated higher but has posted two downside key day reversals in the last six weeks which are warnings of potential seller enthusiasm.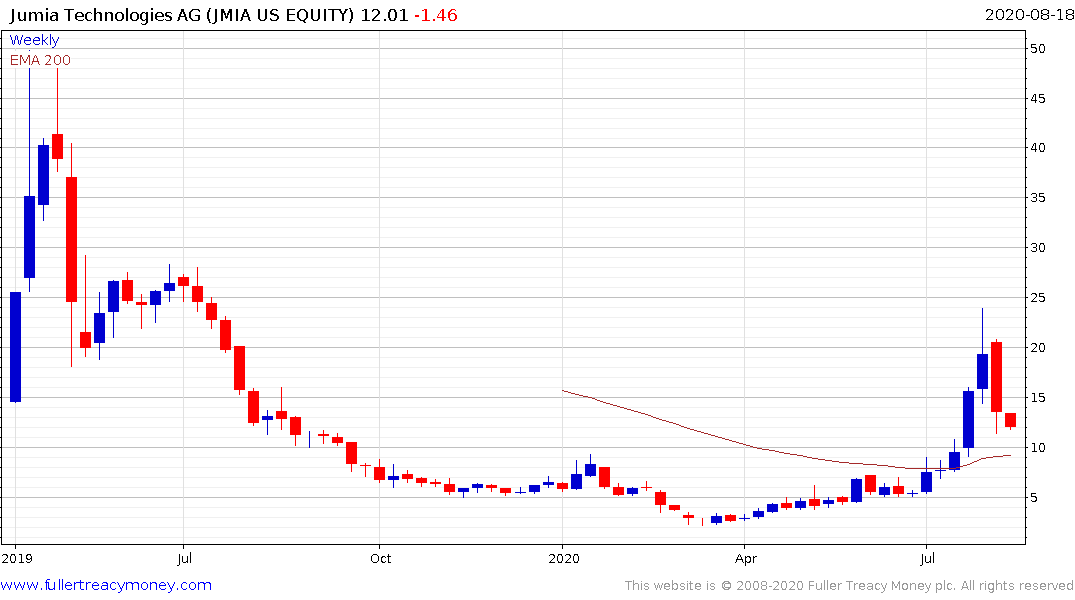 Africa's Jumia surged off the March lows but has pulled back sharply over the last few weeks.
Back to top