The Earnings Boom Isn't Just About Lower Taxes
This article by Justin Fox for Bloomberg may be of interest to subscribers.
In the first quarter of this year, after-tax U.S. corporate profits as measured by the Bureau of Economic Analysis went up a lot (at an 8.2 percent annualized rate over the previous quarter), but pretax profits only went up a little (1.2 percent). That raised questions of whether all those great first-quarter earnings reports were mainly just the result of a one-time boost from the big corporate tax cut Congress passed in December. A lot of solid second-quarter earnings reports seemed to indicate that there was more to it than just tax cuts, and today we have the official if far from final answer from the BEA: Corporate profits are on a genuine roll.

The corporate tax bill even went up a bit in the second quarter, with pretax profits rising at a 3.3 percent annualized pace and after-tax profits at 2.4 percent. This is good news for the economic outlook — downturns and slowdowns are often preceded by dips in corporate profits — and also a sign that the corporate part of the Tax Cuts and Jobs Act may to at least a modest extent be delivering as advertised. A lot has been written about the corporate tax cuts' failure to boost wages, which is fair given that the White House Council of Economic Advisers did promise a $4,000-per-household pay hike, but a bit premature. The tax cuts do, however, already seem to be delivering or at least coinciding with an increase in corporate profits and investment.

A longer-term view of corporate profits tells another interesting story: As a share of national income — which, unlike gross domestic product, includes income from overseas just as the corporate profits data does — pretax corporate profits are high but not as high as they were at times in the 1950s and 1960s.

After-tax profits' share of national income, meanwhile, is at a level never seen before 2010 (the BEA has annual data going back to 1929) and seemingly headed toward a new record. Leaving aside questions of who actually pays corporate taxes in the end, this shrinking of the corporate tax burden does seem at least superficially to have been a tremendous gift to shareholders over the past few decades. Wonder how long it can keep giving.
News today that corporate profits hit a new high in the 2nd quarter is further confirmation that companies continue to benefit from both the corporate tax cuts as well as the fiscal stimulus which is boosting spending.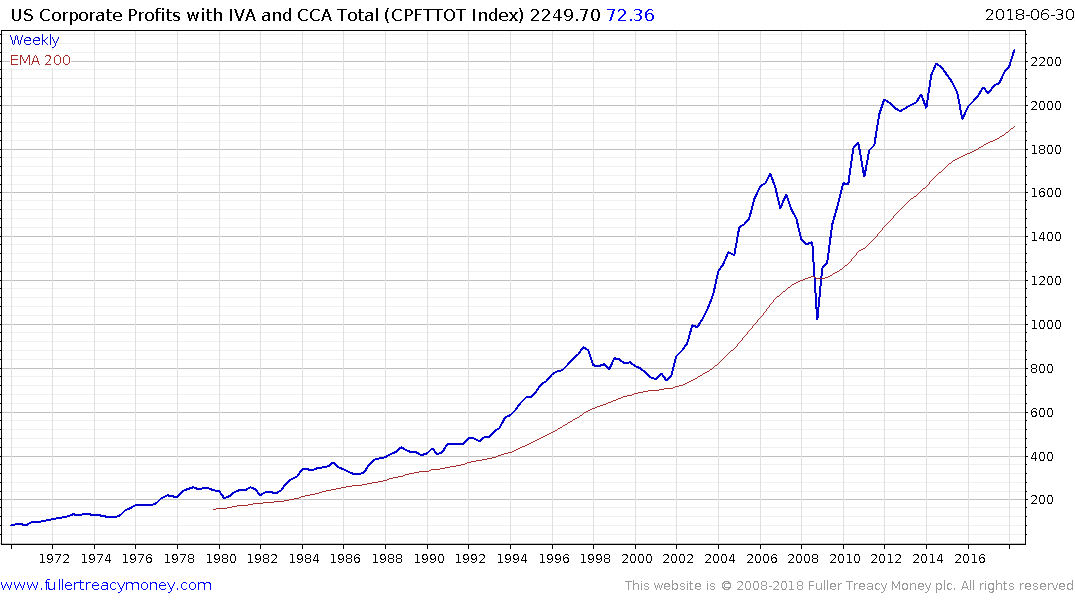 The pace of the advance for Ruth's Chris Restaurants and Darden Restaurants has picked up since the fiscal stimulus was announced which is a clear signal that people are spending their tax savings.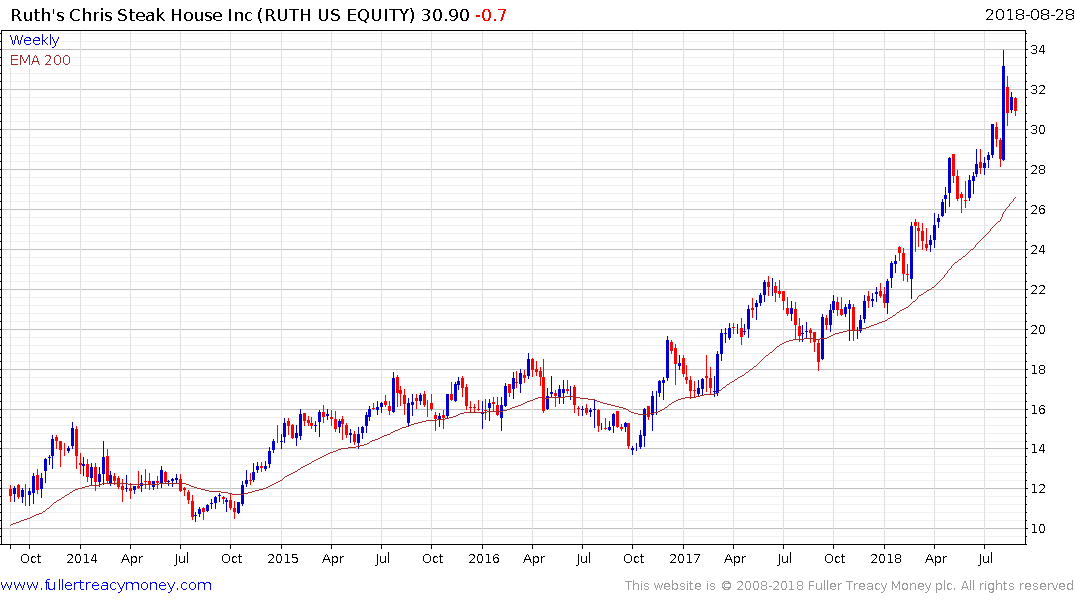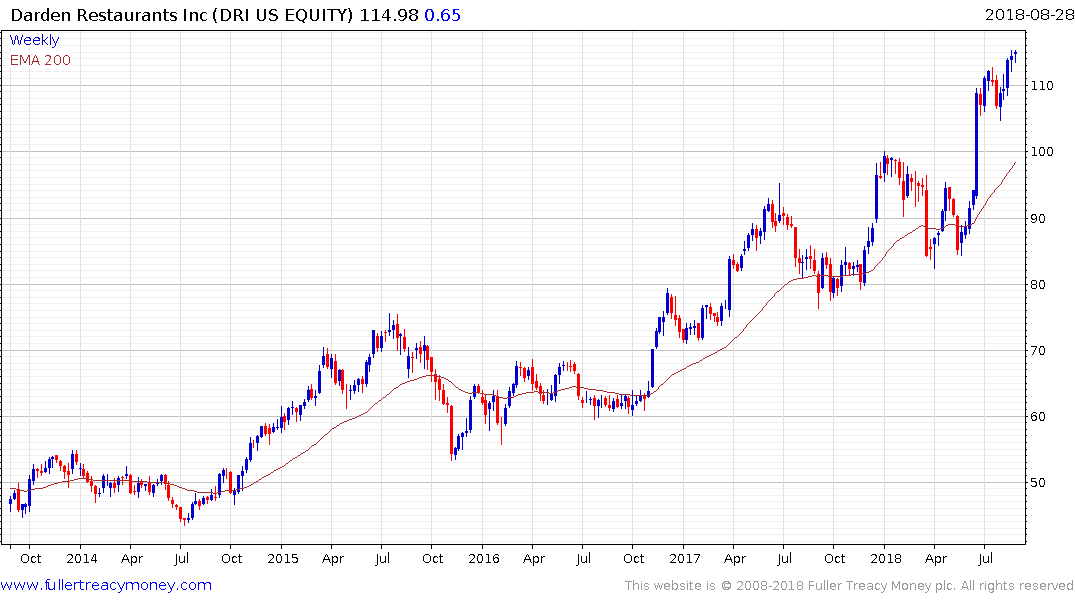 The fiscal stimulus will not last indefinitely and the tax cut can only get priced in once but as long as corporate profits continue to improve the rationale for higher equity prices is likely to remain well supported.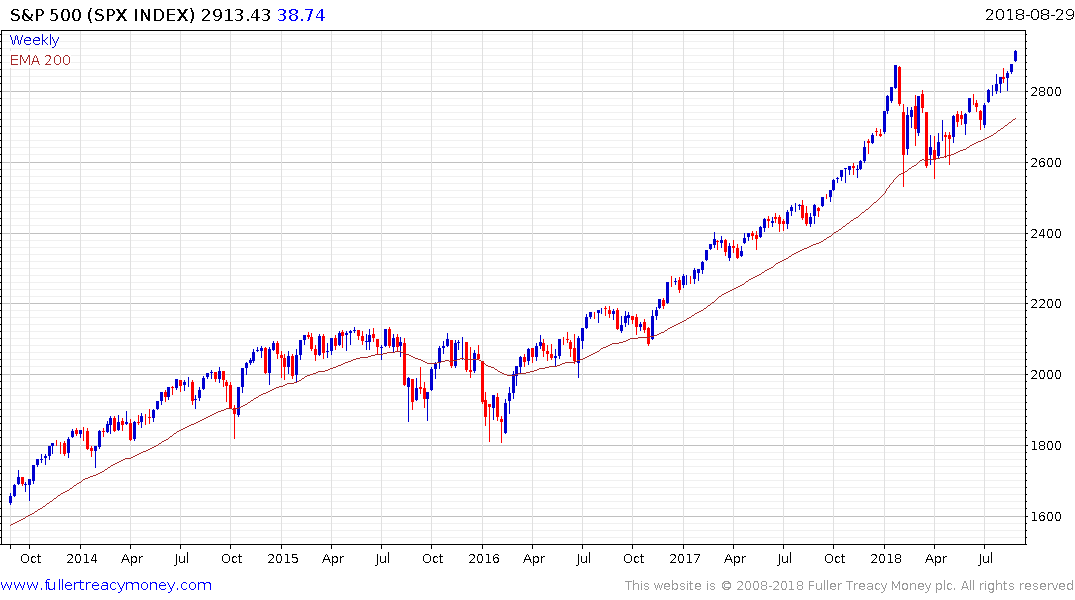 The S&P500 ranged for seven months after the January pullback and is now extending its breakout to new highs.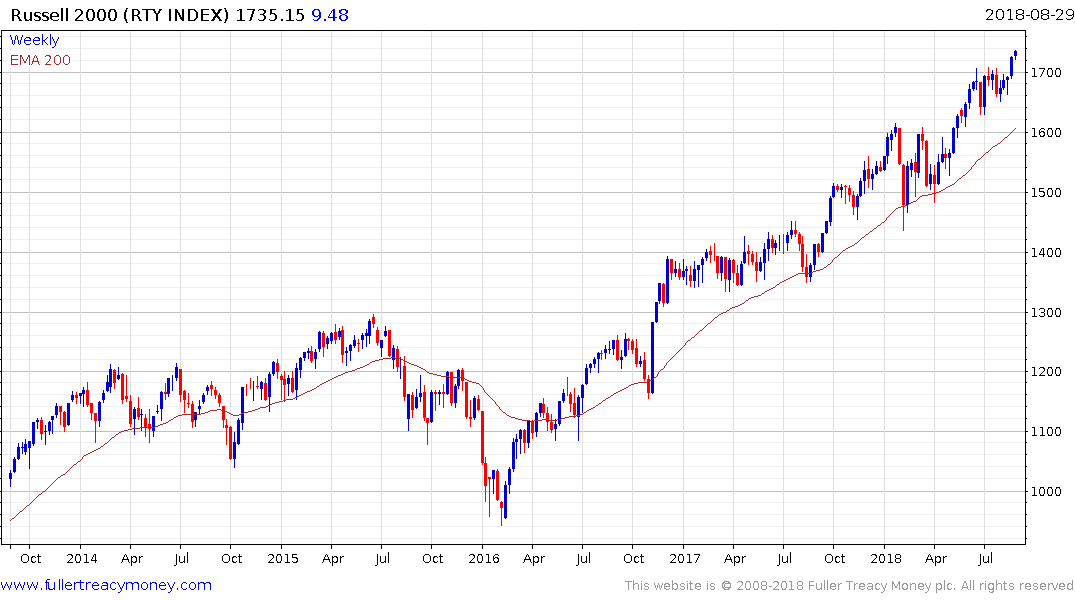 The Russell 2000, which is dominated by domestically oriented small caps is leading and is currently extending its breakout to new highs.
Back to top