The discretionary side of staples
Thanks to a subscriber for this report from Deutsche Bank which may be of interest. Here is a section:
Noodles and drinks can be fashionable if consumers want it that way. Chinese consumers have had most of what they need, so we look into the discretionary side of consumer staples, i.e., what and how they want the beer and tea to be served. We think something new and/or chilled will help companies to put a stop on de-rating in 2015, and to prepare for the recovery ahead.

The myth: staples are no necessities?
YTD in 2014, Hong Kong-listed consumer staples under DB coverage and those we monitor underperformed the MSCI China by 20%. We think the de-rating is partly structural, including the reduction in corporate spending and diminishing channel advantage (as a result of the e-commerce boom); and partly company-specific due to weak product development capabilities and therefore absence of sustainable growth drivers.

?Newness to connect with the 'Post-90s'
We think the anti-extravagance campaign has driven a structural change in consumption, because consumers are now mostly paying out of their own pockets (instead of using pre-paid cards/coupons) for products they desire and from where they deem convenient (instead of whatever is available in designated locations). In addition, the 'Post-90s' shoppers have changed from traditional habits of consumption given a more global mindset, and are eager for continuous novelty in product and branding. Therefore we highlight UPC (220 HK; Hold) and Hengan (1044 HK, Buy) due to their proven track record in these areas. They either suffered or are suffering from price wars for different reasons, but we expect them to recover in 2015 with price wars ending/fading.

Putting ourselves into Chinese consumers' refrigerator
Consumers in some parts of China still drink beer and milk at room temperature. We believe this will change, starting with pasteurised milk, as China's expensive milk will accelerate consumer sophistication, and we believe the next thing they will ask for is freshness. Then we expect more fridge-pack beer and drinks, and chilled and frozen food. We think potential beneficiaries of this development include Mengniu (2319 HK, Buy), which aims to make chilled products one of its growth engines; and Tsingtao (168 HK, Hold), which has lagged behind in product mix improvement in 2014 – we expect the company to refocus on product upgrade and margin improvement in 2015.
Here is a link to the full report.

It is open to question whether Chinese consumers will be willing to consume chilled beverages if Mrs. Treacy is any guide. Many Chinese consider air conditioning unhealthy and cold beverages unsettling to one's internal chemistry. Nevertheless, the penetration of caffeinated, alcoholic, spicy, salty, savoury and sugary food and drinks is unlikely to be curtailed by these cultural factors not least because they have addictive qualities and because they represent the growth in demand for convenient foods.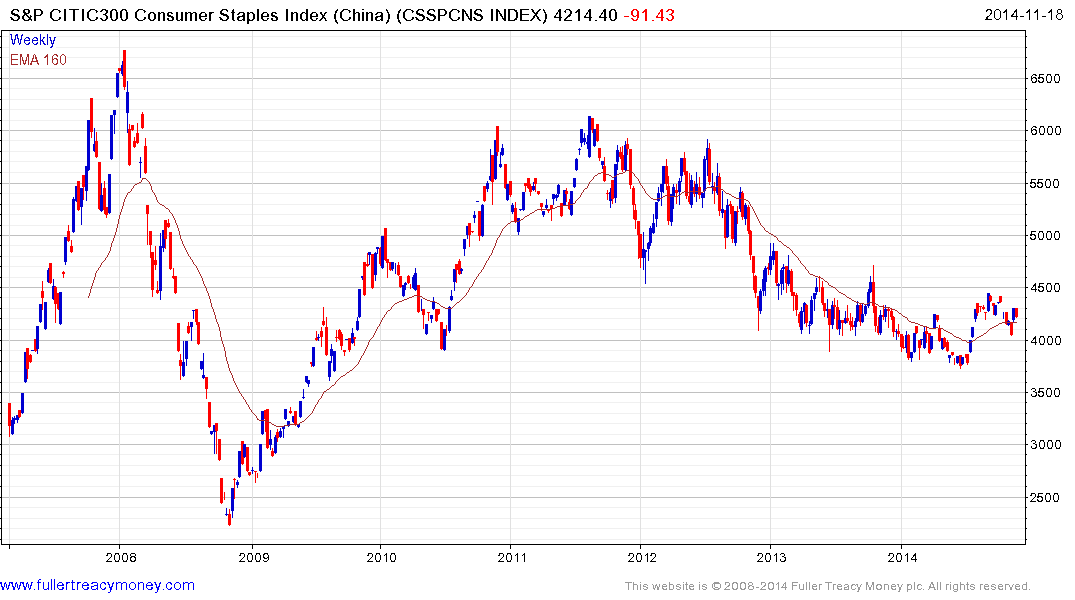 The consumer staples sector had been among the better performers from the 2008 lows as the large State Owned Enterprises (SOEs) declined. However it underperformed for the last few years as the tight monetary policy implemented to curtail speculation weighed on the consumer. The Index rallied in July to break the three-year progression of lower rally highs and found support two weeks ago in the region of the 200-day MA. A sustained move below it would be required to question medium-term recovery potential.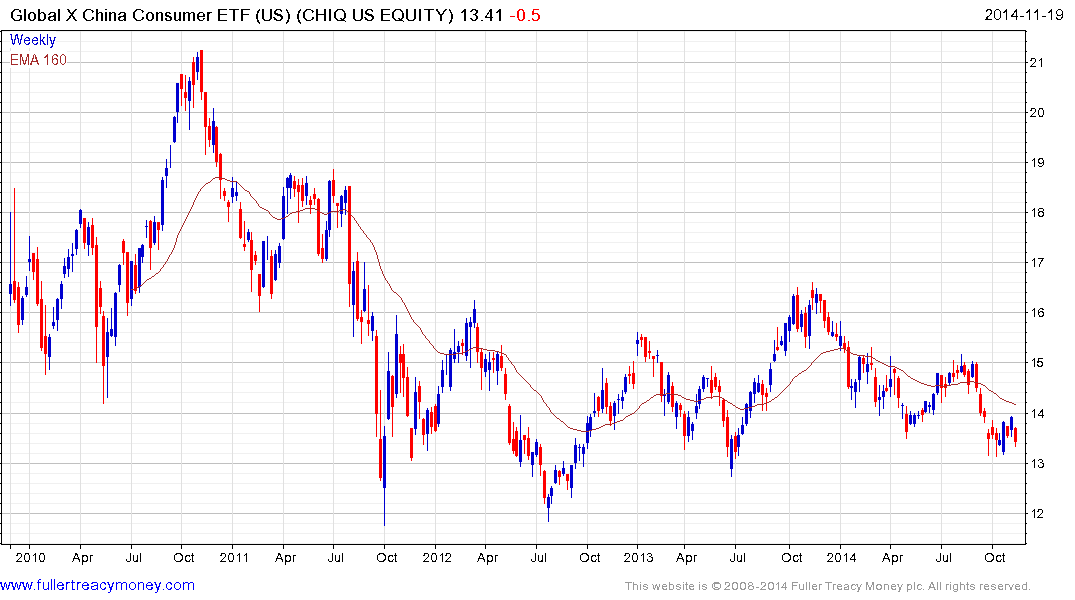 The Global X China Consumer ETF has underperformed the sector and remains in a three-year base formation. A clear upward dynamic will be required to signal a return to demand dominance.
Back to top